Harry Potter Film Concert Series Continues to Enchant Audiences Worldwide
It's already been a year since the Harry Potter Film Concert Series kicked off in June 2016. Seeing the beloved Harry Potter films with John Williams' fantastic score being played by a live orchestra is a huge draw for audiences across the globe.
Performances of Philosopher's/Sorcerer's Stone are still going on in many locations, while performances of Chamber of Secrets and Prisoner of Azkaban have recently begun. All eight films are planned to eventually be performed, and new tour dates are continually being added.
This week, the Film Concert tour is in Toronto, Canada, performed by the Toronto Symphony Orchestra, and two of MuggleNet's staff members, Catherine L. and Mary, got the chance to see the musical magic happen with Harry Potter and the Philosopher's Stone.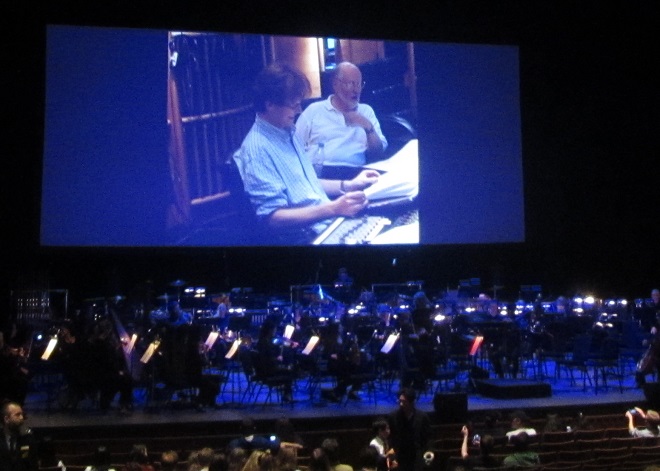 The show's founder and traveling conductor, Justin Freer, opened the concert by giving a shout-out to each of the Hogwarts Houses and encouraging the audience to show its enthusiasm (or displeasure) for moments throughout the film, especially at the appearance of characters; and the audience happily obliged.
Mary's Thoughts
Seeing Philosopher's Stone in a concert hall filled with other Harry Potter fans, in and of itself, was fantastic. Seeing it accompanied by an orchestra and chorus made it absolutely captivating. I found that I was able to pick up on small details in the film that I had never noticed before, which made the experience even more enjoyable for me – not to mention everyone's laughter throughout. (As an added bonus, this was my first time seeing the first film as Philosopher's Stone and not Sorcerer's Stone, as well as my first time seeing either in a theater.)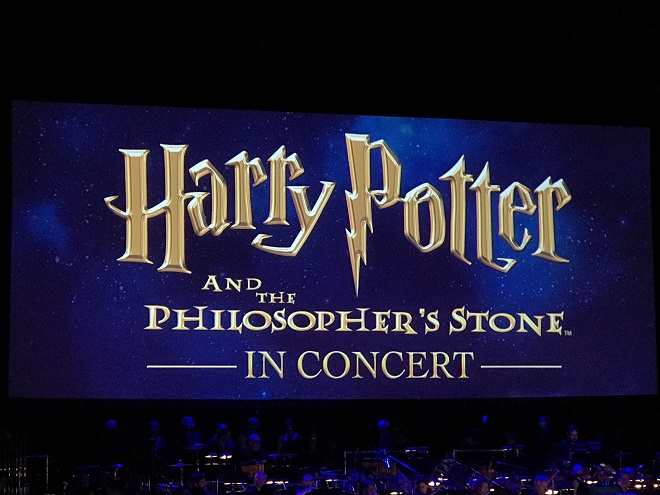 Catherine's Thoughts
If I had any guilt about not sufficiently celebrating the 20th anniversary of Harry Potter this past Monday, it was alleviated when I realized I was seeing Philosopher's Stone in concert the very next day. What better way to celebrate 20 years of magic than in an auditorium packed with fellow Potter fans, seeing a movie that I haven't seen in theaters for 16 years?
What struck me the most was how the fandom has evolved in that time. I loved how every character, right down to Hedwig, Fang, and Scabbers, got a cheer or a boo as appropriate. I loved how the audience chuckled good-naturedly at some of the actors' facial expressions, which, looking back on them, are rather overdramatic, but in a familiar and comforting sort of way. And it was wonderful being able to stay and listen to the orchestra perform while the credits rolled. (Appropriately, John Williams' name seemed to get the biggest cheer during the credits.)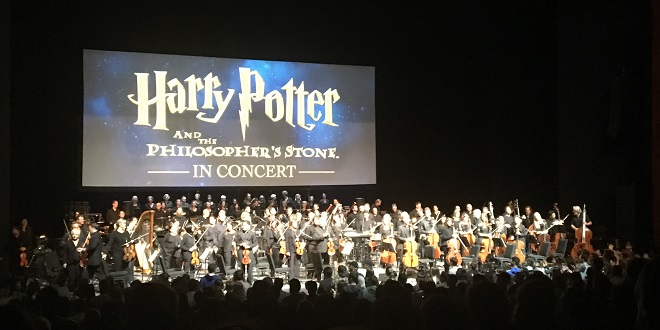 The Harry Potter Film Concert Series now spans across five continents: North America, South America, Europe, Asia, and Oceania. You can see the full tour schedule at this link to see when it's coming to a city near you!
Also check out MuggleNet's previous review of the Film Concert Series, from New Jersey, here.
Thank you to the Sony Centre for the Performing Arts for the opportunity to attend and review this event.