Jamie Parker Wasn't a "Potter" Fan Until After "Cursed Child"
Jamie Parker admits that he wasn't really a Potter fan when he was cast in the lead role of Harry Potter in the original cast of Harry Potter and the Cursed Child for its June 2016 opening at the Palace Theater in London. His phenomenal performance in the role won him a prestigious Olivier Award for Best Actor last spring, and he will continue in the same role when the play moves to the Lyric Theatre in New York in April 2018.
He spoke to the Evening Standard about how his love for the series has grown since being cast in the play:
I had read one or two [Harry Potter books]. I was late to the party. I have to be honest about that; I can't pretend otherwise. But I am the happiest convert in the land, and I have since read them countless times… I am now introducing them to my son.
Parker is excited to continue in the role as Cursed Child moves to New York. Since the Harry Potter series is already an international sensation, the play is destined to be as well received in the United States as it has been in the United Kingdom.
It's already a global thing, so it's not like other jobs where you might be taking a play that succeeded in front of a London audience to New York. Every performance we have given here in London included people from all over the world. It will be the same in New York… nothing huge will change.
Parker and his family will head to New York after Christmas to start preparing for the Lyric Theatre premiere on April 22, 2018. The show is initially set to run for one year in New York, so his family will be spending a minimum of 15 months in the US. After Cursed Child, Parker says he may take a break from theater to in order to get some more experience in film and television.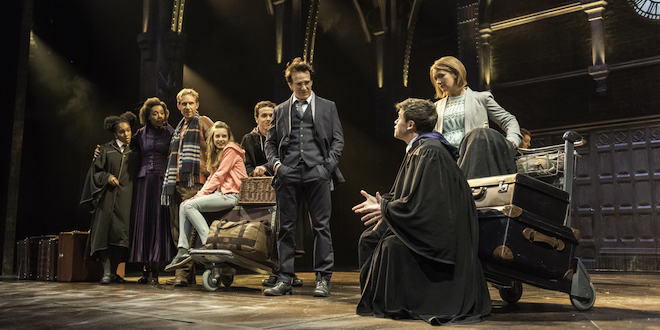 Parker certainly isn't the first Harry Potter actor to develop a love for the books only after being cast, and it's not surprising that the role quickly turned him into a fan. It's hard to imagine anyone who is surrounded by J.K. Rowling's magic, whether on screen or on stage, being able to resist the lure of the series.
Tickets for the New York showings of Cursed Child sold out rapidly after the first release, so it seems likely that Parker will not be disappointed with the New York audience's response to the play.