"Harry Potter" Paperback Illustrated Editions Announced!
If you were worried that buying the Harry Potter hardcover illustrated editions would cause you to run out of room on your bookshelf, you're in luck. Bloomsbury has just announced the release of paperback editions of the illustrated series. An image of the new Harry Potter and the Philosopher's Stone cover with the edition's release date of August 23, 2018, was published on Facebook.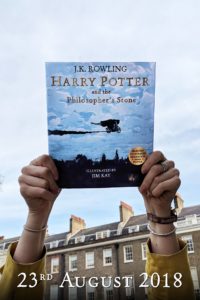 Besides the new cover, the edition also includes a new pull-out poster of Norbert, the Norwegian Ridgeback. But if the illustrations are a large draw for you, be aware that this book will only include 65% of the artwork from the original hardcover edition in order to accommodate the smaller size. Bloomsbury said the artwork in the paperback will include "Jim Kay's stunning rendition of Diagon Alley and the character portraits that fans have loved so much," in addition to other select illustrations. The text of the book will remain unchanged and unabridged.
The paperback illustrated editions will also be kinder to your bank account than the hardcover editions. The paperback illustrated Philosopher's Stone is currently priced at £13.49 on the Bloomsbury website, while the hardcover edition is £27.00. If you passed on collecting the hardcover editions, now might be a great time to start collecting the paperback versions!
You can pre-order the paperback illustrated edition of Philosopher's Stone on Bloomsbury's website. The publishing company has also confirmed that the hardcover illustrated editions will continue to be released (in addition to the paperback versions!), and we will have the newest one, Harry Potter and the Goblet of Fire, in the fall of 2019.
Will you be collecting the paperback illustrated editions, just the hardcover editions, or both?