Jack Thorne Discusses the Heart of "Harry Potter and the Cursed Child"
Harry Potter and the Cursed Child's playwright, Jack Thorne, sat down with Entertainment Tonight to discuss the play (don't forget to enter to win a chance to meet the cast!), along with his other recent projects. This week, the second season of Thorne's acclaimed anthology series National Treasure will premiere. Season 1 starred Potter's own Robbie Coltrane (Rubeus Hagrid) as Paul Finchley, a beloved celebrity accused of rape. Season 2, which premieres April 4, will focus on the disappearance of a foster child.
This month will also see the premiere of Harry Potter and the Cursed Child at the Lyric Theatre on Broadway. This must be a momentous occasion for Thorne, who is a Harry Potter fan himself. Thorne was 18 when Rowling's first novel was released, and he quickly found himself "devouring [each new installment] as fast as [he] could." Thorne explained how he and his cowriters connected to the heart of Cursed Child's plot.
We knew that what Harry was going through and what [his son] Albus was going through would be the core of the show; that was at the heart of everything we discussed.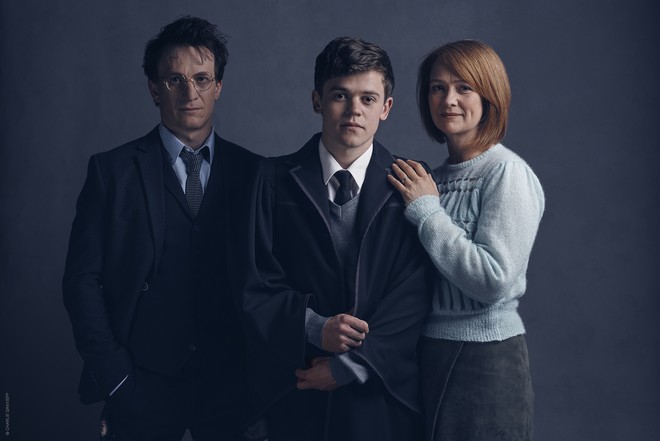 Even with the exciting opening of Cursed Child, Thorne is still keeping busy. He's penned the libretto for the upcoming Broadway adaptation of King Kong, which will premiere this fall. He is also working on more television, including a Netflix series called The Eddy, which will have music and "a political element, though I can't discuss that in great detail."
Thorne seems to be dividing his time evenly between Broadway and television. These might seem like conflicting mediums, but he believes they have something huge in common.
With TV and stage, the rhythm of the storytelling can be completely different. But the intention is the same — which is to tell the truth.
Harry Potter and the Cursed Child is currently in previews at the Lyric Theatre, with opening night on April 22. Will you be seeing the show this month?