MinaLima Launch Limited-Edition Graphic Art Print Series
It's time to check the balance in our Gringotts vaults, because MinaLima has done it again!
This time, the graphic design duo has created a collection of limited-edition prints called Magical Moments, which will depict moments from the Harry Potter films. The first in this series, titled "You're a Wizard, Harry," captures the moment from Harry Potter and the Sorcerer's Stone where Harry is scrambling to catch Hogwarts letters that have flown out of the Dursleys' fireplace.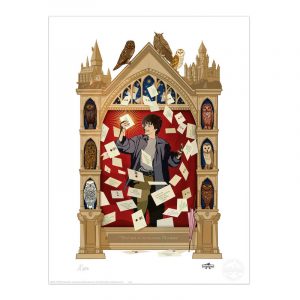 This first Magical Moments print is limited edition and comes in both standard and premium prints. Standard prints are limited to 1,000 and cost £39, whereas the premium prints (which are embellished with gold and signed by Eduardo Lima and Miraphora Mina) are limited to 250 and cost £99.
LAUNCHING a brand new series of collectible #MinaLima graphic art prints!
"You're a wizard, Harry" is the first print in the new 'Magical Moments from the Harry Potter Films' collection.
Order yours now on https://t.co/iFVcFE4fLi or purchase from Monday at #HouseofMinaLima.⚡️🤓 pic.twitter.com/b3Lc0mt8rP

— MinaLima (@minalima) March 1, 2019
There have been no clues yet as to what other moments will be captured in this collection. Will it be one graphic art design per film? Will the collection be extended to the Fantastic Beasts series? We're already curating a list of moments that we'd like to see (boggart Snape is definitely near the top of our list!), but we can't wait for more prints from the collection to be released.
The "You're a Wizard, Harry" print can be purchased here, or if you want to tie in your purchase with a trip to House of MinaLima, the print will be available in store starting Monday, March 4.
Which other movie moments would you like to see from this collection?