UPDATED: Daniel Radcliffe's Possible First-Ever Autograph Up for Auction
There are many things that Potter collectors would like to have in their collection, but the first-ever autograph from the boy wizard himself is something that is sure to be highly sought after.
As if by magic, a signed copy of Harry Potter and the Philosopher's Stone featuring many cast signatures, including what is possibly Daniel Radcliffe's first autograph, is up for auction on June 26 with Vectis auction house in the United Kingdom.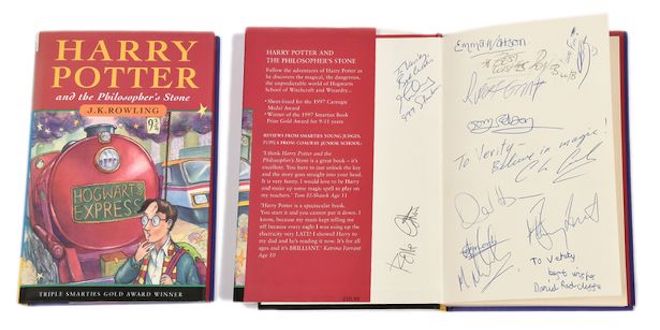 The hardcover edition of Harry's first adventure at Hogwarts belonged to a then young girl named Verity, who had a role as an extra in the first Potter film. The auction house has stated that there is a potential first-ever autograph from Radcliffe, which was gained during a break in filming on set, among the 13 signatures scrawled on the book's endpapers:
Daniel Radcliffe, aged only eleven, was sitting alone in the marquee; so Verity felt sorry for him and went over and had a chat with him. He was so friendly and delightful, she remembers! She asked if he would sign her book and he replied that she was the first person to ask for his autograph. He wrote her name and best wishes as well as his signature.
The auction house has listed the other autographs as being from director Chris Columbus, Robbie Coltrane (Hagrid), Tom Felton, Rupert Grint, Emma Watson, and Warner Bros. Production Executive Roy Button. Unfortunately, Verity, who was undergoing treatment for leukemia during her time as an extra, can't remember who signed the seven other autographs.
However, some eagle-eyed MuggleNet staff members have spotted what looks to be signatures belong to Alfred Enoch (Dean Thomas), David Heyman (producer), and Chris Rankin (Percy Weasley). This still leaves four mystery autographs, which we're sure the new owner will have fun deciphering!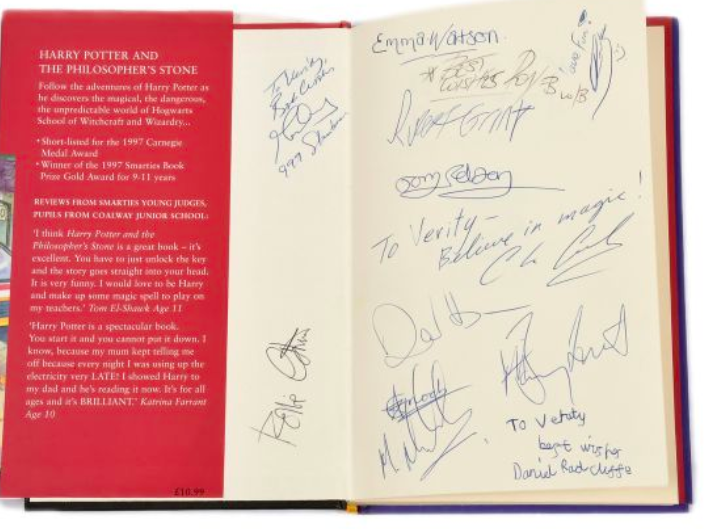 As well as the signed book, the highest bidder will receive photographs of a young Verity on set, cast sheets, a pay slip, and a letter inviting the young fan to visit Leavesden Studios.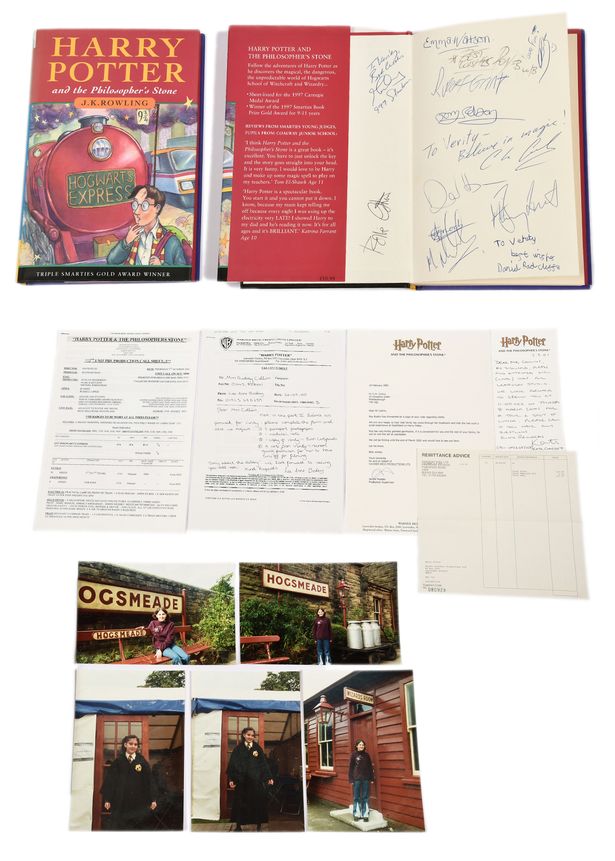 This special Harry Potter lot is expected to sell for between £300 and £500 (between $370 and $630) when it goes up for auction on June 26.
Would you like to add this piece to your Potter collection? Make sure to check back with MuggleNet to see how much it sells for!
—
UPDATE (June 27):
The book has sold!
The BBC has reported that the copy of Philosopher's Stone sold for £2,600, which is much higher than the original estimated sale of £300 to £500.
The buyer also has to pay a 25% commission, which means the total sale price will actually be £3,250.
How much would you pay for this incredible item?