Geminio: Greg Draven on Being Hagrid's Body Double
Ever wondered what it's like to step into the shoes of one of your favorite Wizarding World characters, if only for a short while?
In an episode of the podcast In Bed with a Druid, actor Greg Draven revealed how he came to be a stand-in (and then a body double) for Hagrid in the preshow film for Hagrid's Magical Creatures Motorbike Adventure at Universal Orlando Resort.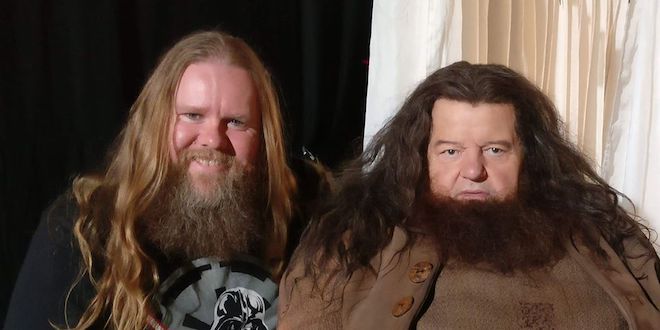 In the magical movie business, stand-ins are often recruited to help block scenes before the principal actors arrive on set. They are of a similar build and complexion to the actor they are standing in for and help to rehearse scenes so that lighting and sound can be set up. In contrast, a body double takes the place of an actor on camera, in situations such as stunt work. So how did Draven end up being both?
An actor himself, Draven was called to do some stand-in work for Robbie Coltrane for the preshow film for the new Universal Orlando ride in 2018. He told the podcast that Warner Bros. needed stand-ins who could act because the blocking of the scene required interaction with things that would be added in postproduction (such as magical creatures, Fang the boarhound, and flying motorcycles). He also revealed that he was leaving a radio station interview when he got the job:
When I came out of the radio station, I had an email from Warner Bros. saying, 'We'd love you to be Hagrid for us,' and I was like, 'No way!'
After two days of blocking the scenes for the ride queue video alongside a stand-in for Arthur Weasley, Draven was joined by Robbie Coltrane (Hagrid) and Mark Williams (Arthur Weasley) on set. Unfortunately, Coltrane was unwell at the time, and although he powered through and filmed the scene, Warner Bros. ended up using a lot more of Draven's performance than originally intended:
When you see the video, everything except the mouth and face is me […] his voice, his face, but my physical performance and moving around the stage.
To combine both Coltrane's and Draven's performances, Draven had to act in a 3D scanning studio. Then, using some technical wizardry, a digital model of Draven was made. You can check out the preshow video featuring Draven below, as well as some images of Draven's experience on set. But beware, there may be some spoilers for Hagrid's Magical Creatures Motorbike Adventure!