Burrowing in Place with "Wizards Unite" and a New Look at "Witchbrook"!
by Brienne Green · Published · Updated
While many of us were probably beginning to think it never would, March finally ended! And in the realm of wizarding world gaming, that means a new slate of upcoming events and activities.
These games give us a little bit of normalcy in the uncharted territory our lives have become, and we're definitely grateful for the fact that both Harry Potter: Wizards Unite and Harry Potter: Hogwarts Mystery have been taking steps to ensure everyone can keep on gaming while still doing their part by staying home! And speaking of home, the Burrow will be the focus of this month's Wizards Unite Brilliant Events! We've also got a few new screenshots to show you from the highly anticipated Witchbrook, so let's dive right in. Phones at the ready!
Wizards Unite Update
It's a safe assumption that most Harry Potter fans' dream location for sheltering in place would be the Burrow. It's comfy, it's cozy, you'd certainly have no shortage of people to talk to, and as if that weren't enough, we'd have Molly Weasley cooking for us every night rather than having to survive on the wizarding equivalent of DoorDash. (FlooToYou? BroomBites? We could literally do this all day.) Unfortunately, we weren't given that option, but it seems the Calamity had the same idea we did - Part 1 of the Burrow Besieged Brilliant Event is currently underway.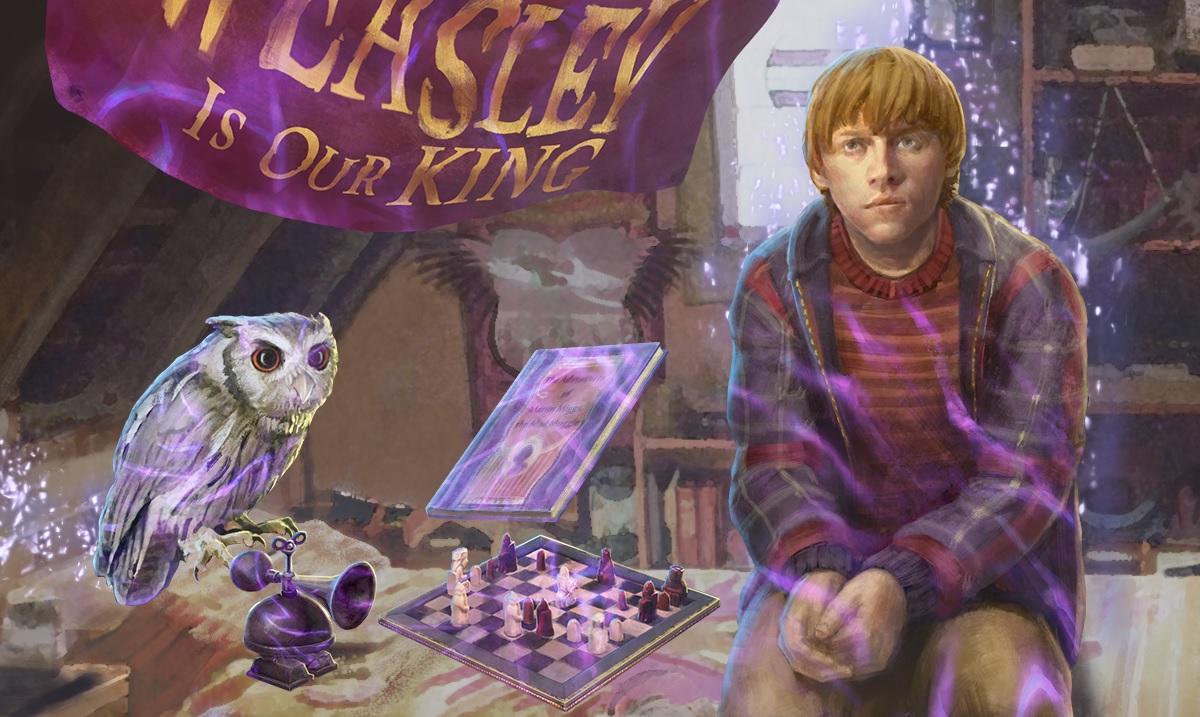 The action started Tuesday, April 7, and will end at 11 a.m. (Pacific) Tuesday, April 14, and Wizards Unite is leaving it up to us to free the family homestead of Foundables.
The Burrow appears to be at the center of the latest wave of Calamity activity, causing a flood of Foundables related to the Weasley family home. Fondly remembered as the quaint and cozy backdrop to many loving Weasley family moments, the iconic dwelling has also served as headquarters for the Order of the Phoenix during the Second Wizarding War. As memories from the Burrow, from the Flying Weasley Car to Ron's Wizard Chess Set, have begun appearing left and right, you'll need to get ready to roll up your sleeves and help set things right!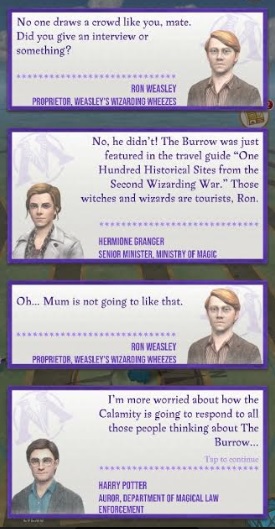 Mum isn't going to like that at all. But we'll do our best to shoo both the tourists and the Foundables away.
As is the norm for now, the event has been adjusted to allow gamers to complete their tasks from a single location. It also includes a bonus assignment, so don't dawdle! Remember to pick up your complimentary bundle in the Diagon Alley Shop as well.
Popping up randomly on your maps will be Brilliant Young Ron Weasley and the Brilliant Decoy Detonators. Completing event tasks will give you the Brilliant Weasley Is Our King Banner and Brilliant Ron's Comic Book, and find the Brilliant Wizard Chess Set by unlocking event-specific Portkey Portmanteaus, which - once again - have been reduced to 1.5 km for this event. Finally, you can nab yourself a Brilliant Pigwidgeon by completing the bonus assignment.
To add to the Weasley whimsy, event-specific Portkeys will also take you to a brand-new location: Weasleys' Wizard Wheezes! The Foundables you'll need to complete event tasks all hail from the Wonders of the Wizarding World Family, so it's that Family in particular you'll see pop up when you use the Tonic for Trace Detection. As was the case during the Magical Mischief mini-event, even the rarer Foundables within a Family - in this case, the Baby Mandrake, Grawp, and the Weasleys' Flying Car - will appear more frequently when using the Tonic, so this is a great time to pick up hard-to-find fragments!
Elsewhere, rather than eliminate another Community Day, Wizards Unite has elected to dub this month's event the Community Day: Play at Home Edition, and it'll have us stepping into the shoes of Newt Scamander for a day. The event will last for a full 24 hours to make it easier for everyone to participate. From 12:01 a.m. to 11:59 p.m. in your local time zone on Saturday, April 18, get ready to test your Magizoology prowess by returning a menagerie of fantastic beasts to their rightful homes, including the Murtlap!
Part 2 of the Burrow Besieged Brilliant Event will run from Tuesday, April 21, to Tuesday, April 28, while a Nature and Nifflers mini-event is set for Tuesday, April 28, and Wednesday, April 29. We'll be back later in the month to fill you in on those.
In a few final Wizards Unite tidbits, Niantic recently posted on its blog that it has acquired 6D.ai, a company with a heavy focus on realistic three-dimensional mapping for augmented reality (AR) and the creation of shared AR experiences.
For the people who play our games today, it means more beloved AR experiences to come, and for our developers, an innovative platform to bring their AR visions to life. We've just scratched the surface of the impact that AR can have on our connection to the people and places around us. Imagine everyone, at the same time, being able to experience Pokémon habitats in the real world or watch dragons fly through the sky and land on buildings in real-time [sic]. Imagine our favorite characters taking us on a walking tour of hidden city gems, or friends leaving personal notes for others to find later.
Yes to all of that, please! Particularly the thing about the dragons landing on buildings. Lastly, Wizards Unite also made a tweak to its latest update that will allow for even friendlier at-home play. Whereas your daily tasks previously required you to dine twice at Inns and complete one Wizarding Challenge in order to receive your completion certificate, those two tasks have been changed to using one Tonic for Trace Detection and earning 750 Wizarding XP.
Hogwarts Mystery Update
It's been a bit quiet in Hogwarts Mystery since the conclusion of the All-Wizard Tournament. A new beast appeared in the Magical Creatures Reserve, which is usually a happy occasion. In this case, we sort of hoped we'd never have to see the manticore's creepy face again, but...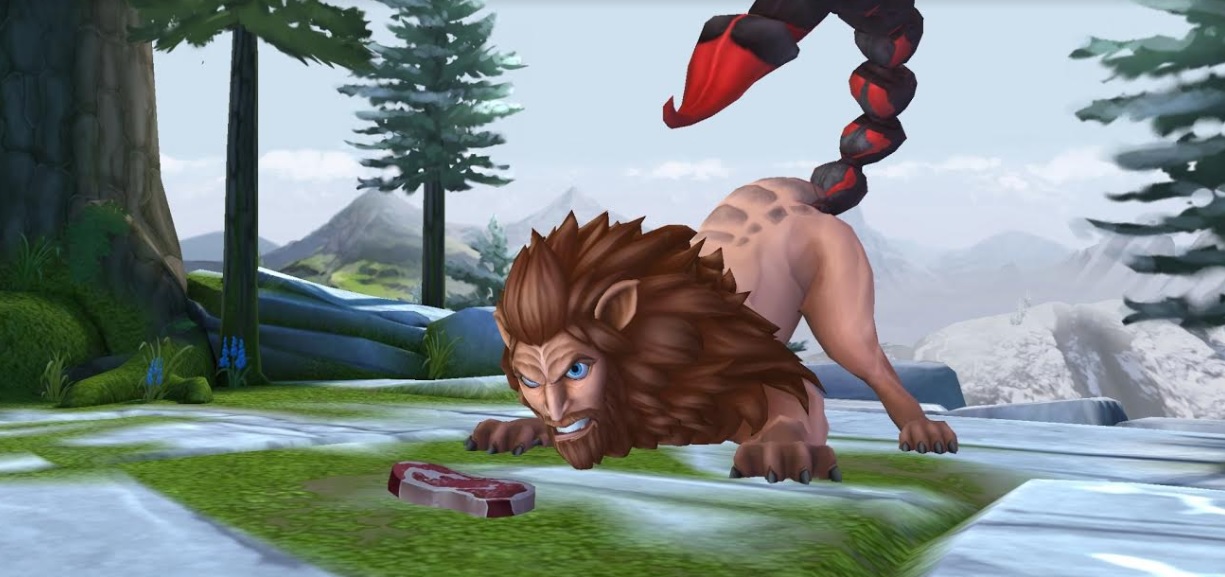 We guess we'll keep feeding that thing. A Full Marks Event (boo!) just wrapped up, and right now, we have the opportunity to collect House Crests to earn constellation-themed dorm furniture. We also continue to see welcome little in-game surprises pop up that reward us with energy, gold, and in this case, notebooks.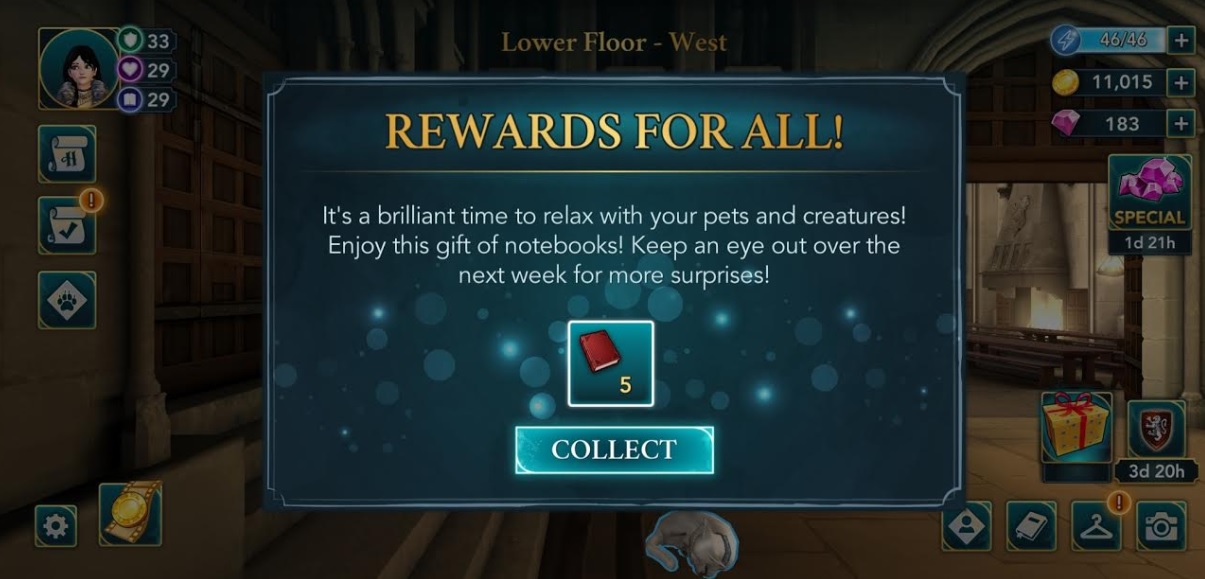 Apart from that, there's always Quidditch, and we're currently working our way through preparations for our first match as a Beater!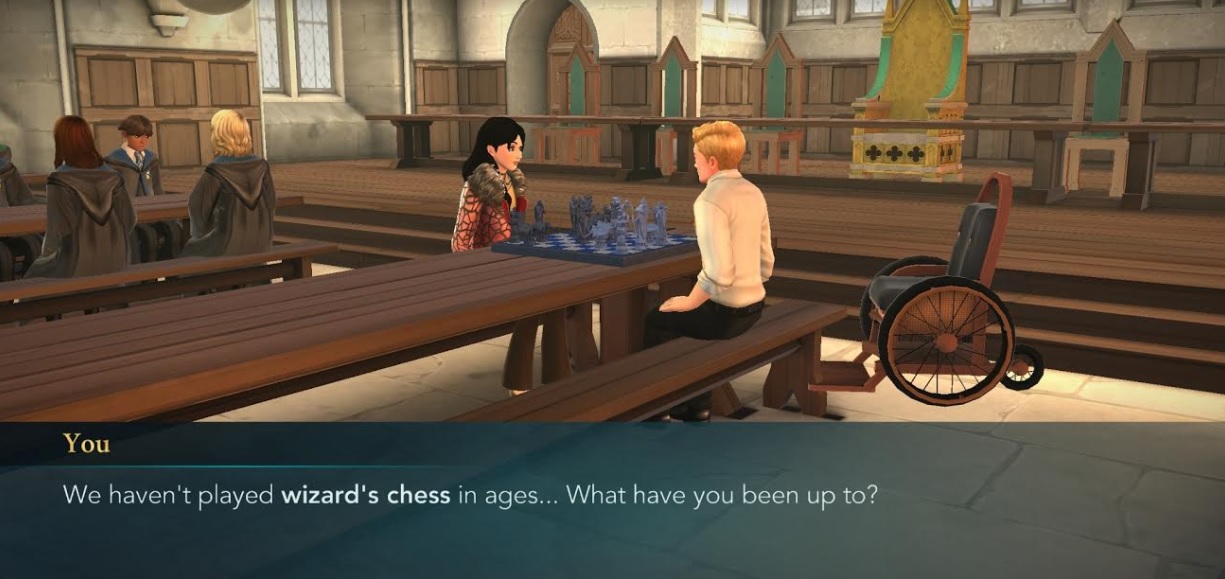 Oh, you know. Staying at home, staying at home, and staying at home some more. If only we could fill our days with games of wizard chess with Murphy McNully. That guy literally never runs out of ways to occupy his mind.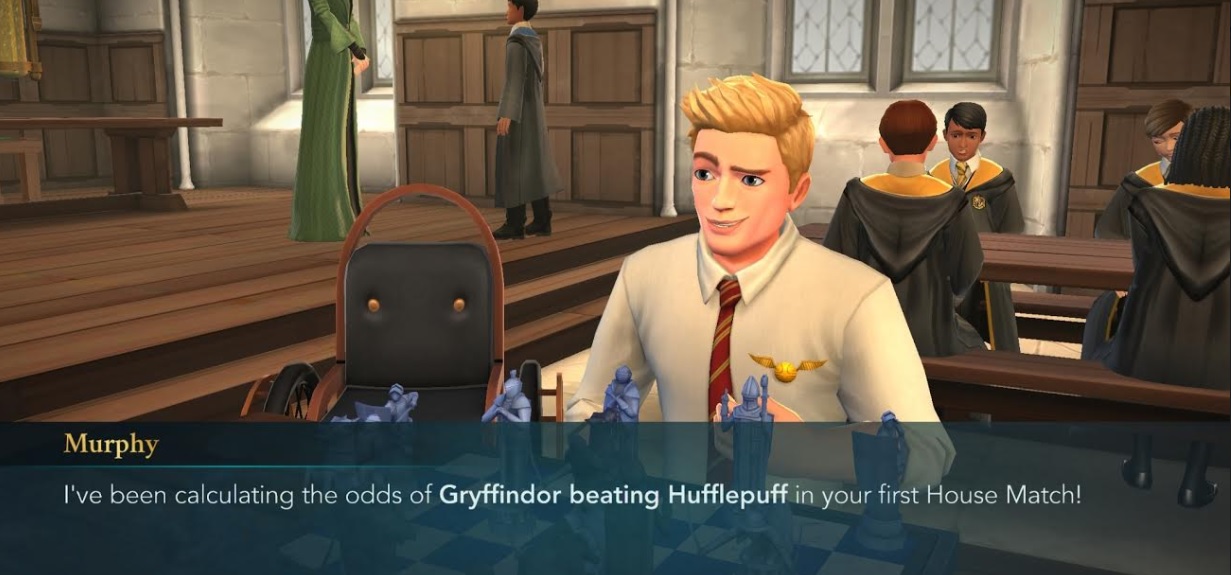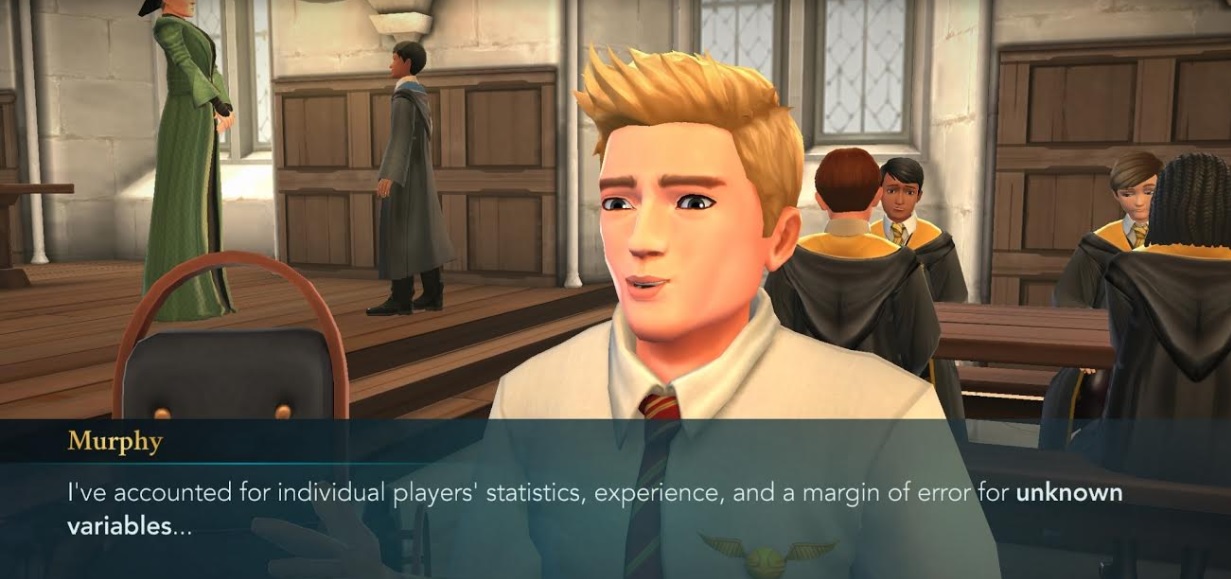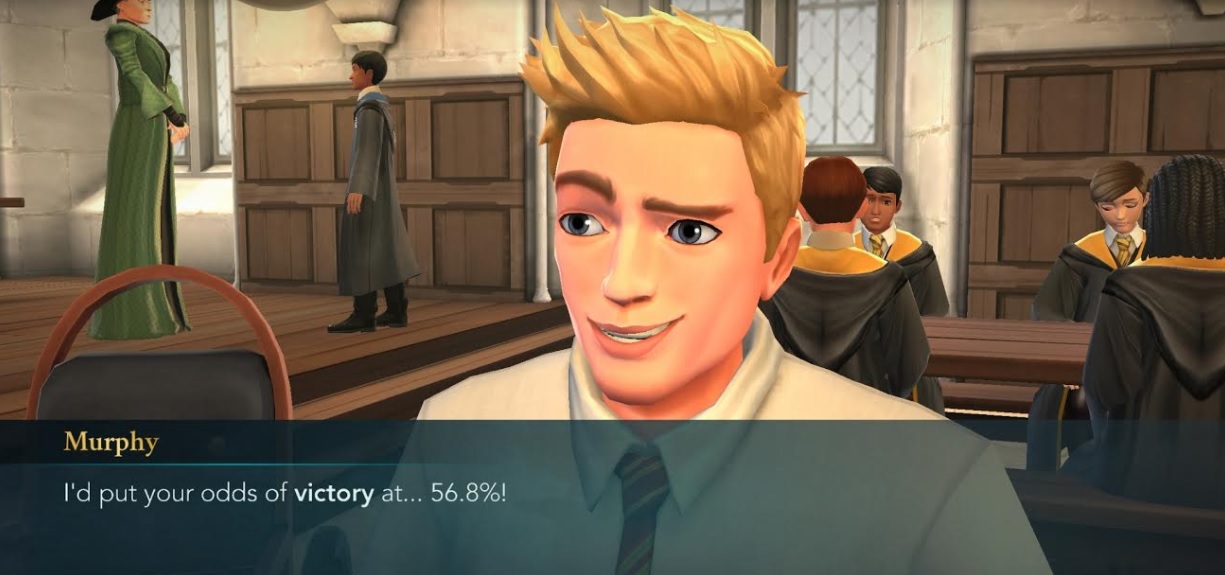 Is there a button somewhere we can push to make our character just kiss his entire face repeatedly? Seriously. He's adorable. Anyway, we do know, at least, that an interesting twist in the primary story is looming on the horizon.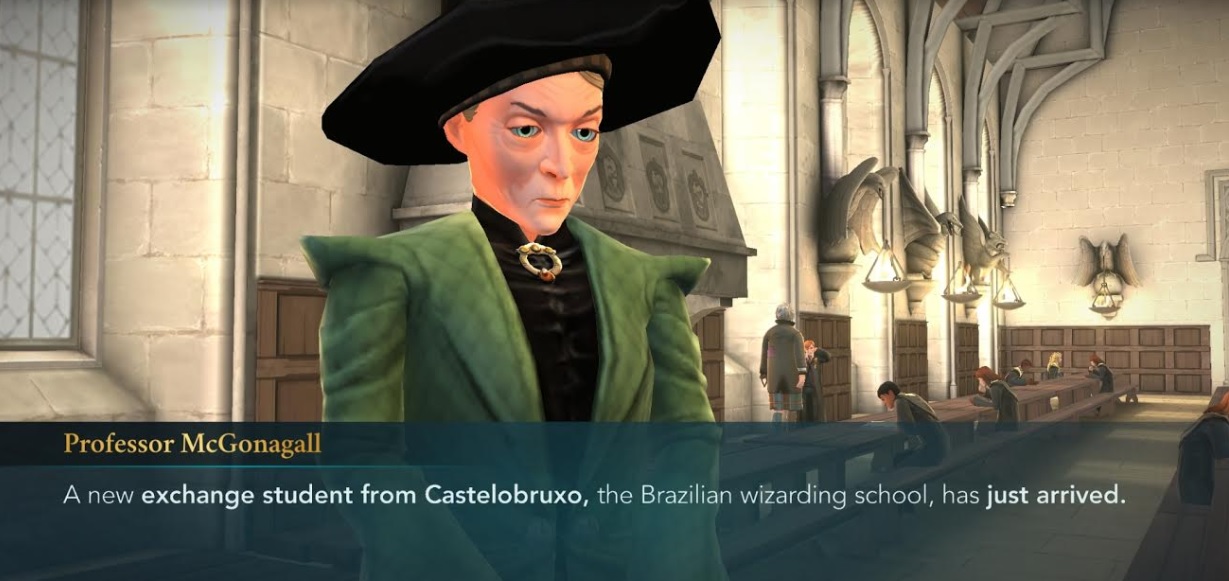 Castelobruxo, Brazil's wizarding school, is a location we've been thinking more about since it was announced that the third installment of Fantastic Beasts would be at least partially set there, so we're eagerly anticipating a meeting with one of its students. At least, we are for now - they could be totally psychotic. You never know with this game.
Other Game Updates
MuggleNet let you know back in January about Witchbrook, and development of the game that's high on everyone's lists is continuing to move along.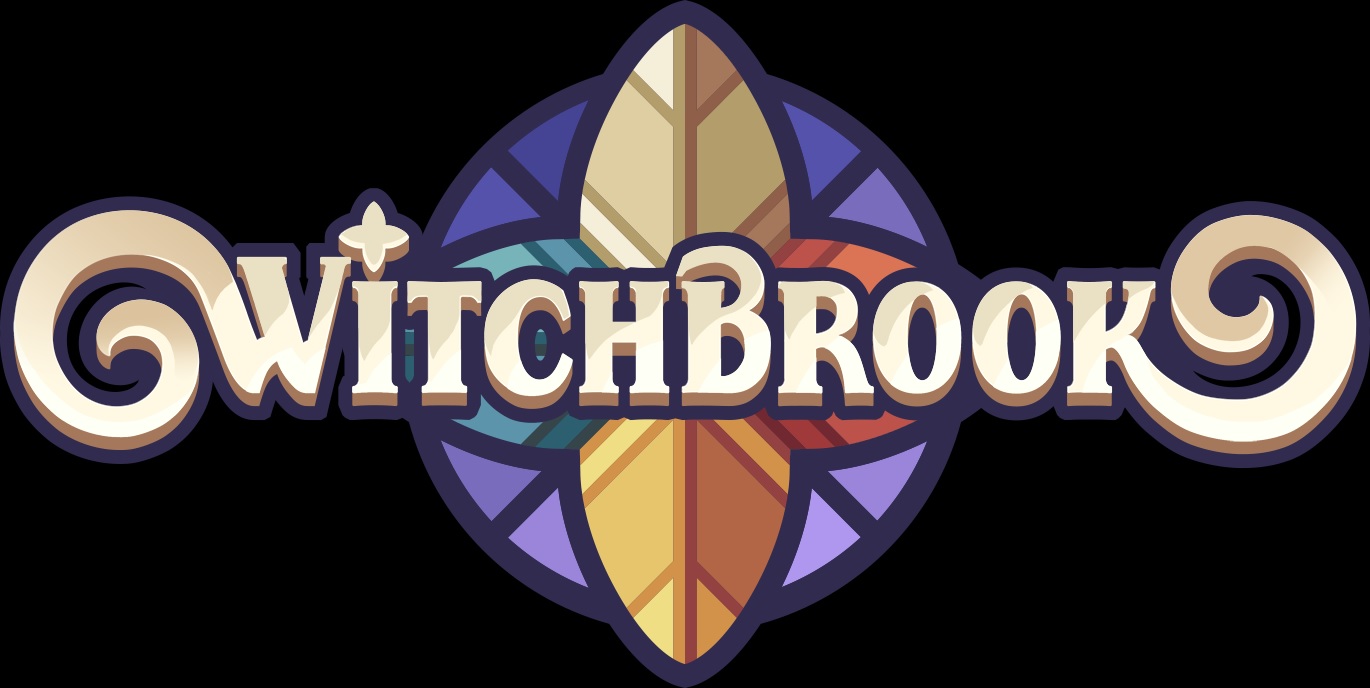 An official website for the title recently surfaced, and it offers you the opportunity to sign up for a newsletter. While London-based developer Chucklefish notes the game's release is still a ways off, with no confirmed platforms announced as yet, it did release three new screenshots. You'll want to take a look back at our first Witchbrook update to see what the most current screenshot from the game looked like at that point, then come back and check these out.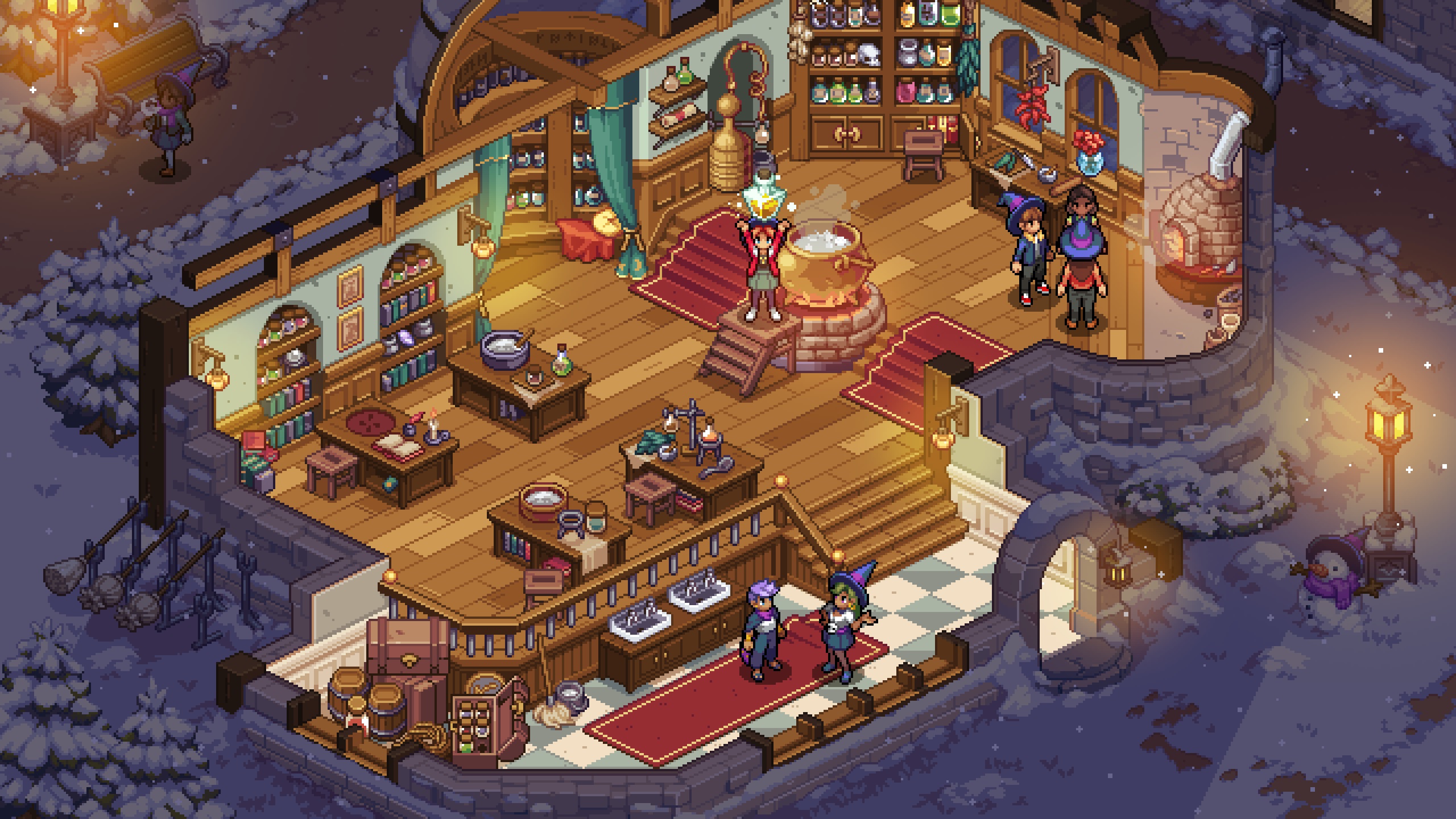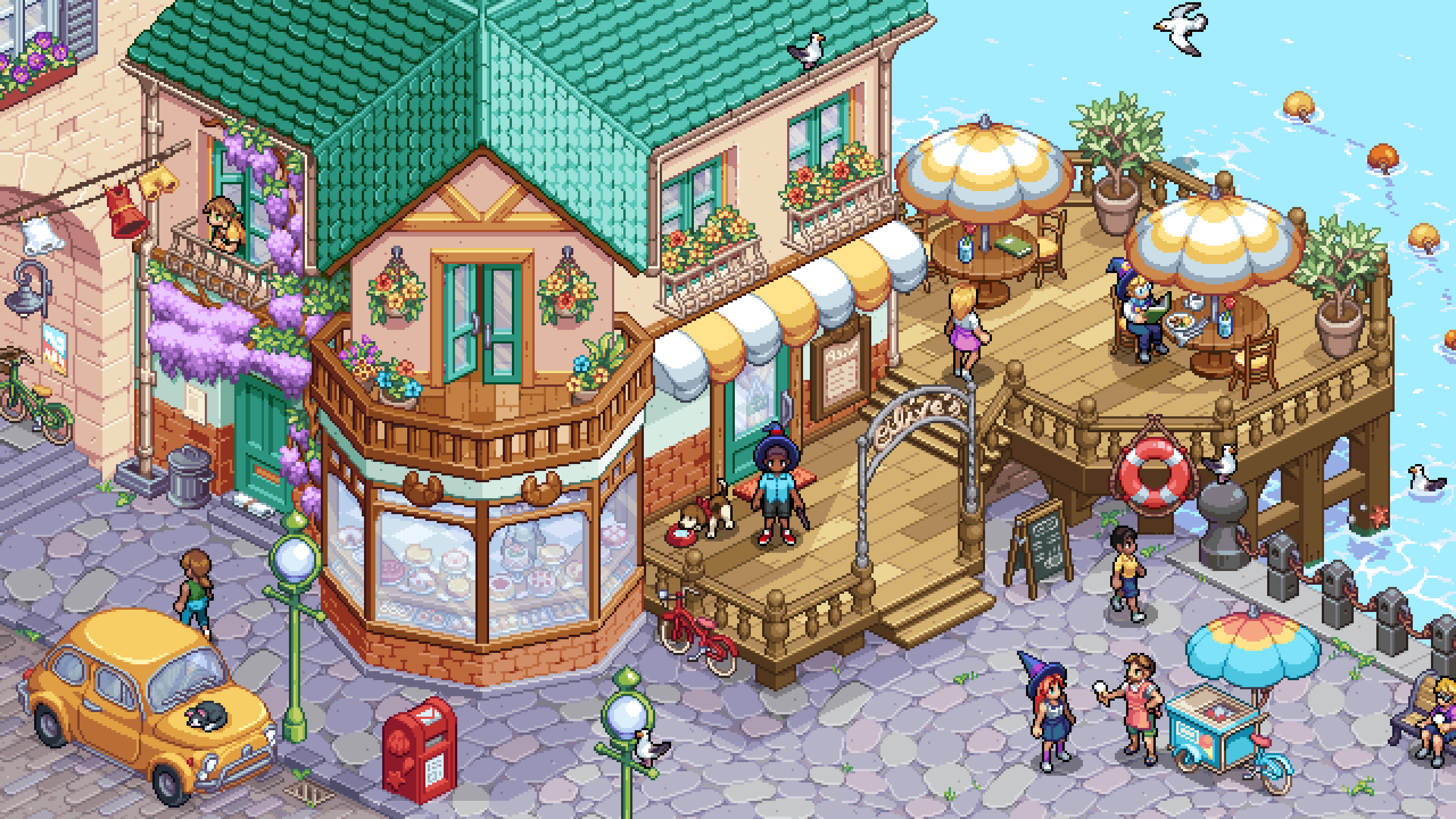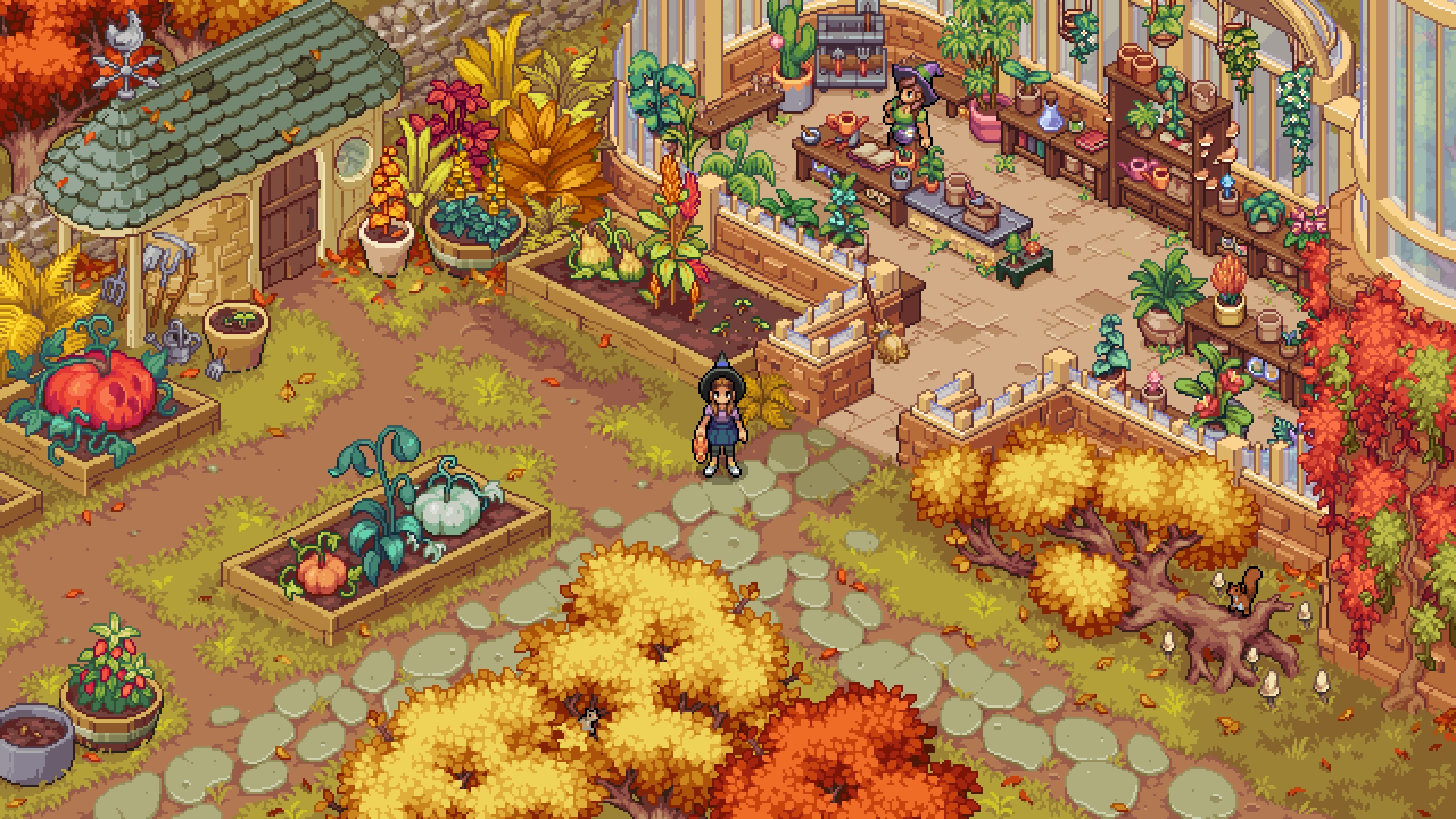 Insert your eyes-popping-out emoji here. This thing is looking fantastic! We can't wait to get our hands on it, and we'll continue to be on the lookout for new updates.
Meanwhile, we also let you know last month about a magnificent new Minecraft modification from the Floo Network. At that point, the mod group's incredible re-creation of Hogwarts and various other wizarding world locales was still in the alpha stage, but we're happy to report that it's officially open for business now.
We fawned over it in our original article, but it's completely worth fawning over again. This thing is brilliant, and while we could spend countless happy hours just wandering around and looking at things, there's action as well. Just check out a glimpse of the gameplay - which includes spell casting, puzzles, Quidditch, and battling monsters - below.
Let us at it. You can join us by downloading the game now with Java Minecraft 1.13.2.