Six Jaw-Dropping Theories About the Weasleys
The Weasleys are easily one of the most beloved families within Harry Potter. We've laughed and cried with them, experienced many of their trials and tribulations, and felt as if we know them inside and out. There isn't anything left to explore… or is there?
Among the many fan theories surrounding the series, we look at the some of the best (and possibly darkest) Weasley theories currently circulating the internet:
1. Ron is a Death Eater.
One of the darker theories on our list suggests that Gryffindor's faithful student, Ron, was a secret Death Eater.
According to Reddit user /RadRightHand, Ron was prone to sticking closely to those who could provide him with the fame and popularity that he so desperately craved. Evidence of such can be seen in his friendship with Harry. Throughout their relationship, Ron manipulates and isolates the famous boy wizard into being his best, and only, friend.
During Harry Potter and the Deathly Hallows, Ron fears that he is on the losing side, causing him to abandon his friends to rejoin the Death Eaters, only to return when Voldemort's power is growing weaker. The theory also claims that Ron was brainwashed by Pettigrew (aka Scabbers) as a young boy. Although interesting to speculate on Ron's darker side, it somehow doesn't stick with his overall loyalty and his discontent toward the Dark Arts.
2. Fred and George's names foreshadowed their future.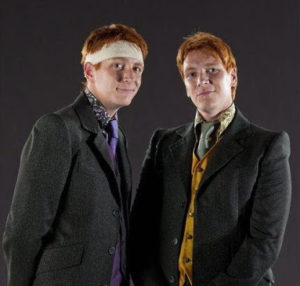 The British royal family and Fred and George don't instantly go hand-in-hand; however, there does appear to be a slight connection between the two.
According to the theory, Fred and George share their names with Prince Frederick and King George III (former Regency monarchs). Both Prince Frederick and Fred Weasley died unexpectedly, which, admittedly, doesn't leave you gasping in astonishment; however, George III developed hearing loss within one ear, and as we all know, George lost his left ear during "The Seven Potters" chapter in Deathly Hallows.
Is this just a matter of coincidence? Or is it an obscure historical reference?
3. Percy and Bill used a Time-Turner.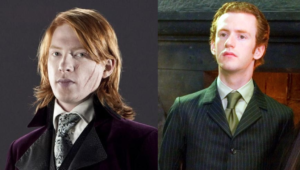 This is a relatively new theory that also features a Death Eater.
According to YouTubers The Super Carlin Brothers, Percy, Bill, and Barty Crouch, Jr. may have had access to Time-Turners during their OWL studies. As the only three students to have taken and passed 12 OWLs, their need for a Time-Turner would have been vital if they were to cope with the sheer amount of work that was required of them during their fifth year.
Bill, Percy, and Barty Crouch would have received high recommendations from Hogwarts teachers (Barty even more so, being the son of a Ministry official), making them the ideal candidates. Maybe the boys proved to be such a success that it enabled Hermione's allowance for a Time-Turner?
4. George is Willy Wonka.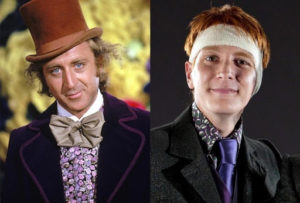 This is a theory that merges two of literature's favorite worlds. After the heartbreaking death of Fred, George reinvented himself and fled to the Muggle world, transforming into Willy Wonka to help overcome his grief. The bizarre and creative disciplines that Wonka assigns to the disobedient children who visit the chocolate factory are reminiscent of Fred and George's pranks. Wonka's temperamental hearing and the fact that his office possesses items that are in half could all be interpreted to have a possible magical link.
If George is Willy Wonka, then are the Oompa Loompas former house-elves? Do we have a theory within a theory, perhaps?
5. Ginny used a love potion.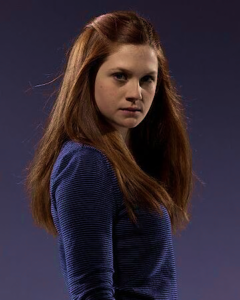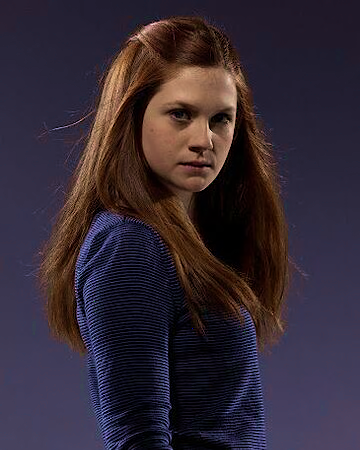 During Harry Potter and the Half-Blood Prince, Harry begins to develop feelings for Ginny after witnessing an intense embrace between her and Dean Thomas. Prior to Harry's sixth year, he barely had interaction with Ginny other than through playing Quidditch and general conversation. Ginny had always been known as "Ron's little sister." Tired of being seen this way, did Ginny succumb to the lure of using a love potion?
During the course of Half-Blood Prince, the theme of love potions and spells appears throughout the story. Could this be a sign of foreshadowing? Fred and George sell their own batch of love potions at Weasleys' Wizard Wheezes (leading to Ron being accidentally drugged by Romilda Vane), and we discover how Voldemort was the result of an extensive love spell. Is it possible that Ginny could have stolen a sample from her brothers' supply room?
Although it's an interesting theory to discuss, we're more inclined to put down Harry's sudden attraction to Ginny to her confidence growth rather than a sinister use of magic.
6. Dumbledore is Ron traveling through time.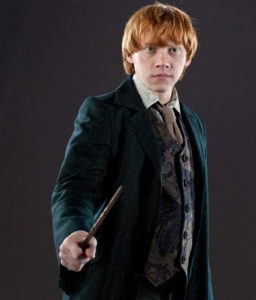 One of the oldest theories on here, this one was proposed back in 2004, suggesting that Ron is Dumbledore traveling through time. With descriptions that mirror each other, with their auburn hair, long noses, and affection for sweets, it makes for an interesting comparison. It explains why Ron is so knowledgeable of certain events within Harry's timeline; for example, Riddle's involvement with Myrtle's death ("Maybe he murdered Myrtle; that would have done everyone a favor…", CS 232). Perhaps Dumbledore had access to one other Time-Turner? If they had illegal Animagi running loose within Hogwarts, then why not an additional Time-Turner?
How plausible do you think these theories are? Share in the comments!
Want more posts like this one? MuggleNet is 99% volunteer-run, and we need your help. With your monthly pledge of $1, you can interact with creators, suggest ideas for future posts, and enter exclusive swag giveaways!
Support us on Patreon