Voldemort's Wand and Golden Snitch Among "Harry Potter" and "Fantastic Beasts" Production Items Up for Auction
Everyone knows that the Harry Potter film sets were as well guarded as Azkaban, so when a production-used item is up for sale, it's a pretty big deal. But when 67 production-used props, costumes, press kits, and more go up for auction, it's a collector's dream.
Hanlin Auction Service in the United States is holding an online auction for a magical amount of movie memorabilia today at 11:00 a.m. ET. The items up for sale are from various Potter movies and the first movie in the Fantastic Beasts series, with some standout items already attracting bids of several thousand dollars. Let's take a look at some of these headliners as well as some of the hidden gems that are up for sale.
The Wands
Stunt wands have been used across all Wizarding World movies, and it's a well-known fact that they are checked in and out by actors during filming to prevent wands from wandering off of the set. Incredibly, three wands are up for auction today: a Lord Voldemort stunt wand, a Bellatrix Lestrange stunt wand, and a Seraphina Picquery stunt wand.
Voldermort's wand currently has the highest bid of any item in the auction at $6,250. Bellatrix's wand has a start price of $2,000, whereas Seraphina's wand has a start price of $1,200.
Other Props
Wands aren't the only props that appear in this auction. A Golden Snitch that was used in the first two Potter movies is currently at $1,000 and is expected to reach around $2,000.
There are also a number of props that are expected to reach around $500–$700 such as a MACUSA paperweight from Fantastic Beasts and Where to Find Them, Harry's Hogwarts letter envelopes, and a branch of the Whomping Willow.
Costumes
There a few costume items up for sale, including two Hogwarts sweaters, one of which was possibly worn by Daniel Radcliffe. The other sweater is listed as a Gryffindor sweater, but we think it looks more like it belongs to a student in Hufflepuff.
Although not conclusive, there is a small "Daniel 3" tag attached to one of the sweaters, which could mean that it was worn by Radcliffe during filming.
The Art Department
Fans of MinaLima can get their hands on some of the design duo's infamous Weasleys' Wizard Wheezes product packaging, as well as interior pages of The Quibbler.
There are a number of different Weasleys' Wizard Wheezes product labels, flyers, and posters up for sale, with expected prices ranging from $50 to $500.
Quiet on Set!
Not everything up for auction was intended for use in front of a camera. Some of the hidden gems in this auction are numerous technical drawings of set layouts, as well as crew T-shirts and ID passes.
The technical drawings are for sets that were used across various Potter movies, from the Reptile House and Hogwarts exteriors in Harry Potter and the Sorcerer's Stone to the Forbidden Forrest layout for the final movies. Most of the technical drawings are expected to reach between $50 and $200.
Press Kits
Ahead of a movie's release, news outlets are often sent press kits containing information and images to use in their coverage. This auction contains a press kit for the video and DVD release of Harry Potter and the Philosopher's Stone and the theatrical release of Harry Potter and the Prisoner of Azkaban.
One Final Hidden Gem…
There is one hidden gem that we have found that we're sure won't stay hidden for long, a copy of Fantastic Beasts and Where to Find Them signed by six Potter actors. The signatures in the book are Daniel Radcliffe, Rupert Grint, Matthew Lewis, Tom Felton, Josh Herdman (Goyle), and Jamie Waylett (Crabbe).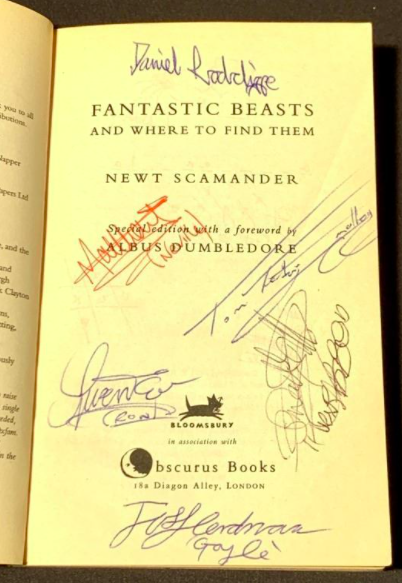 Check out all the 67 items for yourself and let us know what's on your wish list! The auction starts at 11:00 a.m. ET today, so make sure to check back and find out how much some of these items go for.