Halloween Feast Wizard Hats Recipe
One of the absolute best moments in the movie version of Harry Potter and the Sorcerer's Stone is the delicious treats they're all shown tucking into at the Halloween feast. One of the most intriguing dishes is the wizard hats covered in sprinkles and surrounded by jelly beans, and I always wanted to try to make my own version. Check out this recipe post or follow along with the video below for a walk-through of how I made it!
What You'll Need:
Ice cream cones
A box of your favorite instant pudding mix (I used chocolate and vanilla)
Flaked coconut (optional)
Chocolate chips (or white chocolate, if you prefer)
Sprinkles (as many shapes and colors as you'd like!)
Jelly beans
Cookies the size of the top of your ice cream cones
An angel food cake pan or springform pan
Aluminum foil
Directions:
Step 1: First of all, I covered the top of my angel food cake pan with two layers of aluminum foil. I had to tape the edges to make sure it was extra secure.
Step 2: Using a knife, I cut the same number of X's in my foil as cones I planned to make. (I ended up making 7 cones, but you can make as many as you need – especially if this is for your own Halloween feast.) I then put all my cones into the foil so they were standing up straight. If you have one of those fancy cone-holders (it's a thing, but alas, I apparently don't eat enough ice cream cones to justify owning one), you could totally use that instead of doing the foil method.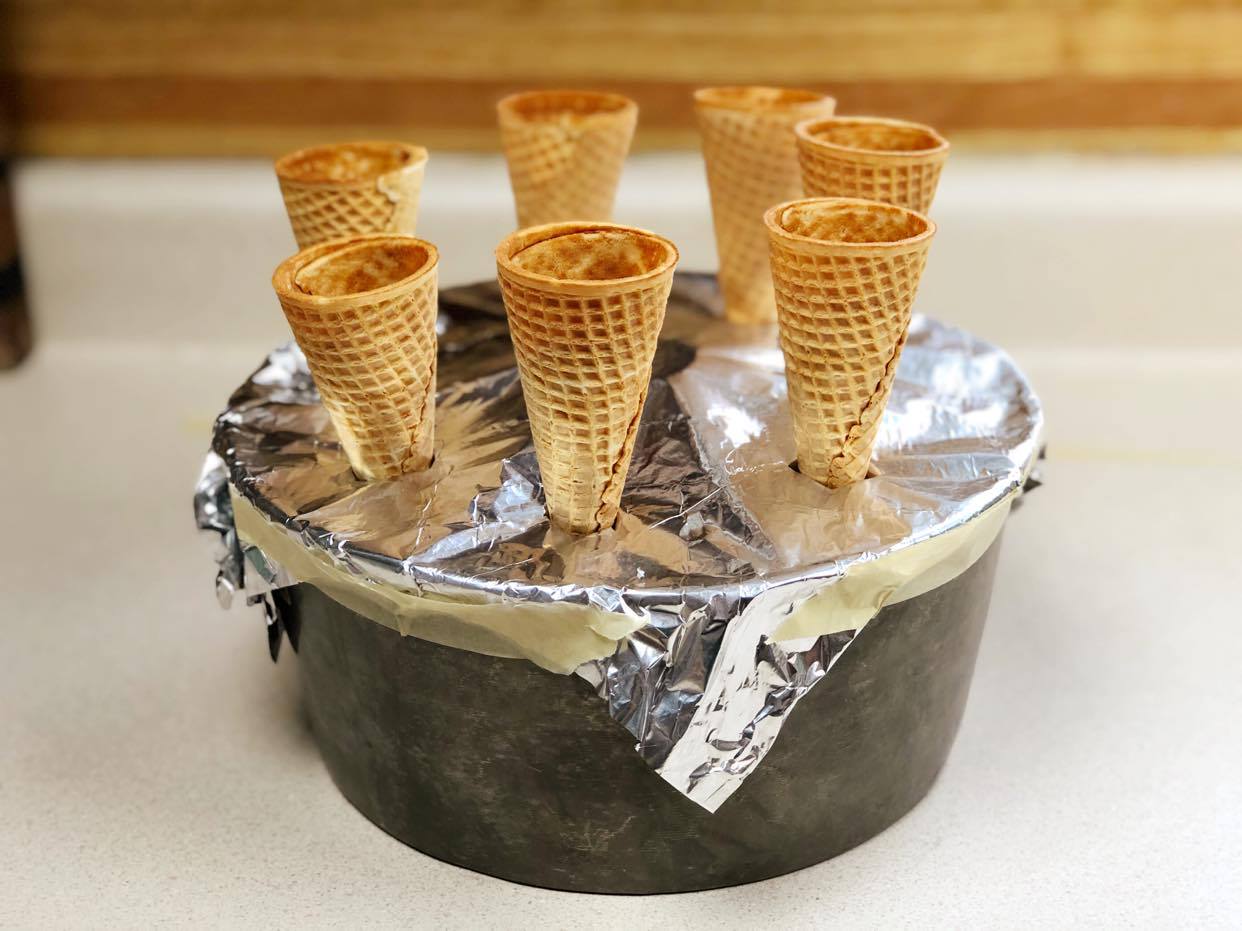 Step 3: Once my cones were secure, I made my filling. There are lots of ways you could do variations on this part, but I decided to go with chocolate pudding and coconut/vanilla pudding. Normally I'm more of a make-it-from-scratch kind of gal, but I have a soft spot for instant pudding, so I felt like this was the perfect moment to give in to that guilty pleasure. I basically followed the instructions on the box for mixing the pudding, but rather than using all milk, I substituted half the milk measurement for whipping cream. This made the pudding a lot thicker, which was necessary to make sure it wouldn't ooze out of the cones once they're turned upright. For my seven cones, I used 1/4 of each pudding packet. A handy way to figure out how much pudding you'll need is to pour a measuring cup of water into an extra cone (if you have one) to determine its volume. Mine each held 1/4 cup, though since my pudding was much thicker than water, I ended up using a bit less than that per cone.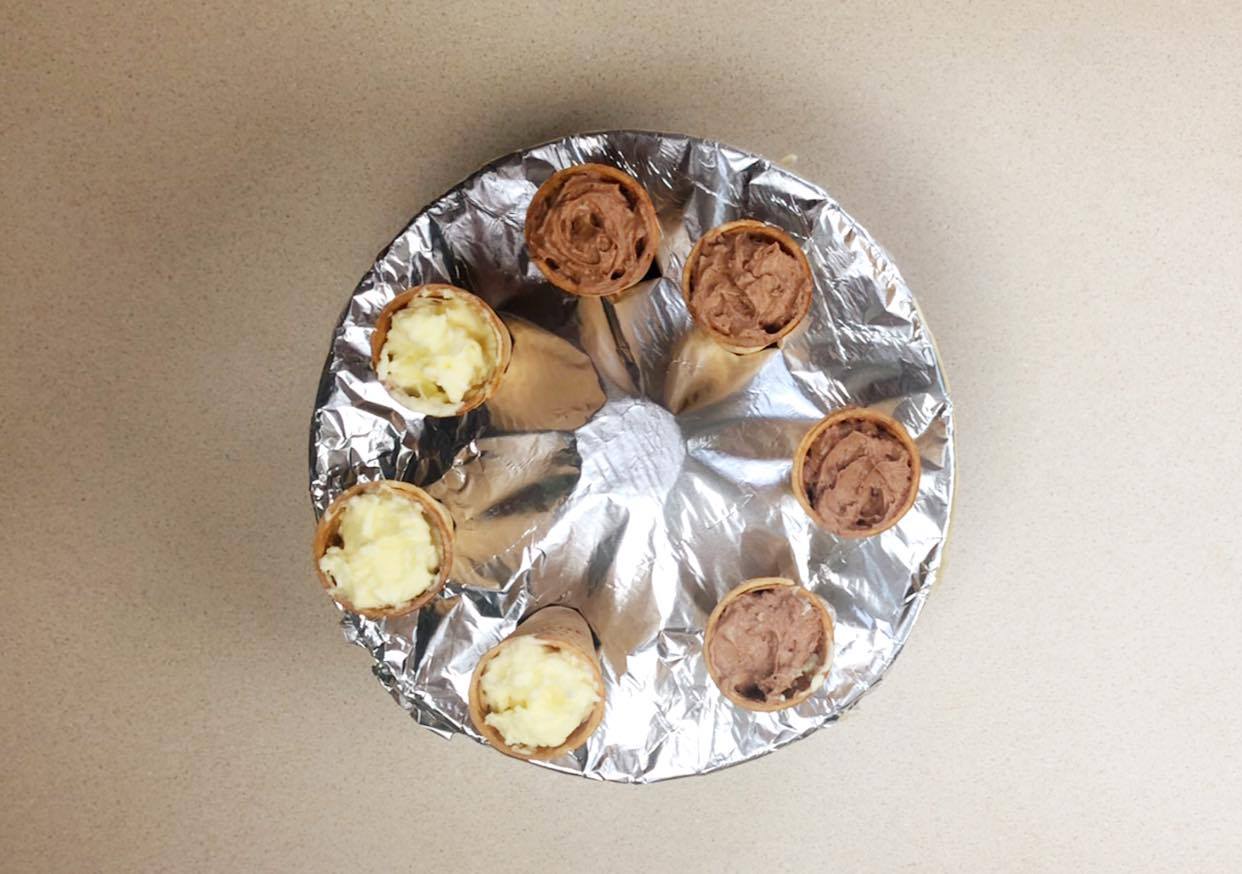 Step 4: While I love instant chocolate pudding, I find the vanilla version a bit weird tasting, so I added about 1/3 cup of flaked coconut to give it a coconutty flavor.
Step 5: I then spooned all my pudding into the cones and pressed an Oreo on top of each one. Here's a tip, because I learned the hard way – make sure you fill your cones really full so the cookie gets glued on well. The cones where I left a bit of a gap kept sliding off the cookie, which was, as you can imagine, not ideal.
Step 6: Once all my cones were filled and topped with cookies, it was time to do the fun part – the decoration! I melted about a half cup of chocolate chips using a double boiler. If you've never used a double boiler before (also called a Bain Marie), you just fill a small pot with about an inch of water and bring it to a boil. Put your chocolate in a bowl that fits over the top of the pot and stir the chocolate as it melts. Remove it when it's smooth, but be careful not to burn yourself on the steam!
Step 7: I then spooned my melted chocolate over each cone, using the back of the spoon to make sure the whole thing was covered. I set each cone (cookie down) on a wire rack to partially set.
Step 8: When the cones were all covered in chocolate, I then rolled them in a plate of sprinkles (if you want to have a variety of looks, feel free to use more than one plate for different sprinkles).
Step 9: I put the cones on a cake stand and poured out a bag of Jelly Bellies to get that deluxe feast look.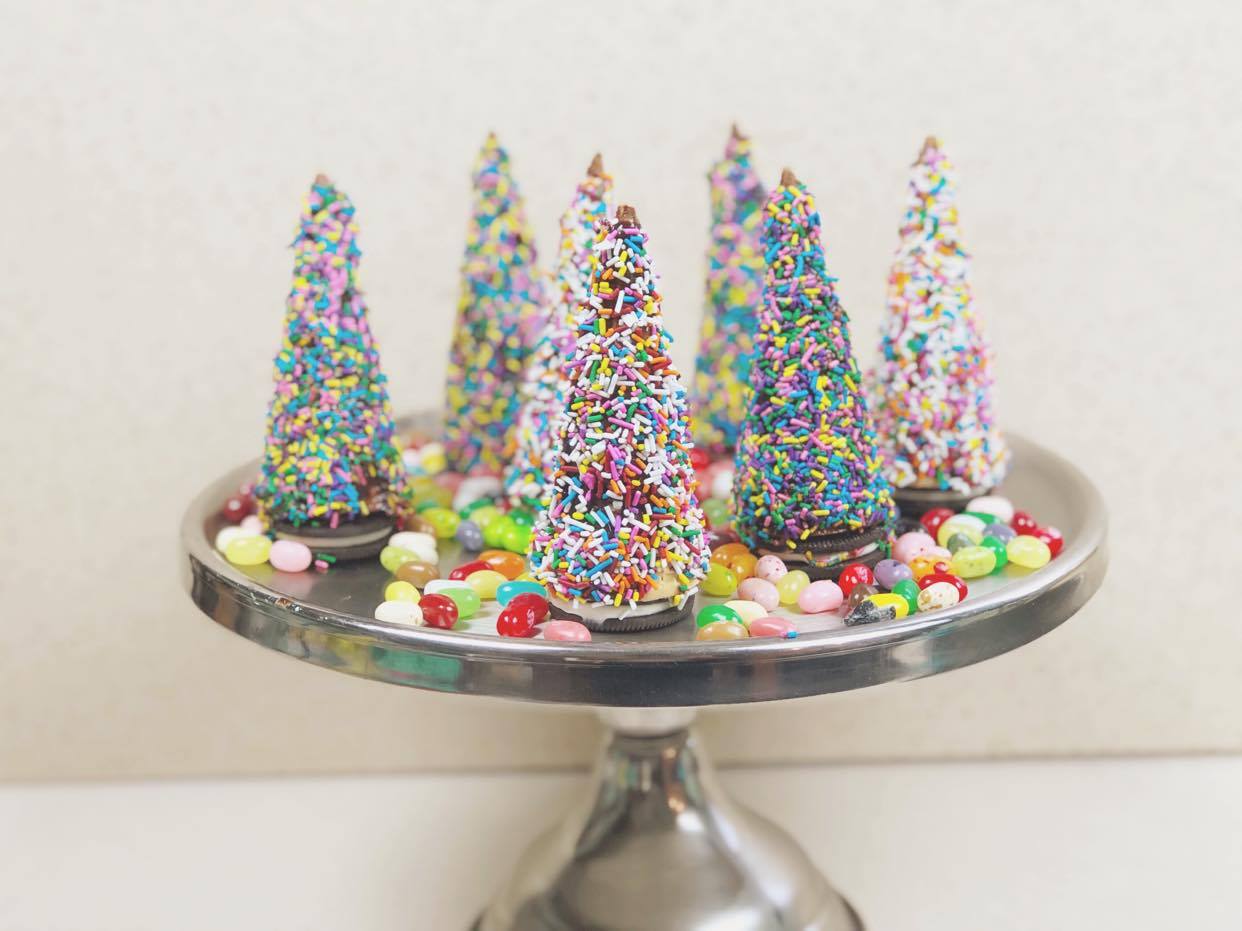 Whether you're having a Halloween feast of your own or you just need a magical pick-me-up, I hope you give this recipe a try. However you're spending yours, have a happy Halloween!
Want more posts like this one? MuggleNet is 99% volunteer-run, and we need your help. With your monthly pledge of $1, you can interact with creators, suggest ideas for future posts, and enter exclusive swag giveaways!
Support us on Patreon