Easter Eggs in Jim Kay's Illustrations for "Harry Potter and the Goblet of Fire"
As a massive fan of artist Jim Kay due to the way he brought the first, second, and third Harry Potter books to life, I knew Harry Potter and the Goblet of Fire would not disappoint. With over 115 curious and captivating images of the story we know and love, Kay's rendition of Goblet of Fire has joined the ranks of my most prized possessions. Don't have a copy yet? You can get yours here.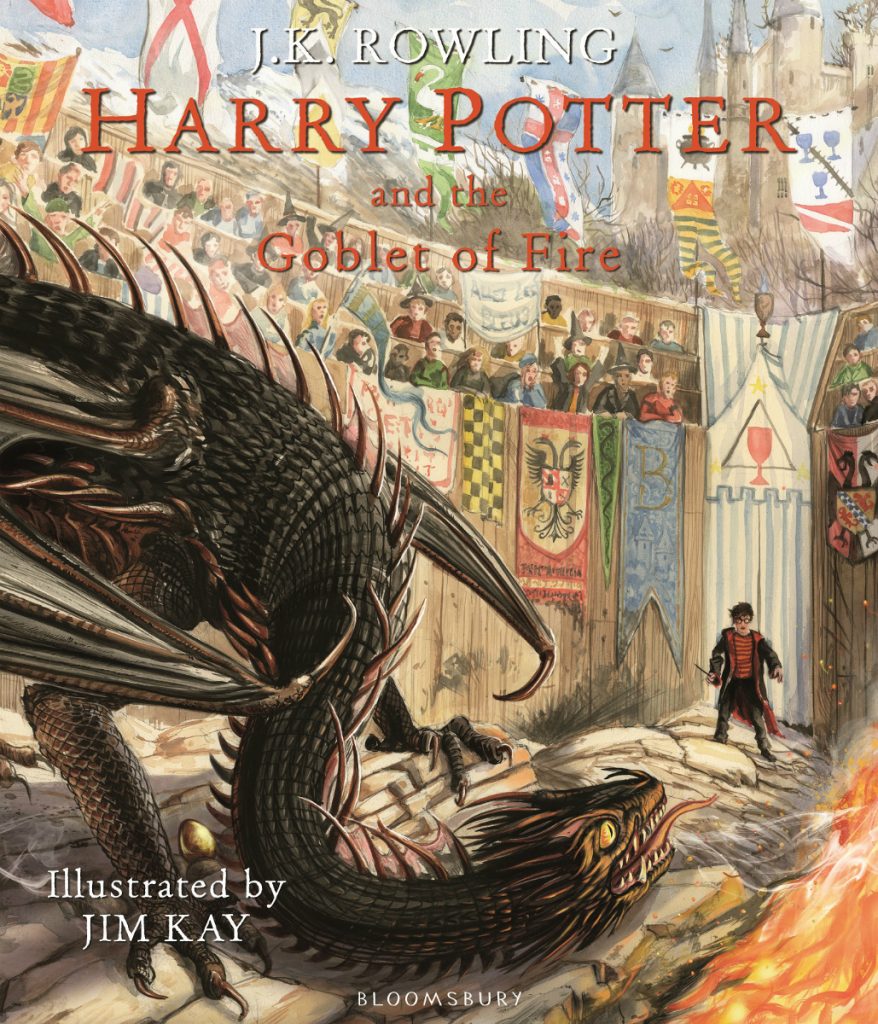 When the project was underway, Kay said, "I want to hide lots of Easter eggs in Goblet, a luxury usually because it takes a lot of planning." Kay is known for his foreshadowing, references to culture and history, and other fun details that reveal his thoughtful method. I've pored over this book since its publication, finding new and charming details every time.
Kay is currently working on Harry Potter and the Order of the Phoenix, and I trust that it'll be a masterpiece. Though I'm eager to see it (as he promised it will be "darker"), I'm content to wait, knowing I'll be satisfied with the result. Meanwhile, I'm continuing my series of sharing Easter eggs in Kay's art, this time focusing on Goblet of Fire.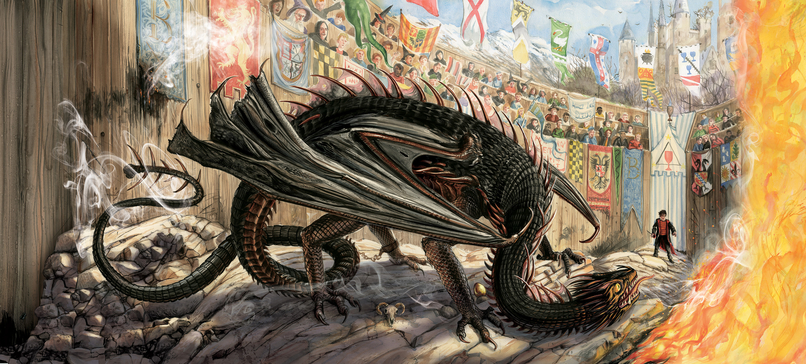 Starting with the book jacket, which Kay completed in one week, you can find the Hogwarts coat of arms, the Gryffindor lion, Hufflepuff colors, and even a Slytherin serpent. Beauxbatons gets a detailed monogram "B"; for Durmstrang, Kay uses a double-headed eagle. Dumbledore looks worried in the stands beside Snape, who appears to be enjoying Harry's predicament.
The first chapter page introduces the Riddle house with images commonly found in Kay's art: an ouroboros and the Green Man. Another ouroboros appears at the Yule Ball on page 263. On page 20, Vernon's newspaper bears the headline "The Chosen One," possibly an inside joke with those who have finished the series.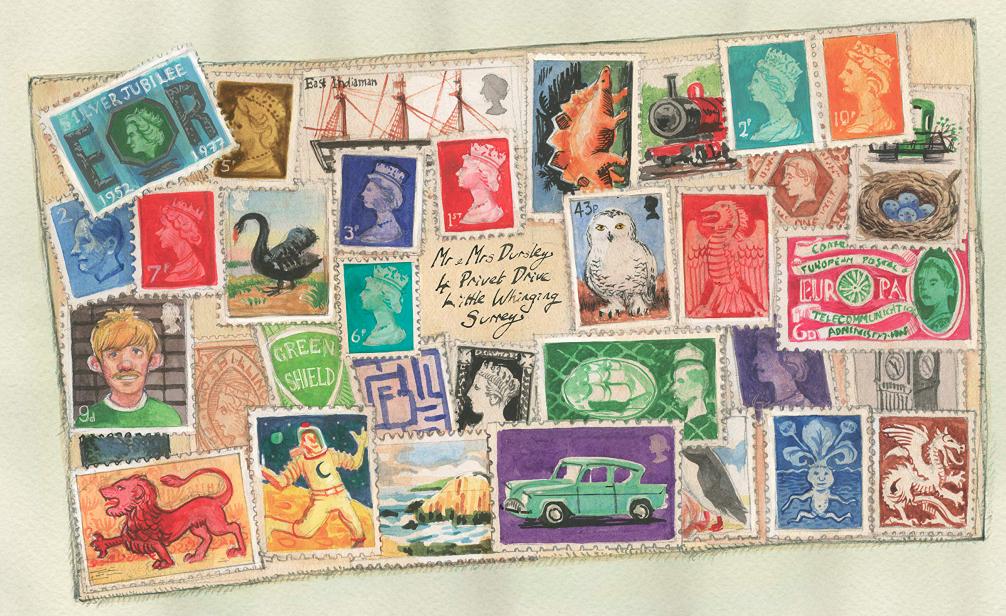 The envelope sent by the Weasleys bears at least 35 stamps, several of which are real and would make collectors cringe to see them frivolously applied to mail:
Silver Jubilee stamps honoring King George V in 1935
A soccer player for the Football Association's 150th anniversary, found by the Rowling Library
Green Shield stamps
The East Indiaman from a 1969 series celebrating shipbuilders and sailors
The European Conference of Postal and Telecommunications Administrations
A Gryffindor lion
A Ford Anglia
Hedwig
The Hogwarts Express
A mandrake
Occamy eggs
Big Ben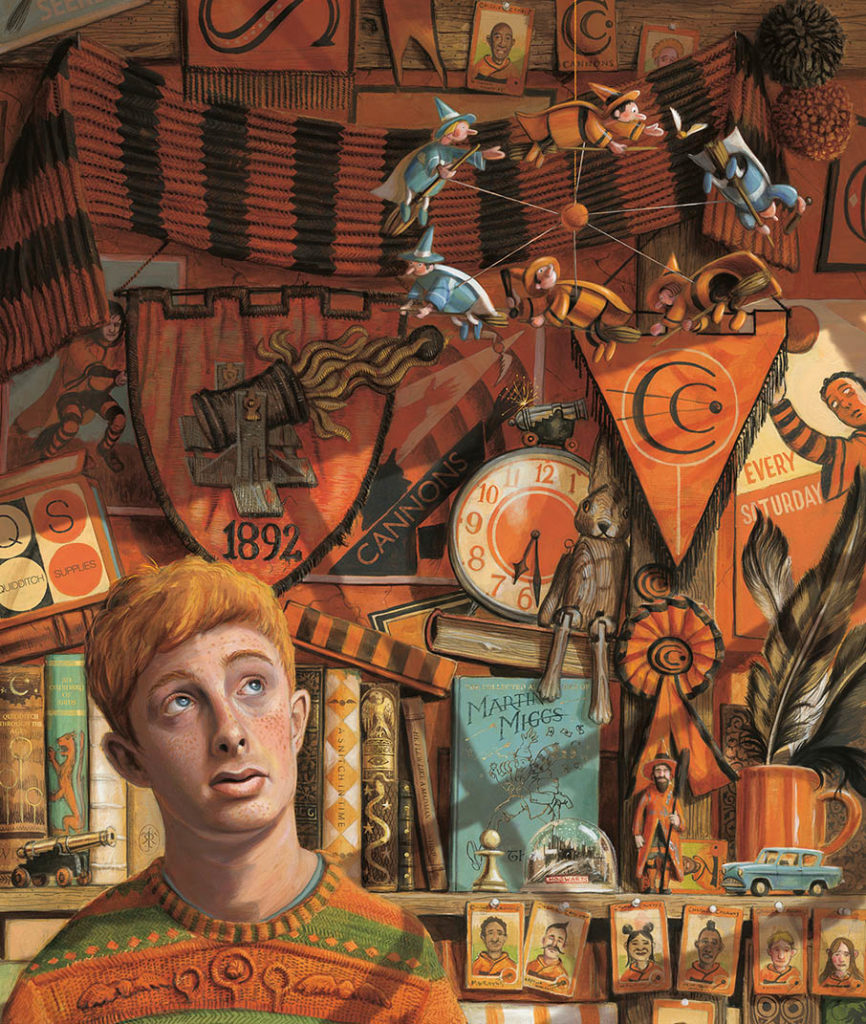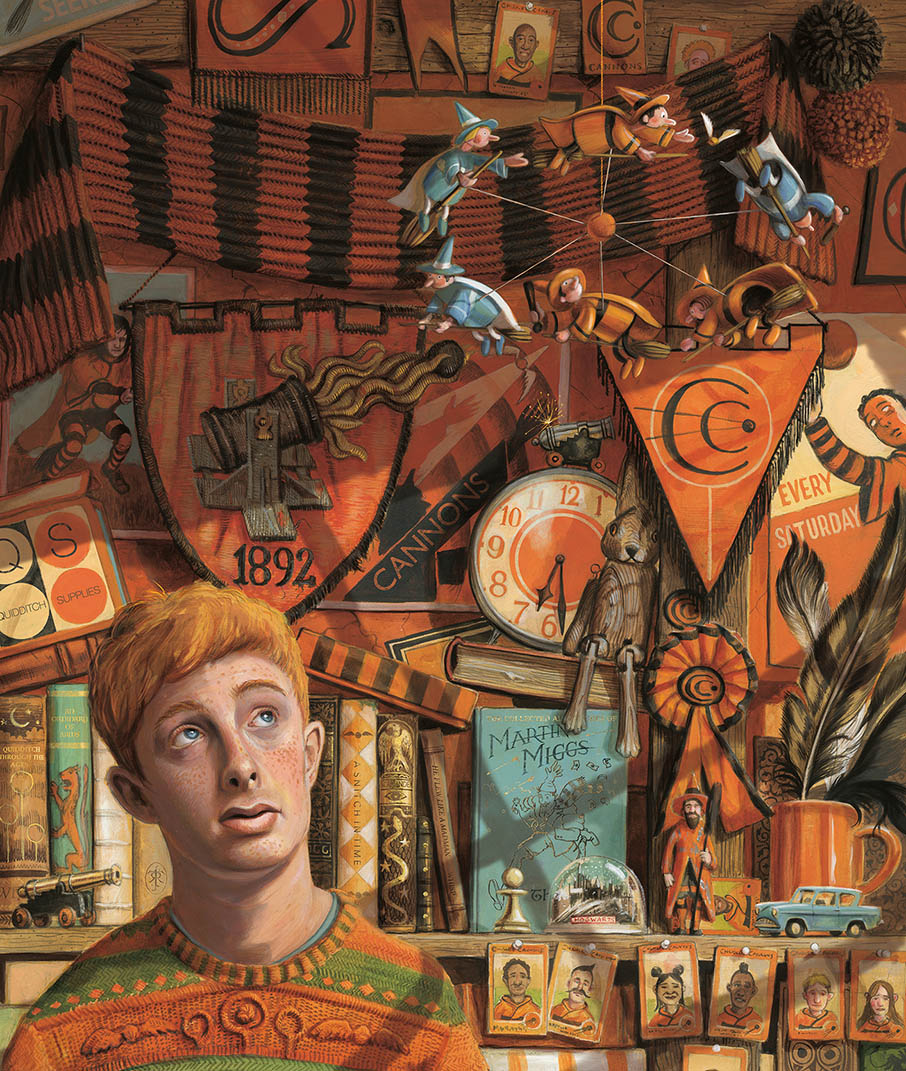 Kay uses real people as references for characters. Molly, Ginny, and Ron are based on a real family, and we'll watch Ron grow up realistically. His room is a satisfying orange explosion packed with Easter eggs:
A poster of Viktor Krum
A Quality Quidditch Supplies box
A copy of Quidditch Through the Ages
A copy of An Ordinary of Arms
A book bearing the sigil of J.R.R. Tolkien
A Snitch in Time, a pun on A Stitch in Time
One of Newt Scamander's books, possibly Fantastic Beasts and Where to Find Them
He Flew Like a Madman, a book mentioned on the "About the Author" page of Quidditch Through The Ages
The Adventures of Martin Miggs, the Mad Muggle
A chess pawn
A Hogwarts snow globe
A model Ford Anglia
Tiny cannons and other Chudley Cannons merchandise


The next pages bear gorgeous spreads of the exterior and interior of the Burrow, featuring Molly busy in the kitchen as well as the following:
A garden statue of a child resembling the Greek god Pan and his flute
The Deathly Hallows symbol
Ron's name carved into the window
At least two garden gnomes hiding from Crookshanks outside and one gnome hiding on the shelves inside
A teapot with three flowers reminiscent of the stars adorning the pages in the original editions
A wireless radio, ready to play Celestina Warbeck
A crate from the joke shop Gambol and Japes
The Quidditch World Cup illustrations are teeming with fun details. On page 59, a Cornish Pixie peers down at a wizard wearing a known symbol of witchcraft, an upside-down triangle with a horizontal line. The main feature of the image is a poster of Krum, whom Kay based on Jonny Greenwood from Radiohead.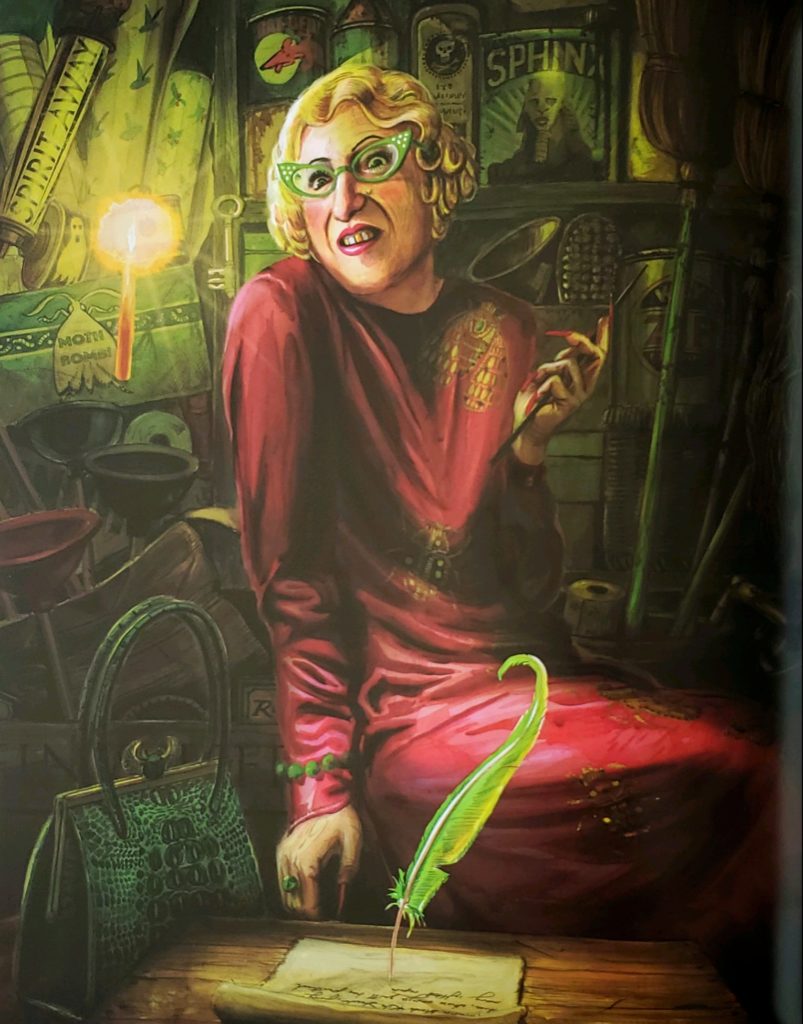 On page 192, Rita Skeeter's clothes and handbag clasp all bear hints to her Animagus form, a beetle. Kay had fun designing the broom closet, seizing "any excuse to do details that aren't asked for."
Another Deathly Hallows-like shape, albeit more debatable, is found on page 420. Also carved into the floor is the Latin phrase "in tenebris est lux," which translates to "in darkness, there is light." This can be interpreted many ways, one of which being that Voldemort has taken Harry's blood, unknowingly sealing his own fate.
I simply cannot get enough of Kay's illustrations, and these Easter eggs are my favorite things about them. He once said, "I'd still be designing the doorknobs or chairs in Hogwarts if I didn't have a deadline," and I adore him for it. Let us know in the comments what details you found.
Want more posts like this one? MuggleNet is 99% volunteer-run, and we need your help. With your monthly pledge of $1, you can interact with creators, suggest ideas for future posts, and enter exclusive swag giveaways!
Support us on Patreon