Easter Eggs and Secrets Revealed in Kazu Kibuishi's "Harry Potter" Cover Art
While we're all staying home to help flatten the curve of COVID-19, there are still ways to stay connected and entertained. Here at MuggleNet, we have been holding exciting live chats over Instagram with members of the cast and crew of the Harry Potter and Fantastic Beasts film franchises as well as prominent figures in the wider fandom, such as the Potter Collector.
I recently had the opportunity to interview graphic novel author and illustrator Kazu Kibuishi. In 2013, Scholastic released a 15th-anniversary-edition box set of the Harry Potter books with original artwork by Kazu. The cover art is beautiful, unique, and full of Easter eggs and interesting stories. Kazu shared some of the secrets behind the artwork with me during our conversation.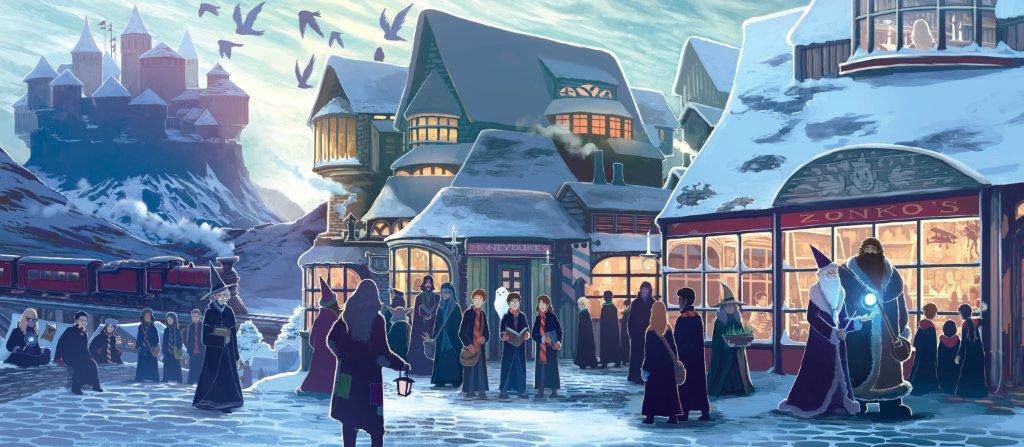 Hidden Figures
Kazu included some Easter eggs in the art wrapping around the box set. Among the recognizable cast of characters, including Draco Malfoy and Luna Lovegood, you can also find people from Kazu's personal and professional life. Kazu pointed out his wife Amy and some of his friends in the foreground of the gorgeous art of the Hogwarts Express as it approaches Hogsmeade. He informed me that everyone included had the opportunity to choose their Hogwarts House for the art. I can only imagine how truly magical it must be to know that your likeness lives in official Harry Potter artwork.
Also included in the box set art is publisher Arthur Levine, who is holding up a book in the windows above Honeydukes, and his assistant; you can find them below the flying owls. Vice President and Creative Director at Scholastic, David Saylor, is working the cash register at Zonko's. Kazu also depicted himself as a kid working for David; he is carrying books to the left of Albus Dumbledore. Kazu insisted during our live Instagram chat that he didn't feel like he would get into Hogwarts. Finally, Kazu pointed out J.K. Rowling herself, writing away at her desk in the windows above Zonko's.
Standing Tall
I shared with Kazu that I admired his choice to illustrate scenes for the back covers with Harry centered with his back to the viewer. I feel that this really captures the feeling of being at one with Harry's perspective in the books. When I held up the back cover of Harry Potter and the Goblet of Fire to give this compliment to Kazu, he lit up and revealed that this was the illustration that started the trend.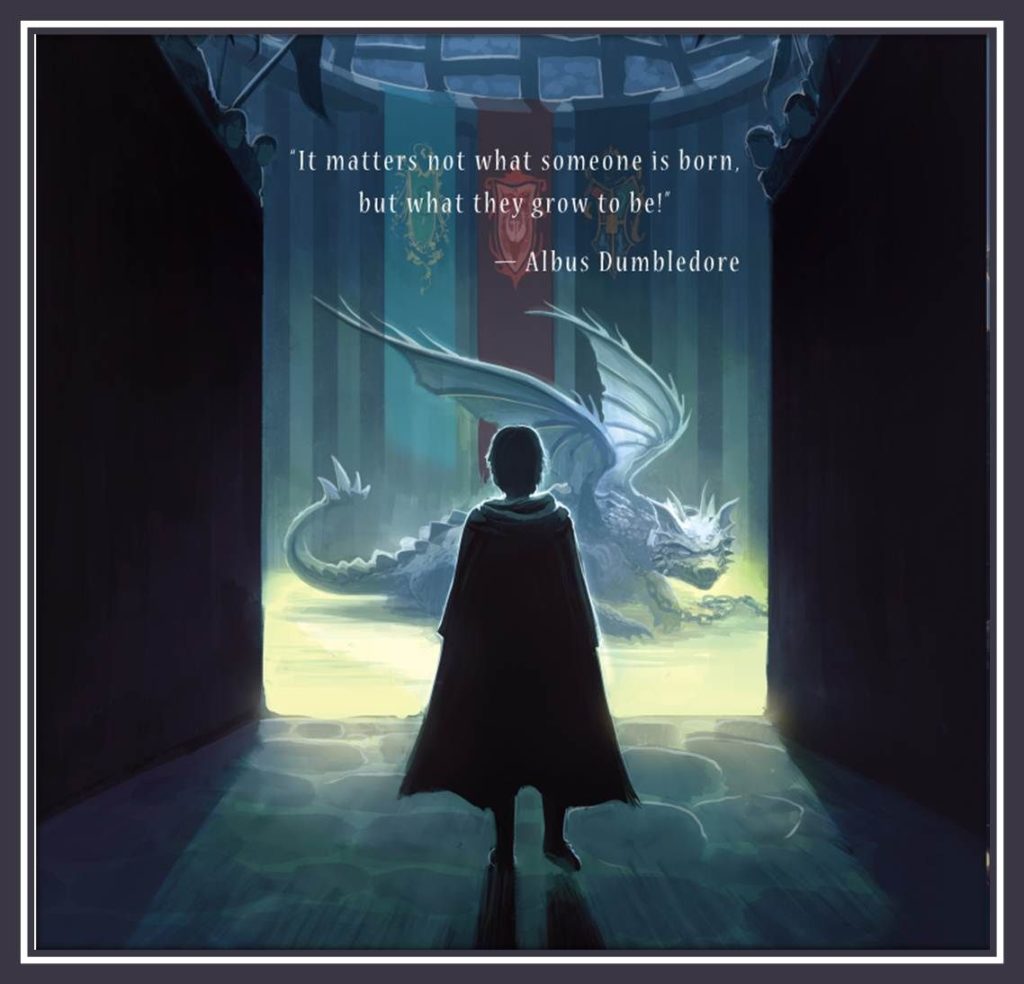 In fact, Kazu explained that this particular scene of Harry alone preparing to face the Hungarian Horntail was originally a contender for the cover of the fourth book. While he felt that the cover should be more lively and colorful to match the spectacular events in the story inside, this picture was so well-liked that the decision was made to make all the back covers follow suit. Kazu pointed out how you can trace Harry's growth as he goes from a small 11-year-old peering into the Mirror of Erised to finally standing tall in the final battle against Voldemort.
Creative Control
When Kazu shared with me that these back covers were created in less than a week, I couldn't believe it. He explained how very quick the whole process was and how he had a lot of creative control. It was his decision to omit reviews for the back of the book, posing the question, who needs to read what others think about Harry Potter? Kazu himself chose the quotes on the back of these books.
Kazu shared his hesitation to take on illustrating these anniversary covers, since he loved Mary GrandPré's work. He revealed that he ultimately accepted the job because he recognized that a new generation, like his Amulet readers, might be finding these books for the first time and would have a set of art for themselves. He showed me the art that got him the job, his cover for Flight Volume 3, which bears a resemblance to his cover of Harry Potter and the Chamber of Secrets.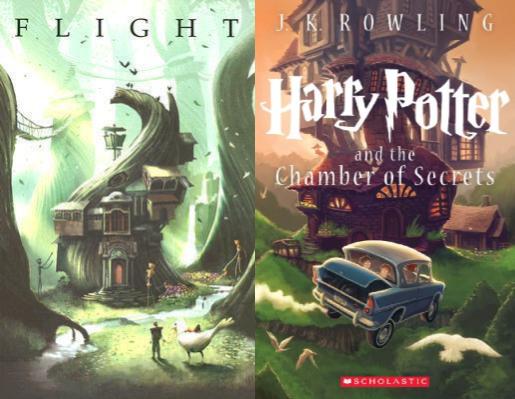 Kazu also explained how he wanted to keep the familiar logo designed by Mary GrandPré that can be found on the original Scholastic covers, the movie franchise, and the new Harry Potter and the Cursed Child artwork. When the logo was sent to him by Scholastic, Kazu actually received an original hand-drawn copy that needed cleaning up. He shared his reverence for such an important Harry Potter artifact.
It was an absolute pleasure to speak with Kazu Kibuishi; we appreciate him taking time away from designing public health PSAs for the state of Washington, completing his final installment of the Amulet series, homeschooling his kids, and uploading activity sheets to his website for kids who are looking for something to do while quarantined at home.
MuggleNet is continuing this series of live chats over on Instagram. Be sure to follow us to catch the next interview or rewatch those that have been published on IGTV.