Norberta's Thoughts on Charlie Weasley's Love Life
I am Norberta, the Norwegian Ridgeback, and today is an exciting day on the dragon preserve. The Weasley family is coming to visit our favorite handler, Charlie. There are a lot of them, so it is always exciting when they arrive. My dragon friends and I went to the watering hole on the reserve to see what was going on when we heard Charlie Weasley talking to his bushy-haired sister-in-law, Hermione. We eavesdropped to hear her telling him about how the internet worked and how there are Muggleborns who use it to talk about the wizarding world as if it were a fictional world. Some of them have online forums where they try to guess the love lives of certain people, and some people think that Charlie may be asexual or aromantic, and that is why he does not have a partner. Hermione went on to explain that someone who is asexual (ace) experiences little to no sexual attraction; another category is aromantic (aro), someone who does not experience romantic attraction. There is also aromantic asexual (aroace) – those who do not experience romantic or sexual attraction.

We dragons have heard Mrs. Weasley complain about Charlie not having a partner. Granted, there have not been many times the whole family was together when Charlie could have had the chance to bring up a significant other. Imagine Charlie at the Triwizard Tournament going up to Ron and saying, "Hey, brother, I know your best mate Harry almost got attacked by the most ferocious dragon of the lot, but come meet my significant other." The Battle of Hogwarts would have also been a terrible place for Charlie to introduce a significant other for so many reasons. If Charlie had brought someone to any of his siblings' weddings, he would have taken the spotlight away from the couple getting married.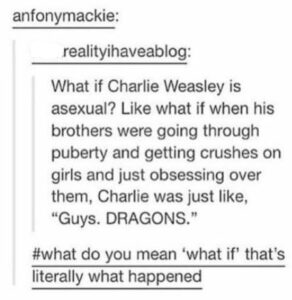 Here are some thoughts on Charlie Weasley's love life from all of us dragons at the Romanian dragon preserve. As much as we dragons like to gossip about the love lives of the handlers, we have never been able to gab about the love life of our favorite flame-haired handler because he has never told us about a significant other. Perhaps we have never heard about one because Charlie does not want one since he is aro or ace or aroace. All that matters to the dragons is that Charlie Weasley is a handler who loves his dragons, and we love Charlie exactly as he is. Maybe Charlie is ace. Maybe he is not. It is not really a dragon's place to pry into the romantic lives of our handlers – especially because whom they love has no bearing on their ability to do their job. If you think Charlie is ace or aroace, you go ahead and think that, especially if it helps you or brings you comfort in some way.
We dragons say that people should celebrate things that bring diverse voices and perspectives into existence so people can see themselves in what they read and watch. We dragons appreciate seeing people come to the reserve wearing clothes and carrying backpacks with different dragon breeds and scale colors. We love when we see our breed or scale color on these items. We want you humans to feel the same way.
At the end of the day, dragons think it is rather silly that humans put so much weight on how people identify themselves. It is one thing to label things so you know a plant that enhances flavor for human food, like basil versus hemlock – something that will kill humans. But it is another to label and judge people based on who they love. Mrs. Weasley loves all her kids (including the one obsessed with cauldron bottoms) for who they are. The world would be a lot better if more people were like Mrs. Weasley and loved unconditionally and left labeling to spices and not love lives. But since humans do not seem likely to change their behavior, see Charlie in a way that makes you feel inspired and empowered, especially if you can bring the world more depictions of dragons because dragons are the best.
Want more posts like this one? MuggleNet is 99% volunteer-run, and we need your help. With your monthly pledge of $1, you can interact with creators, suggest ideas for future posts, and enter exclusive swag giveaways!
Support us on Patreon