Rupert Grint on the Funny Side of "Servant" and Fatherhood
In a recent interview, Rupert Grint discussed the funny aspects of his TV series Servant, along with how this show has given him new perspectives on fatherhood.
One of the most noticeable aspects in the second season of Servant is that producer M. Night Shyamalan enhances the tension while simultaneously increasing the comedy. Joey Moser of Awards Daily first asked Grint about the little bit of absurdity and humor that the team wanted to try to include in Season 2. Grint explained how it is essential to infuse humor wherever it is possible.
I think it's a very human thing to try and find the light in places, especially when there's only half an hour. I think it's important to definitely inject that into wherever we can, and I think definitely in Season 2, with the change of dynamic with Sean and Julian losing a bit of power, that's opened the doors to a lot more broad comedy, which is always fun to do.
When asked how his character, Julian, went from being conspiratorial with Sean to being comforting with Dorothy in a matter of ten minutes, Grint explained that he believes Julian has a distinct relationship with each of the characters. With Sean, Julian is usually involved in secretive and whispered discussions in the cellar, whereas with his sister Dorothy, it is more of a protective relationship.
He wears a lot of different hats. I think he has a very different relationship with all the characters. With Sean, he's his only ally, really, within this lie, so it's always very conspiratorial and hushed conversations in the cellar, and with Dorothy, it's a very much protective thing. I think everything they've done is out of love, and I think Julian… What we learn in Season 2 is his link to the tragedy.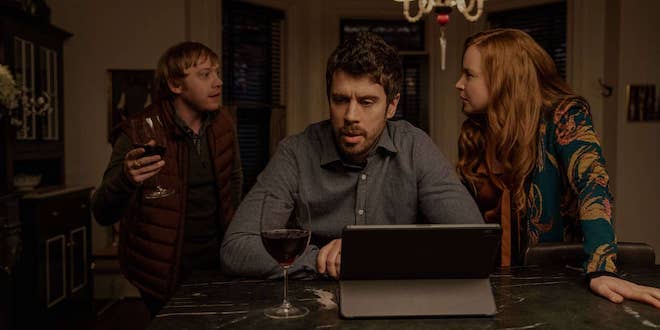 After discussing various details of how the show was made, Moser questioned Grint on being a father during the pandemic alongside shooting for Season 2 while maintaining COVID-19 protocols. They also talked about Season 3 and how Grint keeps his character and the intensity of the subject matter in mind throughout filming.
Rupert replied with how becoming a father was beneficial for him since it made him understand Dorothy more as a parent. The understanding of a parent's love and how it is pretty frightening that you would do anything to protect your child struck him hard.
I came back with a child. That was strange. Just being faced with this subject matter, with that new perspective, has actually been quite helpful. I think it definitely made me understand Dorothy a lot more and what it means or what's at stake. It's such a powerful love you have, and it's quite scary. You would do anything to protect your child, and that suddenly hit me quite hard. Also, particularly now in this third season, Jericho is the same age as my baby. They're weirdly hitting the same milestones, and I've taken some clothes from wardrobe. It feels almost too close. It's strange.
You can check out the full interview with Grint below.
Have you watched Season 2 yet? What do you think will happen in Season 3? Let us know! Also, you can check out other articles on the Harry Potter cast to know what they are up to.
Want more posts like this one? MuggleNet is 99% volunteer-run, and we need your help. With your monthly pledge of $1, you can interact with creators, suggest ideas for future posts, and enter exclusive swag giveaways!
Support us on Patreon