MinaLima's Illustrated "Chamber of Secrets" Is Absolutely Stunning
With the MinaLima-illustrated edition of Harry Potter and the Chamber of Secrets finally on the shelves as of October 26, we can now take a dive into this truly magnificent novel. We at MuggleNet have been holding our breath in anticipation of the newest magical addition to the MinaLima Harry Potter collection. We can now say that it does not disappoint. With vibrant colors and incredible hand-drawn graphics, this novel truly brings the wizarding world to life.
Starting with the novel's cover, it attracts the eye right away with its gold detailing and beautiful illustrations. We see various symbols around the gold framing with a striking image of Harry and Ron flying above the Hogwarts Express in the Ford Anglia. The cover, of course, wouldn't be complete without the official MinaLima stamp at the bottom. From here, it only becomes more stunning through extreme attention to detail as well as illustrations of remarkable moments in the novel. Cover to cover, the book is filled with graphics that practically leap off the page, inviting you into the wizarding world.
Chamber of Secrets is an important book in the Harry Potter series and allows us to get a glimpse into Voldemort's backstory. This novel does not shy away from dealing with dangers around every corner. We also get to learn more about the Weasleys and wizarding world politics through the Malfoys. The MinaLima-illustrated edition provides us with illuminating graphics that feel like the illustrators have seen the insides of our heads. From a glimpse inside the Burrow to pulling a mandrake from its pot to opening the entrance to Dumbledore's office, we get a truly immersive experience of Chamber of Secrets.
MinaLima has once again reminded us of the joys we experienced upon reading this book for the first time. With each page comes a magical element added, and with each chapter comes a full-page image as a preview for the events to come. This book has a way of providing the reader with just enough wow factor to not be overloaded with graphics. It has eight fun interactive graphics, including a panicked Harry falling through the Floo network and a fun turntable for the Polyjuice Potion transformation of Ron and Harry into Crabbe and Goyle.
One character that comes shining through in the graphics is Gilderoy Lockhart. The use of various shades of purple complements the book's written details wonderfully, and we even have an interactive graphic with Lockhart and his self-portraits. We all know it isn't very hard for Lockhart to stand out anywhere he goes, but MinaLima has found a way to spotlight him in a new and vibrant way. He can be spotted on various pages in bright purples with a roguish grin on his face. From the very first time we see him in a beautiful illustration of Diagon Alley to a graphic of him being taken to St. Mungo's, he never loses his charm or his sense of style.
When compared to the MinaLima-illustrated Harry Potter and the Sorceror's Stone, this addition to the collection does not fall short. It is just as stunning and does not disappoint in making the reader feel like a child once more. Not only does this collection surprise and impress, but it also opens up a new way for children today to discover the magical side of reading. Each page carries its own magic and fascination. Where scarlets shine through in Sorcerer's Stone, Chamber of Secrets provides striking greens as both novels give us the nostalgia the readers deserve. Fans of the original novels will not be disappointed if they add these to their shelves.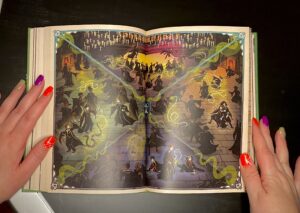 We can not forget to discuss the people who have made these wonderful editions possible. For those unfamiliar, MinaLima was founded by Miraphora Mina and Eduardo Lima. They have been involved in numerous Wizarding World partnerships and have done everything from publishing to theme park design. They have had a major role in the graphics throughout the Harry Potter franchise as well as the current Fantastic Beasts franchise. They are also known for their magical illustration retellings of other classic novels such as Peter Pan, Pinnochio, and The Wizard of Oz. With stunning Harry Potter graphics such as the Black family tree, the Marauder's Map, and Weasleys' Wizard Wheezes designs, it is easy to see how these illustrated novels are so magical.
Be sure to head over to MinaLima's website or Amazon to pick up your copy of this new magical take on Chamber of Secrets. Be sure to also check out the wonderful items MinaLima has for sale on their site. From prints to wallpaper to fun shirt designs, they have some truly stunning designs ready for your next shopping spree. Get stocked up, get your copy of this beautiful book, and get ready for the next addition to the illustrated series – Harry Potter and the Prisoner of Azkaban – to hit the shelves.
Want more posts like this one? MuggleNet is 99% volunteer-run, and we need your help. With your monthly pledge of $1, you can interact with creators, suggest ideas for future posts, and enter exclusive swag giveaways!
Support us on Patreon