SDCCSE 2021: San Diego Comic-Con Proves Fandom Still Going Strong for Special Edition Convention
While we at MuggleNet got used to updating our long list of cancellations amid the ongoing COVID-19 pandemic, one popular convention returned over the weekend (November 26–28, 2021). Dubbed "San Diego Comic-Con Special Edition" (or "SDCCSE," for short) to avoid confusion with the usual summertime San Diego Comic-Con (held virtually this year), Comic-Con International's return to an in-person format was a welcome taste of pre-pandemic fandom life, combined with rules regarding masks and verification of COVID-19 vaccination status (or proof of a negative PCR test).
The other difference in this past weekend's event was the noticeable lack of the major Hollywood studios. With this as my first foray into the world of San Diego Comic-Con, SDCCSE felt much closer to an "ordinary" convention, and that seemed to be the sentiment from a lot of attendees. Fans of NBC's new television series La Brea or HBO Max's upcoming series Peacemaker had offsite activities available – and one surprise appearance by John Cena as Peacemaker at the masquerade on Saturday night – but it was not the usual chaos and excitement for fans of the Wizarding World franchise. (For those fans on Instagram wanting news about the next Fantastic Beasts film, I'm sorry to say that Warner Bros. was not there, and I have none.)
Luckily, that's where the latest edition of the Harry Potter fandom panel, "After 'Always:' The 'Harry Potter' Fandom in 2021," came in. Now, full disclosure, I was on that panel myself, but I can safely say that we had a full house. The description of the panel was as follows:
Heidi Tandy (legal committee volunteer, Organization for Transformative Works), Rachael Vaughn (Snapecast), Shirley Lu (US Quidditch), Katie Sciurba (assistant professor, San Diego State University), Mary Wojcicki (MuggleNet), Naim Martin (fan of fantasy stories), and representatives from the International Quidditch Association and other fan communities look at how "Harry Potter" fandom has changed over the past two decades, discuss fan creativity, and share perspectives on the complicated map of wizardly fandom and fannishness.
One of the primary talking points came in relation to the developments in the fandom since the start of the COVID-19 pandemic, mainly how different panelists have chosen to address the role of J.K. Rowling as the author of the Harry Potter series and her involvement in subsequent Wizarding World properties. For instance, as a representative of MuggleNet, I touched upon what we call "Our Commitment" in light of the stance that Rowling has taken on the transgender community and what that means for us. Shirley Lu, from US Quidditch (USQ), discussed how quidditch, as a mixed-gender contact sport, has had to adjust – and how USQ has taken the additional step of ensuring that its events are not being held in locations that could be unsafe for its athletes.
During the panel, we also touched upon identity and seeing oneself in the Harry Potter series, how the teaching of the series has or hasn't changed in light of recent developments, the role of fan works, and more. Getting a room full of Harry Potter fans together is always an interesting time, but something about this panel felt even more special after the whirlwind that has been around the world since the start of the COVID-19 pandemic. Masks were no match for plenty of creative cosplays, and it was great to see everyone's excitement in relation to something about which we are all so passionate.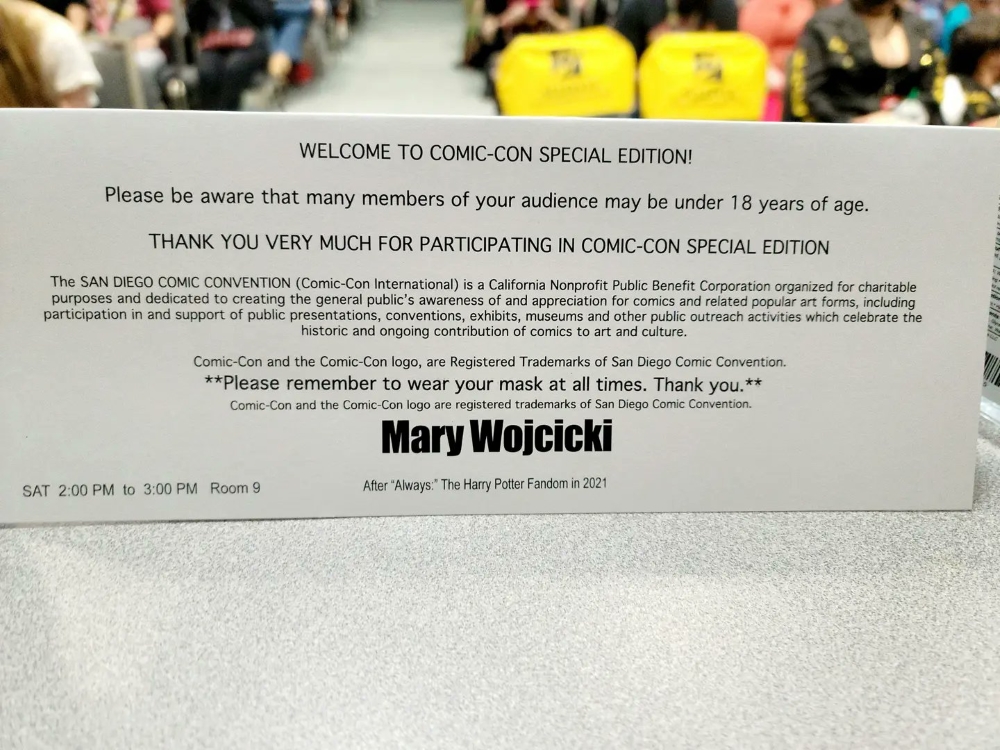 As the world waits for more news on the Omicron variant of COVID-19, it seems as though the tide of the pandemic has not turned completely. Having said that, however, I am thrilled to have had my first experience of SDCC and look forward to being able to attend again to see it in its full, star-studded glory and to make my way over to the Comic-Con Museum.
Want more posts like this one? MuggleNet is 99% volunteer-run, and we need your help. With your monthly pledge of $1, you can interact with creators, suggest ideas for future posts, and enter exclusive swag giveaways!
Support us on Patreon