"Swivel, But Delicately": New Still of Newt and Theseus in "Secrets of Dumbledore"
A new still from Fantastic Beasts: The Secrets of Dumbledore gives us another look at Newt and his brother, Theseus, on an adventure together in the upcoming movie.
The image, which was published by Screen Rant, shows Newt (Eddie Redmayne) and Theseus (Callum Turner) in a cave and appears to be from a scene in the trailer. In the image (that is somewhat reminiscent of an Indiana Jones movie), Theseus is holding a lamp, Newt looks ready to spring into action, and something has definitely caught their attention. Could it be the red crab-like creatures that we see in the trailer?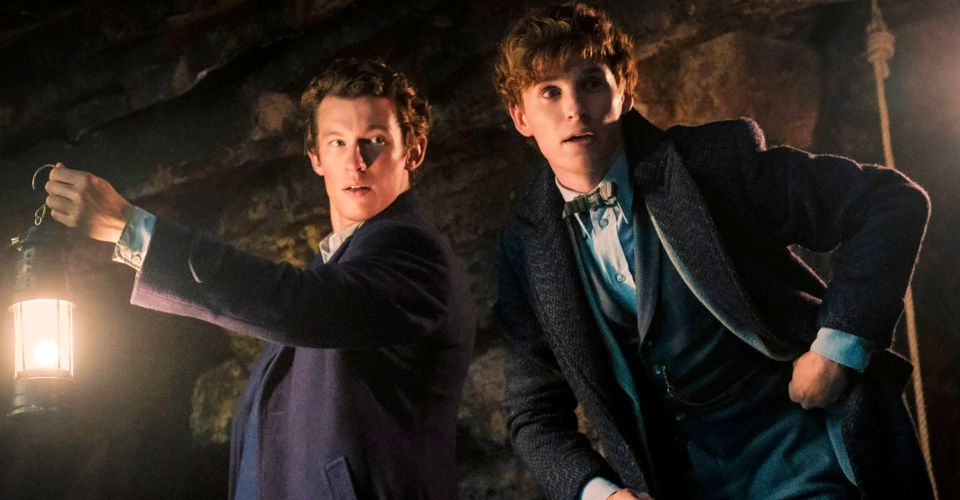 While this image may not contain any new details as such, it does raise one question: Why is Theseus using a lamp rather than casting the Wand-Lighting Charm? Do both he and Newt expect danger and need their wands to defend themselves?
It also brings our attention back to the red crab-like creatures. Here at MuggleNet, we suspect these could be Fire Crabs or Chizpurfles, a type of magical parasite. While the descriptions of these creatures in the Fantastic Beasts and Where to Find Them textbook don't exactly match what we see in the trailer, it wouldn't be unusual for on-screen creatures to be portrayed slightly differently from their textbook counterparts.
Back to Newt and Theseus, another question that remains unanswered is why are they in this cave at all? Is it simply something they must pass through to get to their intended destination, or are they looking for someone, or something, magical?
If you need a reminder of the Newt and Theseus scene, skip to 1:20 in the trailer below and be prepared for some hilarious creature imitating and brotherly bickering. If you want to delve deeper into the trailer, grab a butterbeer and check out MuggleNet's shot-by-shot breakdown.
Of course, the trailer itself left us with a lot of unanswered questions, such as "Why is Jacob at Hogwarts?", "What part does Queenie play in everything?", and "What are the secrets of Dumbledore?" We're unlikely to get the answers to these until the movie is released, but that won't stop us speculating!
Fantastic Beasts: The Secrets of Dumbledore hits theaters on April 8, 2022, in the United Kingdom and April 15, 2022, in the United States.
Want more posts like this one? MuggleNet is 99% volunteer-run, and we need your help. With your monthly pledge of $1, you can interact with creators, suggest ideas for future posts, and enter exclusive swag giveaways!
Support us on Patreon