"I Am a Wizard": Eddie Redmayne on the "Secrets of Dumbledore" Press Tour
Now that Fantastic Beasts: The Secrets of Dumbledore is in theaters around the world, let's take a look at some of the most Hufflepuff things Eddie Redmayne has revealed from interviews over the last few weeks.
He's eager to share the magic with his children.
Kids often think movies are real life, and for Redmayne, his eagerness to share the magic of his job has led to some interesting reactions from his own children. When asked by his son if he was a real wizard, Redmayne struggled with a moral dilemma. Lie to a toddler or ruin the movie magic? Ultimately, he decided to reveal his magical side, but his son was underwhelmed.
I […] find myself stuck in the middle. So I'm like, 'Sort of,' and he's like, 'No, you're either a wizard or you're not,' and so I said, 'Yeah, I am. I am a wizard.' And I sort of did some trick with a coin, my one magic trick that I could do. And he's like, 'Yeah, but that's not the sort of stuff you do in the trailer.'
His daughter was equally unimpressed when he gave her Newt's wand. She grabbed the aluminum foil, got crafty, and turned it into a fairy wand instead.
He takes Newt's words to heart.
One thing fans love about Newt is his approach to life. Redmayne shared with Digital Spy that he takes some inspiration from his character and in particular, Newt's "worrying means you suffer twice" quote from the first Fantastic Beasts movie.
I am a great worrier, and I always tell myself that if the horrendous thing is going to happen, there's no point worrying about it, as it's going to happen anyway, and then you're just going to have doubled your pain.
He also hinted at a quote he loves from Secrets of Dumbledore.
There's something that he says to Dumbledore in this movie [that] I adore, which is that, I'm butchering it here, but we all make mistakes in life, but you can try and make things better. It's the trying that counts. It's the aspiring to make things better that counts.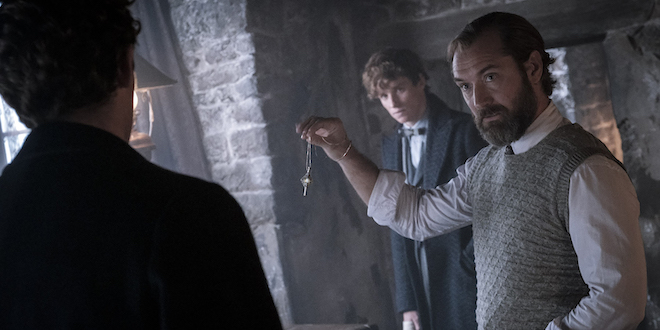 He put his Newt knowledge to the test.
Joining Jimmy Fallon on The Tonight Show for a game of "Know Your Role," Redmayne got off to a shaky start after being misled by the audience. But after two incorrect questions, he got back on track with answering questions about his character and the wider wizarding world.
He put up with filming a scene in a lake, at night, in December.
In IMDb's "Burning Questions" series, Redmayne revealed that his most challenging scene to film was one that happens early on in the movie. The scene involves Newt lying in a lake, which took place during a night shoot in December and was "the coldest [he's] ever been." Not only were the conditions challenging, but the press had also flown a drone over the set and published the photos, leaving Redmayne feeling upset about the leak. However, thankfully, the publications all thought it was a set for Robert Pattinson's The Batman, which was also filming at Leavesden Studios.
He stole Newt's case, and he doesn't have HBO Max.
We're not sure if this counts as a Hufflepuff moment or whether Redmayne's Slytherin side is showing, but he told Radio 1's Ali Plumb, "I thieved this time. […] I just did. I just started stealing stuff." Turns out that he took home one of Newt's cases, which he justifies with the fact that Bunty has a few cases made in this film "because it turns into a heist movie."
Never fear; Redmayne's Hufflepuff nature reappeared when he demonstrated his wand spinning skills (or lack thereof), delved into a conversation about the amazing knitwear in the movie, and sheepishly revealed that he hasn't seen Harry Potter 20th Anniversary: Return to Hogwarts because he doesn't have HBO Max, which he"shouldn't admit given that Warner Bros. made this movie."
And now you're all caught up with Eddie Redmayne's press tour adventures. Have you seen Fantastic Beasts: The Secrets of Dumbledore yet?
Want more posts like this one? MuggleNet is 99% volunteer-run, and we need your help. With your monthly pledge of $1, you can interact with creators, suggest ideas for future posts, and enter exclusive swag giveaways!
Support us on Patreon