The Art of the Wizarding World: In Conversation with Miraphora Mina and Eduardo Lima
Famed for its creative hand in the Harry Potter and Fantastic Beasts films, MinaLima is responsible for bringing so much magical art to life. The duo behind the scenes, Miraphora Mina and Eduardo Lima, are the official graphic designers of Wizarding World content. The pair sat down with AlloCiné to discuss their work on both franchises.
Recent creations from MinaLima can be seen throughout Fantastic Beasts: The Secrets of Dumbledore. Shop signs in the Berlin cityscape, campaign banners held by supportive citizens, and an intricately decorated Portkey, among many other things, were all elements that needed to be considered for the film. Miraphora Mina was the first to answer when asked what designs were their favorite to create.
We had a lot of new worlds to imagine, but I think going to Bhutan – and having this completely new environment that was very local, very primitive, in a way, in its style and because it was so far away and separate from the cities but also from all those dogmas that we were used to in the world of Harry Potter – it was an opportunity to reimagine some of the symbols, figures, shapes, and styles that could be in this magical and sacred destination, that we had never seen before.
Eduardo Lima followed up with some of his most memorable designs as well.
Another big part of our work on this film was the elections. We had to create all the material for Santos's, Tao's, and Grindelwald's supporters. And for me, specifically, having a little bit of Brazil in this film is really important to me since that's where I'm from. So creating the insignia of the [Brazilian] Ministry of Magic and all the other Vicência material was fantastic.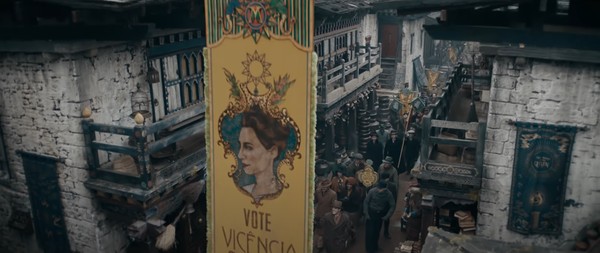 There are always challenges when there are new areas of design to explore. Mina said that re-creating portions of Berlin for the film was tricky and took some organizational skills.
When we went to Muggle worlds in Harry Potter, it was a little boring because it was contemporary. But in the Fantastic Beasts series, it's always great because we have to bring the streets of the '30s to life fairly often. We did it for New York, Paris, and now Berlin. But because of the fantastic way these films are made, everything is done almost entirely in the studio.

So the streets are all built in the studio. To create so many streets that give the impression of being part of an entire city, we have to cram it all into a smaller space but use graphics to make sure that single space gives the impression of being three or four different places. It's a real challenge because it becomes a sort of organizational logistics.
Lima noted, "It's the magic of cinema!"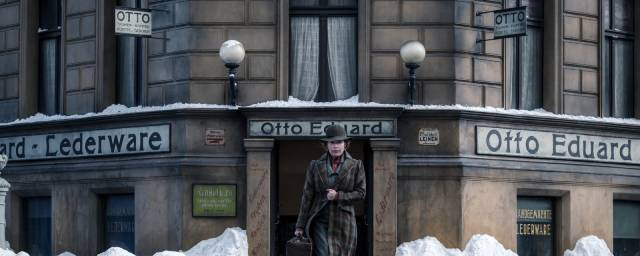 A little bit of digital movie magic may have helped the design duo complete the job, but it's safe to say it's the original, unique quality of art that only MinaLima can create that really makes these films pop. As Mina so keenly said during the interview, "The idea is always to make people feel like it's magic rather than show them. We wanted to provide a sense of magic. It was a joy to do."
While new artwork is always a treat for viewers, it's also fun to take a look back at the classics. When asked about one of MinaLima's "most iconic creations," the Marauder's Map, they both agreed it was a longtime favorite. The key to the layout, Mina described, is not just drawing a map in the style preferred by the graphic designer but also getting into the minds of the map's original creators.
And so from the start, we had to make sure that it wasn't us designing the map, but these four Marauders, and we know a little more about them through the fictional story. And I think if you understand the personality of the person behind the piece, then you can start to find visual clues to help you. So in this case, they were a little crafty and creative and a little cheeky and naughty.
Check out more design content from MinaLima on the official website.
Want more posts like this one? MuggleNet is 99% volunteer-run, and we need your help. With your monthly pledge of $1, you can interact with creators, suggest ideas for future posts, and enter exclusive swag giveaways!
Support us on Patreon