Exciting New Trailer and More for Disney's "Beauty and the Beast"
Emma Watson is living out a Disney dream for all of us princess-wannabes out there, playing one of her favorite characters from her childhood. She's actually wearing the yellow ball gown, dancing with the Beast, exploring a magical castle, and singing the beloved songs that she's known since she was four years old. The first trailer, poster, and pictures have given us glimpses of the first three, showing how wonderfully rich and vibrant Disney's Beauty and the Beast will be, from massive and opulent sets, to intricately detailed costumes and scenery that transports you to another world. Just before the new year, we even got a tiny earful of Emma's singing voice via a leaked Instagram recording of a Belle doll found in stores.
In the latest trailer below, we can now actually see Emma singing about Belle's desire for adventure and a life less provincial.
This trailer also gives us a quick peek at what will sure to be an amazing scene in live action, "Be Our Guest"! This scene was a showstopper in the animated movie, and having seen what Lumière, Cogsworth, and Mrs. Potts will look like in this upcoming version, the premiere on March 17, 2017, cannot get here fast enough!
Another exciting addition to our sneak peeks into this amazing production is this new poster that Emma tweeted about, which shows the household staff in human form, as well as Belle's father, Gaston, and LeFou.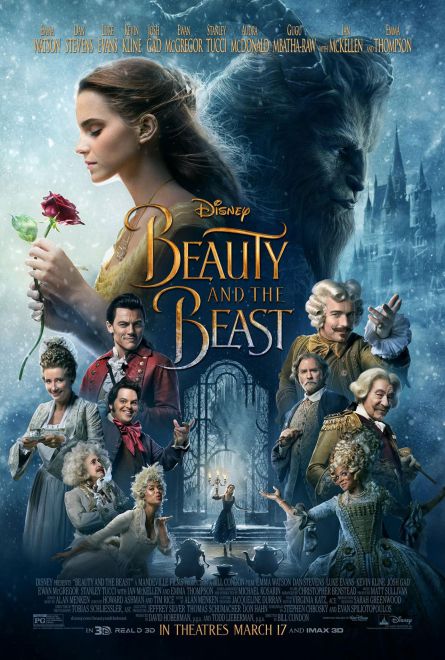 The March 2017 issue of Total Film magazine gives us some very interesting pictures that hint at a bit of a backstory for Beast (Is that his childhood bedroom?), a look at Gaston riling up the townspeople, and a rather grumpy Beast.
Which is your favorite new peek into this highly anticipated retelling? Was the original Disney's Beauty and the Beast a childhood favorite of yours, and if so, are you excited to see Emma as Belle? Let us know what you think in the comments below.