Get on Board the Good Ship MiniPop
One of the most alluring aspects of fan fiction and fan art is that LGBTQ+ characters exist in abundance. The Harry Potter fandom has gotten on board a lot of ships from Drarry to Perciver (Oliver Wood and Percy Weasley). But there are plenty of ships that need some love and appreciation, especially between staff members at Hogwarts. Here are ten reasons why you read and write fan fiction centered on the McGonagall/Pomfrey ship.
1. Their ship name could be MiniPop.
Not only is this name adorable, but it also fits perfectly with the title of the song "On the Good Ship Lollipop." Shirley Temple made the song famous in 1934. Perhaps it is time for a MiniPop remix of the song.
2. Slap heteronormativity in the face.
The Gayly Prophet Podcast has been advocating for people to write more queer fan fiction to challenge anti-LGBTQ+ sentiment present in society. MiniPop stories can help challenge these hateful ideologies. Imagine how great a fan fiction would be where McGonagall and Pomfrey are taking in all the marginalized students to give them the love and support they need.
3. In general, more lesbian fanfic needs to exist.
While fan fiction sites have many writings about male pairings, there are not as many featuring female pairings. When I wrote this at the end of April, Archive of Our Own had 136 works that paired McGonagall/Pomfrey. The lesbian ship with the most works is at 2,530 works under the Luna Lovegood/ Ginny Weasley pairing. Yet the Harry Potter/Severus Snape pair had 13,705 fics. The well-known Harry Potter/Draco Malfoy pairing had 49,772 works. Women need more stories shipping the ladies together to start putting women in the sequel.
4. Old lady lesbians need more love in media.
It's great that there is more diversity in media, but most lesbian portrayals are young people, not old couples. There could be stories that showcase these two as they age together. MiniPop fics can also delve into their origin stories and their coupling. Are they a magical equivalent of a meet-cute? A slow burn? You can decide.
5. MiniPop is actually a feasible plot point.
Pairing McGonagall and Pomfrey together is an Alternate Universe (AU) pairing that is not entirely out of the blue. They are about the same age, and the interactions in the series indicate they get along well. In contrast, Harry Potter/Severus Snape and Harry Potter/Voldemort are unlikely because of the hatred between the characters and the age differences. It should be easier to write MiniPop because it requires much less suspension of belief to sound plausible.
6. Both are underappreciated by Harry.
Both characters advocate for Harry and keep him alive more than most other characters. Pomfrey attends to Harry's many injuries, including regrowing his arm. McGonagall not only sasses Umbridge but mobilizes Hogwarts staff, students, and the Order of the Phoenix to give Harry time to find and destroy the diadem. Yet Harry does not name his kids after them. Fanfics can show MiniPop the appreciation they deserve.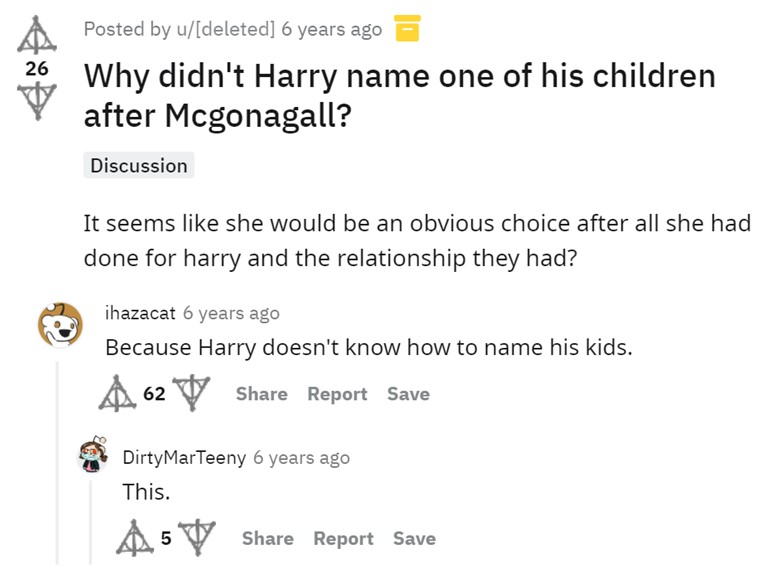 7. Both are strong, independent, no-nonsense women.
Pomfrey did not like Lockhart because she thought he was an ineffective wizard. McGonagall disliked Lockhart and Umbridge because they were ineffective instructors. Both witches worked to care for and protect students, whether that be keeping them in the Hospital wing until they fully recovered or arguing over Harry's potential to be an Auror.
8. They would be the ultimate sass squad against Dumbledore's schemes.
These two would gang up and point out why Dumbledore's ideas are bad for the school. Perhaps the Sorcerer's Stone would not have come to Hogwarts (or would've been better protected), or the school would have been shut down or relocated off the grounds after the first Petrification, if MiniPop had teamed up to argue with Dumbledore.
9. Many MiniPop stories are about adopting baby/little kid Harry, and they are adorable.
The plot is pretty simple. McGonagall either takes Harry off the doorstep immediately or goes to check on him later and realizes that the Dursleys are not lovely, and then she takes Harry away and raises him in a loving home. These stories are very wholesome and delightful.
10. Imagine McGonagall visiting Pomfrey and her patients in her cat form for all the cuddles.
Honestly, it is just so adorable to imagine a sick and scared little first year in the hospital wing, and then McGonagall in her cat form comes in to help them feel better.
Did this convince you to board the good ship MiniPop and write fanfics or make some fan art starring our favorite Mediwitch and Deputy Headmistress? I know I've got some good storylines running through my head. What lesser-appreciated ships should get more stories?
Want more posts like this one? MuggleNet is 99% volunteer-run, and we need your help. With your monthly pledge of $1, you can interact with creators, suggest ideas for future posts, and enter exclusive swag giveaways!
Support us on Patreon