20 Years of MinaLima: Beyond the Wizarding World
This weekend, we're celebrating 20 years of the wonderfully magical MinaLima, the duo responsible for bringing the Wizarding World to life through graphic design.
For this series of articles celebrating this milestone, MuggleNet grabbed a butterbeer with Eduardo Lima and Miraphora Mina to revisit the last two decades. In Part 2, we explore the duo's work beyond the Wizarding World franchise, including the Collective Nouns collection, graphic props for films such as The Imitation Game, and the MinaLima Classics Collection.
Collective Nouns
Shortly after finishing work on the Potter films and setting up their design company, Eduardo and Mira embarked on a collection in which they were both client and designer. Between finishing on Potter at Leavesden Studios in March 2010 and finding their first office space in August, they created Collective Nouns, a collection celebrating the fun and creativity of the English language. Eduardo explains their inspirations:
And I think that was the best thing for our mental health. Not ten years of work and it's a major franchise, no. It just needed to be a bit crazy and colorful and not have to worry too much.
With the help of some friends, Eduardo and Mira set up a small print studio, and the Collective Nouns collection was born. The collection started with an alphabet of the collective nouns for animals and has since expanded to include astrology (a constellation of stars), birds (such as a charm of finches), and professions (such as a band of musicians). MuggleNet asked what the collective noun for a group of MinaLima fans is, and we were told to watch this space.
The Collective Nouns collection was our first self-initiated non-Wizarding World project after completing the Harry Potter films.⚡✨ #20DayCountdown pic.twitter.com/1o3Cs12pnq

— MinaLima (@minalima) June 23, 2021
Collective Nouns opened up MinaLima's work to another audience outside of fans of the Wizarding World, as Eduardo explains.
So what happens is, it becomes a conversation with lots of different new people [who] were coming to us not because of Harry Potter. Because of course we love Harry Potter, and it's a huge presence in our life – and will be forever – and we want to cherish that relationship forever; however, we are not only Harry Potter. It was fresh to have these other people coming to us.
This collection was also Eduardo and Mira's first foray into the world of printing to order, as Mira explains. The project eventually set up shop in Mira's garden shed with a printer the size of an upright piano.
No one taught us how to set that up, but we were like, 'That seems like a good business model to print to order.' We've got 52 – originally 52 to 100 – designs. We ended up having two alphabets. If nobody buys the spider one, that's fine. We've done the design, but we won't print it until someone orders it.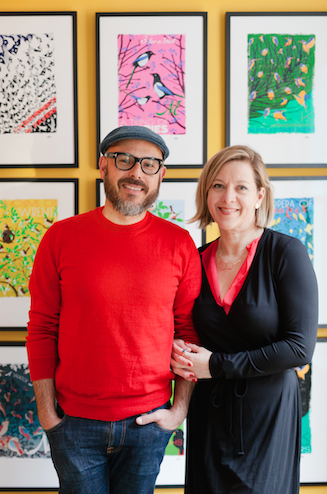 It turns out that the experience the pair gained with printing to order through Collective Nouns enabled MinaLima to take a very special proposition to Warner Bros.
It felt shameless to get on a flight, go to Burbank, and say, 'Warner Bros., we want to do this but with Harry Potter.' We thought that they would say, 'No, are you joking?'
Ten years later, we know that Warner Bros. was very much on board with the idea!
Work on the Silver Screen
In addition to developing the graphic universe for the Wizarding World, MinaLima has worked on several other films to establish the visual language for each story. These include the family fantasy The Golden Compass, the musical horror Sweeney Todd: The Demon Barber of Fleet Street, and The Legend of Tarzan, directed by Potter and Fantastic Beasts director David Yates. One of their non-Wizarding World movies was 2014's The Imitation Game, which saw MinaLima take on the challenge of helping tell a true story, as both Mira and Eduardo spoke to.
It was definitely attractive to be able to tell it [and] to be part of the telling of a very important story that wasn't very known. So I think that did speak to our souls and our hearts before thinking about how interesting it might be to do as a graphic project. I think for Eduardo, particularly, the gay connection and putting things right.
It's so upsetting that his life was cut so short because can you imagine how much he could have helped invent it and transform the work that he did? It's so frustrating. It's so infuriating, actually, because of him being gay and he had to go through that horrible… Yeah, it's horrible.
For the movie, Eduardo and Mira worked to create graphic props that conveyed and reflected the work of real people during the Second World War. However, according to Mira, they didn't approach the design process any differently from their work on any other films.
To us, to be honest, it's exactly the same process and engagement with story. Because after all, when we're doing fantasy, for us, the whole point is presenting a reality to the audience. So actually, our role in storytelling is exactly the same whether we're trying to re-create an encrypted document that we didn't really know exactly what it looked like but we wanted to tell that story to make it believable to the audience or whether we're giving you a wizard newspaper because we need you to believe that that is real in this world.
MinaLima's signature attention to detail was present throughout this production. Among the graphic props needed for The Imitation Game were documents of encrypted and decrypted code. To research for this project, Eduardo and Mira visited the archives at Bletchley Park in the United Kingdom (where the 1940s code breakers depicted in the movie worked). They learned about the process of code breaking to understand what a document would look like by the time it reached the end of the process. Mira and Eduardo share what they know:
We always need to start with a real order and a kind of logic. […] 'Okay, so this piece of paper would have started on this desk and this person only knew this map. Then it would go to that desk, and this extra bit of information would be added. And then somebody would put a crayon around that bit. We had to create an order in our own heads.'

As you know, we are very detailed, and we made sure to find a paper that was similar to what they used at the time. We knew at that time that [the] Second World War [was happening]. Everything was so bad. You don't have enough paper, so you have to use every single corner of the page. We did that with all the documents and stuff.
Scenes for movies are often filmed out of order from the story, and The Imitation Game was no different. Unfortunately for MinaLima, the schedule for The Imitation Game placed the final scene, in which secret documents and files are burned in a bonfire, early on in the shoot. Mira and Eduardo explain the consequences:
On the schedule, [it] was put in the first week of shooting. We had to do the burnt stuff before we saw unburnt stuff, so it's two of everything.

You could not just come with blank paper because we didn't know how the scene was going to be shot. You might see some notations, so we had to create it the same way we created the papers for later.
While Eduardo and Mira let go of props after creating them, knowing that whether or not they make it on-screen is beyond their control, it can't have been fun to see the bonfire on the schedule for the first week of filming.
Beyond working for the silver screen, over the past six years, Eduardo and Mira have taken the visual art of storytelling from the screen to the page.
MinaLima Classics Collection
The MinaLima Classics Collection started in 2015 in partnership with publishers HarperCollins. Beloved tales have been brought to life across seven books, with the eighth, The Wonderful Wizard of Oz, set to be published this year. For Mira, this collection is not only about fulfilling a love for storytelling but also about challenging approaches to designing and illustrating.
It was a little bit like, 'Okay, we feel quite confident and comfortable in designing props for a film story. What would it be like if we were asked to do props within a book?' If a story had to have the letters and the maps and the indicators that drive the story, what would they be and how would you get them just to stay within this format rather than on-screen? It was like setting ourselves a new challenge.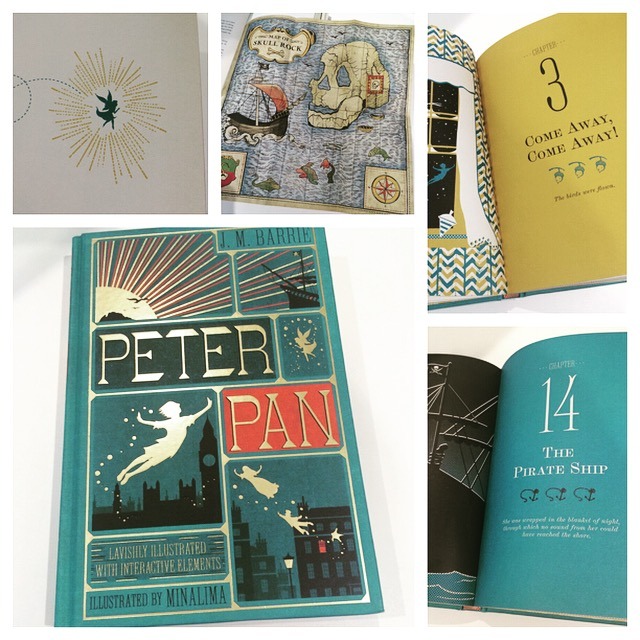 Peter Pan was the first in the collection, followed by The Jungle Book in 2016 and The Beauty and the Beast in 2017. These books keep the design within the universe of each story. Mira explained that rather than thinking of how they should design Peter Pan, they asked instead, "What would a book in Peter's world look like?"
We always try to plant a key into things, and for us, it was, 'What would a book be like if it was in Wendy's bedroom?' So it's not a book about Peter Pan, but it's a book from 'Peter Pan.' So you'll see in your copy there that the treatment, from the cover design to the endpapers to even the pages themselves, we've actually put a fake aging on things. So everything feels like it's in-world, and that's really the kind of mandate that we set for 'Peter Pan,' and then it rolled on to all of them and seemed to work.
The Little Mermaid and Other Fairytales, The Secret Garden, and Alice's Adventures in Wonderland & Through the Looking-Glass all followed in 2018. The Adventures of Pinocchio was published in 2020 and took the in-universe design approach to the next level by adopting woodblock printing and carved style illustrations throughout the book.
The Adventures of Pinocchio was written by Italian satirist Carlo Collodi and first published in 1883. Rediscover the story of the most famous marionette in our illustrated and interactive edition! 🤥✨#20DayCountdown @HarperCollins pic.twitter.com/fW6BGcDgdc

— MinaLima (@minalima) June 30, 2021
Reflecting on the MinaLima Classics Collection to date, it would surprise no one to know that work has begun on the ninth book in the collection. While the title and story are still under wraps, says Eduardo, we do know is that it will bring them closer to the 12 books they suggested to HarperCollins at the beginning of the project.
Again, it's all about storytelling. If the storytelling is compelling and fun, that is what drives us to do those books. And talking to HarperCollins, we said, as a joke, 'Oh, okay. Let's start with this collection of maybe 12 books.' […] We already started on Book 9, but we can't say just yet what the title is.
Helping tell other people's stories through visual design, whether on the page or on-screen, has been a passion for MinaLima over the past 20 years. Going forward, Eduardo and Mira want to take the next steps to bring original stories to life, as Eduardo explains:
I think with that collection, after doing nine books now, I think we feel that we are ready to tell our own stories. So that is where MinaLima will be focusing our time and energy in the next year or two. It's where we're going to start creating our own worlds and our own characters and our own crazy stories. […] [After] working the last seven years on those books, it's now time for us to tell our own story. We are ready.
Come back tomorrow for the final installment of our MinaLima miniseries, when we will look back on the story of House of MinaLima, heartwarming interactions with fans, and the impact of MinaLima on the Muggle world.
Want more posts like this one? MuggleNet is 99% volunteer-run, and we need your help. With your monthly pledge of $1, you can interact with creators, suggest ideas for future posts, and enter exclusive swag giveaways!
Support us on Patreon