20 Years of MinaLima: It Started with a Letter
Today marks 20 years of the wonderfully magical MinaLima, the duo and design company responsible for bringing the wizarding world to life through graphic design.
In this series of articles celebrating this milestone, MuggleNet grabbed a butterbeer with Eduardo Lima and Miraphora Mina to revisit the last two decades. In Part 1, we explore the duo's work in the Wizarding World franchise.
It started with a letter.
Fittingly, the origins of MinaLima can be found in the first Potter movie and with a letter. Miraphora was working in the art department of Harry Potter and the Sorcerer's Stone when she was tasked with creating what is perhaps the most iconic graphic prop in the Wizarding World: Harry's Hogwarts letter. And just as Mira's Potter journey began with a letter, so did Eduardo's.
I was working with a film director [who] by chance met Mira while they were both in Italy at the same time. And she said to me, 'Oh Eduardo, you're going back to London. You should contact Mira. She's working on this film about a wizard orphan boy. No idea what that is, but it sounds quite interesting. I think you should contact her when you arrive in London.' So I arrived in April 2001, and I waited a couple of months until I was settled, and I contacted Mira. I even found the letter that I sent her.
In her reply, Mira revealed that she had just finished work on Sorcerer's Stone but that she would start work on the second film soon and although she couldn't promise anything, Eduardo should come and see her. Included in her reply was a list of around 35 people whom she suggested Eduardo should contact in the meantime. He didn't reach out to a single person, feeling that he should just wait until he could meet Mira.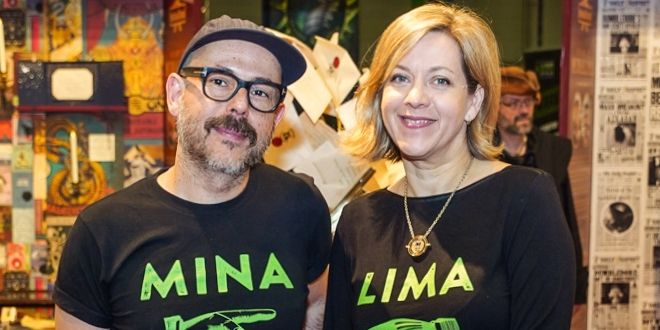 After meeting for the first time in July 2001, Eduardo started working on Harry Potter and the Chamber of Secrets in the autumn of that year when he joined Mira for a week's work experience. And the rest, as they say, is history.
But I waited until July, and in July, I went to Leavesden to see Mira for the first time. And since that first day, we've never stopped talking, plotting, laughing. But I went back only around September or October to do a week's working experience [on] the second Harry Potter film. Then one-week work experience becomes two, becomes three, four, five.
Neither of them quite knew what they were getting into when they began their Potter journey. It may seem strange to think about 20 years later, but when Eduardo and Mira first began working on the graphic art for Harry Potter, there were no visual references. The stories only existed on the page and in fans' imaginations, as Mira explained.
Because of course until 2000, it was words on pages and very vivid in people's imaginations, but no one had actually realized anything physically. And so it was exciting, a huge responsibility, but exciting equal measure. That's a great thing about being new to things because you never realize what a great responsibility it is.
Equally, in the early 2000s, no one knew if all the books would be made into films. Eduardo revealed that it was only after the success of Harry Potter and the Prisoner of Azkaban that they were sure that all the books in the series would be interpreted for the big screen. As such, from their favorite graphic props (Mira's is the Marauder's Map, and Eduardo's is the Daily Prophet) to fan favorites such as Chocolate Frog packaging and the Black family tree, the recognizable MinaLima style is something that remained constant throughout all eight Harry Potter films.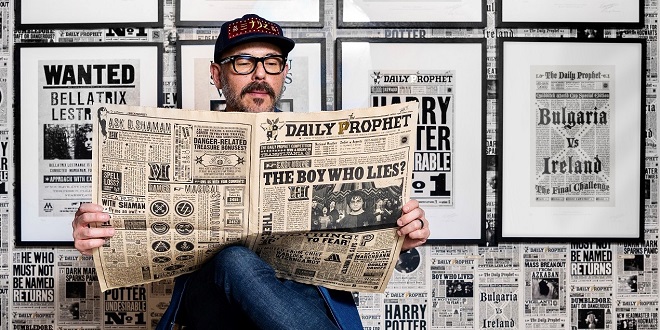 While working on Potter, Eduardo and Mira "were only concentrating on the story about Harry's journey." They were not yet aware that they were creating the visual language of an expanding Wizarding World franchise. But that was soon to change.
An Expanding Magical Universe
In 2009, the duo formed their design company, MinaLima, to ensure that they could continue working together despite Potter ending. However, even as production on the final movie wrapped up, no one could have foreseen the opportunities that would present themselves to continue working in the expanding franchise.
A year after finishing work on the series, they were approached by the team behind the Wizarding World of Harry Potter at Universal Parks & Resorts to design the graphic elements of the theme parks. In taking on this project, the pair could expand their previous designs and create details for fans to really immerse themselves in the Wizarding World, explains Mira.
If you are going there and you want to spend four hours walking up and down and past the dragon and studying the attention to detail, you can, because you're in charge. It's not up to an edit of a film to choose what you see.
It was a real gift for the whole design team to expand on what had been done in the films and to create a world for fans to enjoy. MinaLima worked on the graphic elements of Diagon Alley from the United Kingdom and so didn't see the finished work until they visited Universal Studios Orlando. Seeing their designs brought to life in this way was a jaw-dropping experience, explains Mira.
Someone took a photo of our faces as we walked through because we hadn't seen it all painted and finished and beautiful. Also, there were people! We were just literally gobsmacked because it is a chance for humans to be fully immersed and you don't even see any palm trees or anything. So it's a real step into that wizarding world we'd only been told about on a screen.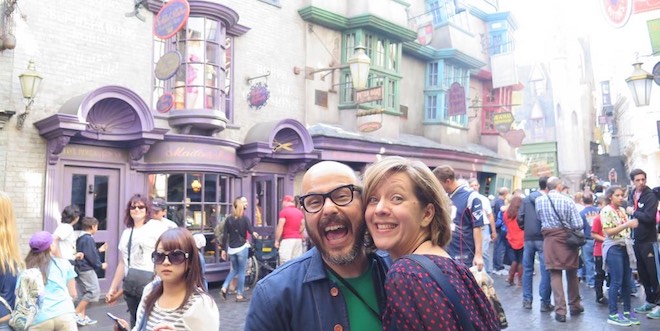 But MinaLima's involvement in the Wizarding World didn't stop there. The duo returned to the big screen with the franchise for Fantastic Beasts and Where to Find Them in 2016 and has continued to develop the graphic universe in the second and third installments. The Fantastic Beast series has brought the team an opportunity to jump back into the Wizarding World, this time with an added element of history and international communities to incorporate into their designs. From 1920s New York in the first movie to both London and Paris in Fantastic Beasts: The Crimes of Grindelwald and on to Brazil and possibly Berlin for Fantastic Beasts 3, MinaLima has been able to incorporate a new range of design influences into the Wizarding World.
A new magical adventure presented itself when MinaLima was invited to create the graphic universe of Fantastic Beasts and Where to Find Them. #20DayCountdown pic.twitter.com/Xy3xCeKpAZ

— MinaLima (@minalima) June 25, 2021
During our interview, Eduardo and Mira remained tight-lipped about the graphic props they have created for Fantastic Beasts 3. However, Eduardo assured us that they are just as excited about the movie as we are.
I'm like everyone else now. I'm a fan, and waiting. It's so different.
Overall, from 2001 to 2021, it's been a magical 20 years in the Wizarding World for MinaLima. Alongside designing for the expanding movie universe and creating graphic art for the theme parks, the duo has also been involved in designing companion books for the Potter movies.
Published on 19 October 2010, Harry Potter Film Wizardry was the first "real" book that MinaLima created, presenting the hidden world behind the scenes of the Harry Potter film series! pic.twitter.com/Uo7iao4L1T

— MinaLima (@minalima) June 22, 2021
The first of these companion books was 2010's Harry Potter Film Wizardry, which told the story of the behind-the-scenes magic of the film series. MinaLima has since gone on to work with publisher HarperCollins on a number of behind-the-scenes books and of course, taken on designing the Fantastic Beasts script books. In 2012, MinaLima was granted a license to sell limited-edition Potter prints, which gave fans a chance to own their favorite graphic art pieces. It also planted the seed for what would become the studio's magical online shop, which saw the number of prints available go from four to over 300, including new additions such as the Magical Moments collection released in 2019. For the first time, fans across the world can add some MinaLima magic to their everyday lives, with designs available on a range of products from homewares to stationery to badges and tote bags.
So what's next for MinaLima and the Wizarding World?
In addition to the continued work on the Fantastic Beasts series, the illustrated Sorcerer's Stone was released in October 2020, and the illustrated Chamber of Secrets will be published in September this year. Despite having designed art for these stories before, illustrating the books has been a completely different experience. Eduardo and Mira have had to completely reimagine Harry's world and leave their film designs behind, as Mira explains.
It is a new interpretation and new work, and so we actually have an obligation apart from an interest. So yes, some of the things feel familiar but I think will be some key pieces coming up. Assuming we do more of them, they are going to be challenging because by now, we've got some things that are images in our heads.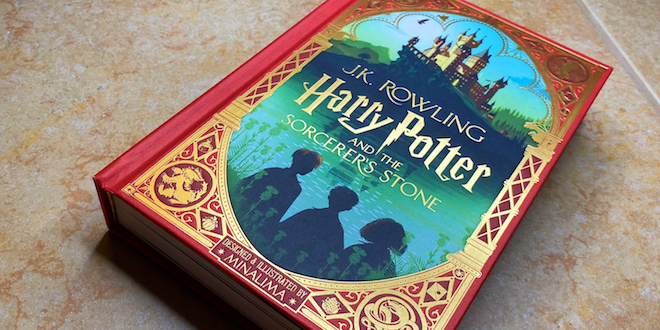 Eduardo and Mira don't know yet if they will be illustrating Harry Potter and the Prisoner of Azkaban or any of the other books in the series, but they certainly would like to. In particular, they are looking forward to the potential challenge of reimagining one of the most well-known props, the Marauder's Map, Mira says.
I think we've all seen the world so many times, or at least the fans have, that that's what's happened. It's got embedded into our association like, 'Oh, well, the Daily Prophet is that.' So now we've got to rethink things, and it keeps everything fresh, and that's really what designers need to do.
Furthermore, a new generation of fans is being introduced to the series through MinaLima-illustrated editions. For these younger fans, the MinaLima interpretations are their window into the Wizarding World, as Eduardo explains.
The [number] of messages we are getting from all the publishers, from Scholastic to Bloomsbury to the French to the Italians, that the new generation that is being introduced to Harry Potter, and they're going to read those books, and then it's like, 'Oh my God,' and lots of the older ones are like, 'Oh! I want to go back! I want this book!'
Of course, a growing franchise means a growing team, and Eduardo made sure to pay tribute to the amazing team of designers and illustrators who have supported them and worked with them over the years. Until Harry Potter and the Half-Blood Prince, it was just the two of them working on graphic art for the series. Now they have four team members working with them on Fantastic Beasts, and of course, they have always had the support of a wonderful art department, production team, and very special mentors, as Eduardo explains.
I think to finish, we just repeat that this 20 years is also the 20 years we should celebrate with the guys [whom] we worked with, the film specialists doing that. Stephenie [McMillan, set decorator] and Stuart [Craig, production designer], those two were the most brilliant people. Good friends. And all of our assistants, everyone [who] worked with us both [on] the films and especially the ones [who] are here now with us doing those crazy books. And you guys! MuggleNet, since the beginning, you guys have been so great, so supportive. Without you guys as well, we wouldn't be here.
It's been great to travel back in time for MinaLima's 20 years in the Wizarding World. Join us tomorrow for Part 2, when we will talk fairy tales, code-breaking, and collective nouns as we explore some of MinaLima's other works.
Want more posts like this one? MuggleNet is 99% volunteer-run, and we need your help. With your monthly pledge of $1, you can interact with creators, suggest ideas for future posts, and enter exclusive swag giveaways!
Support us on Patreon