The Wizard's Apprentice: Where Technology Meets the Vintage Harry Potter Trading Card Game
Wands Out!
In the past few articles, I have shared my love of the Harry Potter Trading Card Game and introduced gameplay, along with some of the art that can be found on the cards. Alongside the Harry Potter TCG, I have a fond passion for other vintage toys and merchandise that came from the same epoch as the game itself. One such item is called the Harry Potter Wizard's Apprentice, made by Tiger Electronics in 2001. This item looks and feels very much like Tiger Electronics' other item from the same year called the Book of Spells but is rather different indeed. In this article, I'll share with you details of this great toy that went from bygone to coveted in the last year.
The thing that makes the Wizard's Apprentice stand out from the Book of Spells is that this item was specifically created with the Harry Potter TCG in mind. For this reason, it is my absolute favorite of all the Harry Potter items from this period. When you open this book-shaped toy, you will find a keyboard and a small screen on the right-hand "page." Once you get past the main screen introduction, you will find a menu that aids in all things related to the card game, from lists of the cards to the ability to build a deck.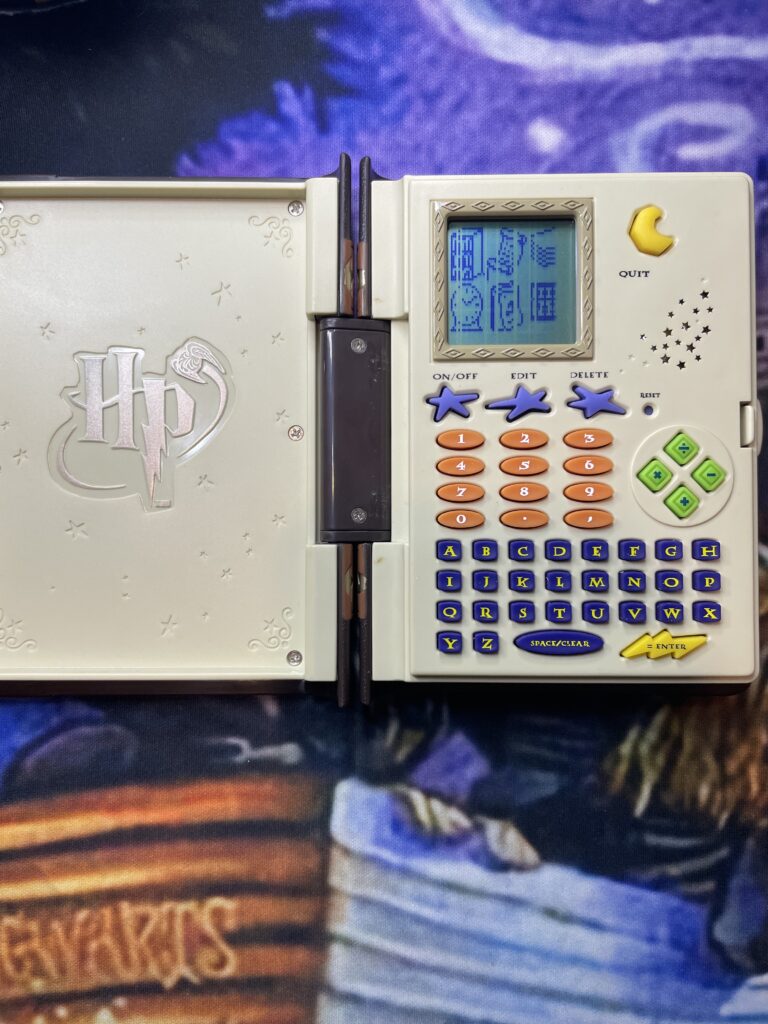 When you get to the Main Menu, you will see six icons on the screen, and you can use the four arrows to scroll and select which icon you would like to explore. The six are Card Database, Trade List, Deck Builder, Clock, Calendar, and Calculator. While the Calendar, Calculator, and Clock are all pretty self-explanatory, the other three icons are not, so I'll dive into those now.
Card Database
Once you click on this icon, you are then given the option to View, Search, or Sort. By choosing View, you will be given a list of the cards from the first Base Set expansion. There are 116 cards in the set; however, due to there being two additional variations of Draco and Hermione, the Wizards Apprentice Database has 118 cards listed. You can use the arrows to scroll through each card and choose one that you would like to see in more detail. If you choose, for example, Dean Thomas (card #1), then the cards details (such as rarity, type, and description) will appear on the following page.
Trade List
While looking around the list of cards in the Wizard's Apprentice, you might find one you need for your collection. If this is the case, then you can press "Edit" and add the card to your trade list. A prompt will appear asking you to "Add to Trade List? Y/N." You will then choose Y for yes. You will then be asked to either choose "Wanted" or "For Trade," and depending on which you choose, it will keep that information stored for you.
Deck Builder
Once you choose Deck Builder, you will be given three options: View, Build, and Practice. On the View screen, you can take a look at your decks and see which cards you have and how many of them are in each deck. In the Build section, you will be given a list of the cards, and you can choose from them which ones you'd like to add to your deck. The practice section really shows this toy's innovations. You will be given a list of the decks you have built, and once you choose a deck, you can shuffle and deal a sample hand from the deck. This allows you to see what the average hand would look like from this deck and will save you from wasting time physically building it, only to see that it might not be to your liking.
Decades ago, when the Harry Potter TCG was at the peak of the toy industry, having items like this one to accompany you would have been an exciting addition to your collection. This toy came out around the same time that the Harry Potter TCG was near its decline. For that reason, you won't find many of these toys lying around like you would the aforementioned Book of Spells.
During the 2020 pandemic, popularity for the HPTCG grew, and with it grew the demand for all things related to the game. Because the game, as we know, was canceled almost two decades ago, as demand has grown, supplies have not. The HPTCG community was recently met with an influx of new members, and as long as they could afford them, many people were able to get their hands-on cards, booster boxes, and marketing materials. The Wizards Apprentice, however, was a different story.
This was one of the products that were rumored to have been produced, although many people were unable to find it no matter how hard they tried. Unlike the cards for the game, which have a good bit of circulation in the community, items like this were often thrown away or are stashed in a warehouse behind old boxes that people had forgotten about. Eventually, a few resurfaced, and I was happy to get my hands on one that was sealed and one that was open but in poor condition.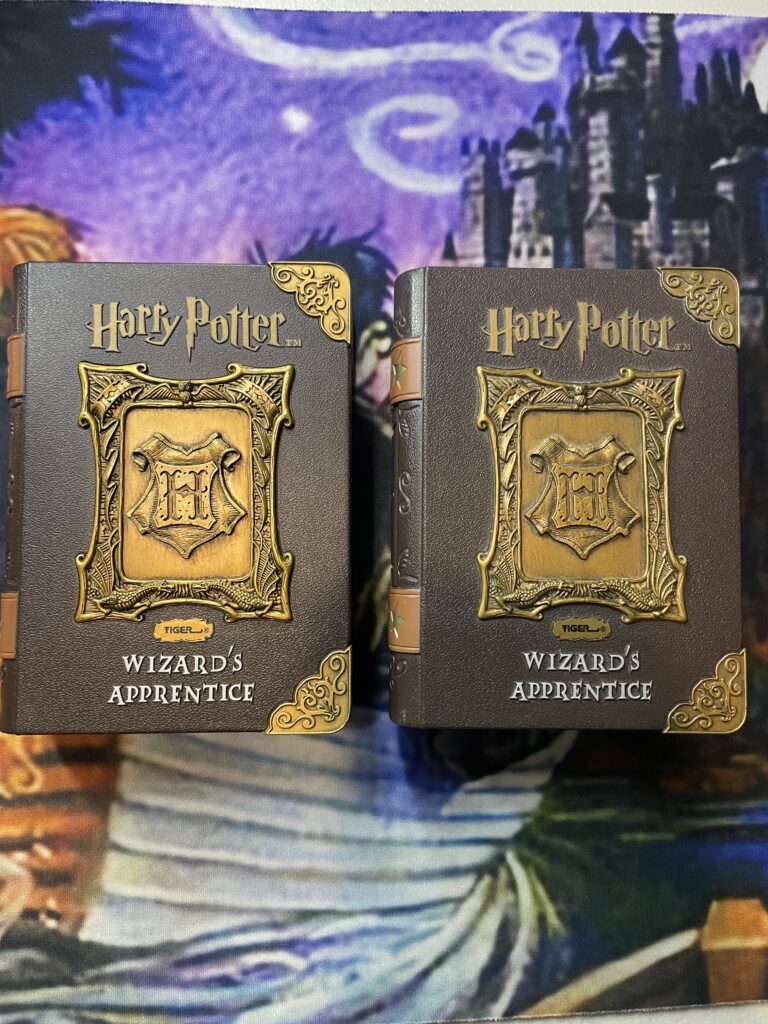 This item sold on sites like eBay first for $40 in early 2020 and then jumped to $800 in 2021 because of the rarity of the product and people taking advantage of that. Personally, I have only ever seen about five in the Harry Potter and retro toy community, and no other ones are open.
Although the technology is very simple and the purpose of the toy is irrelevant now, the trouble that Wizards of the Coast and Tiger Electronics went through to keep interest in the game alive is something worth saving. For Harry Potter fans and collectors of retro toys and games, the Wizards Apprentice stands the test of time and will go down in history as one of the lost items of the Harry Potter world that most fans never even knew existed.
Into the Floo
transports us back to where the magic all began, taking a closer look at the trading card game, collectible toys, board games, and more that captured our minds all those years ago.
Want more posts like this one? MuggleNet is 99% volunteer-run, and we need your help. With your monthly pledge of $1, you can interact with creators, suggest ideas for future posts, and enter exclusive swag giveaways!
Support us on Patreon