Marauders Incorrect Quotes for When You Need a Chuckle: Padfoot Special
We love the Marauders and the chaotic energy that they bring along. We also know who the proud Chief Chaos Officer was amongst this band of pranksters – Sirius Black, of course. Although the pair of Padfoot and Prongs was infamous in Hogwarts for mischief and mayhem, it is quite obvious who was the more unhinged of the two.
It's a shame we never got to know Sirius Black from when he spread disorder through the halls of Hogwarts. Thanks to the Marauders fandom, here are some fan-made moments that paint a picture of Padfoot's boyhood days and are sure to get you chuckling.
And that was the moment James Potter knew he had met his soulmate.
It's probably one of the first things Sirius did after successfully transforming into his Animagus form. No wonder Mrs. Norris doesn't appear much in Harry Potter and the Prisoner of Azkaban. She had simply left the premises.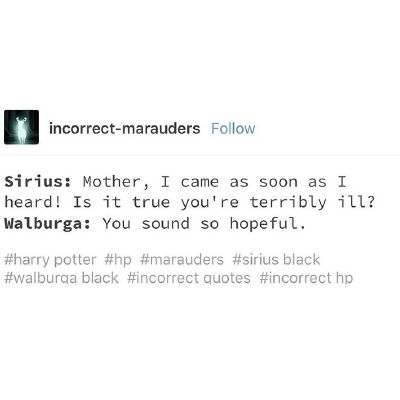 Well, Walburga, from what we know, you certainly won't ever be winning the "World's Best Mother" award in this lifetime.
While Sirius might've had a complicated relationship with his biological mother, our favorite headcanon is of him self-proclaiming Minerva McGonagall as his parental figure.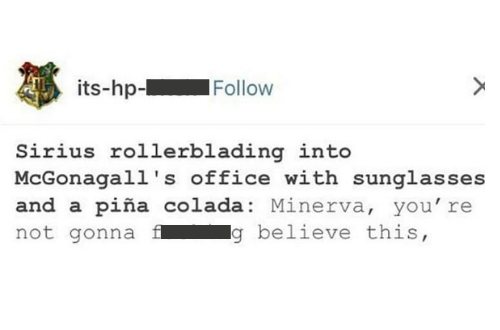 And boy, does he get comfortable with that.
While Professor McGonagall might seem eternally exasperated at his shenanigans, we know that deep down, she loves this adoptive problem child of hers.
That's probably the best summary there is of Sirius Black as a person.
It's tough being Sirius's friend and expecting to lead a peaceful life. You can honestly never know what's coming for you.
Seriously, you have to be ready for anything.
Especially when some things he says make you stop midsentence and stare at him with confusion.
But at least you can thank him for being the reason for some of your absurdest experiences.
It's one thing being friends with Sirius Black, but to be his sibling? Poor Regulus.
No matter how weird you are or how bad your jokes can get, we do love and appreciate you, Padfoot.
We're sure the Noble and Most Ancient House of Black would not like this one bit, but we thank Sirius Black for being the Gryffindor-est Gryffindor Hogwarts would ever see. Your rebellion will never be forgotten.
Mischief Managed.
Want more posts like this one? MuggleNet is 99% volunteer-run, and we need your help. With your monthly pledge of $1, you can interact with creators, suggest ideas for future posts, and enter exclusive swag giveaways!
Support us on Patreon