20 Years and Beyond: Building LEGO "Harry Potter" Brick by Brick
If we had the opportunity to talk about every single LEGO Harry Potter set that's ever come into existence, then we'd never stop talking. And honestly, we pretty much try to cover all the sets we come across. But today, we are taking a look back at some of the most memorable and impressive LEGO Harry Potter sets to date.
Original Set Series
When the first few Harry Potter movies were released, many of the LEGO sets were released around the same time. You know, for the hype and all that good stuff. These original sets introduced many of the minifigure characters that we saw in the films. Many of these builds were relatively small and simple, but they brought the Harry Potter world to our childhood bedrooms, and for that, we are grateful.
Hogwarts Castle 4709 was among some of the first builds to be released in 2001 along with Harry Potter and the Sorcerer's Stone. It was the largest set to be sold in conjunction with the first movie, totaling 682 pieces and nine minifigure characters. One of the most notable differences between the older and newer sets is the look of the minifigures. The bodies of the characters are still the classic LEGO yellow color. In 2001, you could mosey on down to your local toy store and pick this up for $90, but today it's worth about $220 if the box is unopened. It's been discounted from store shelves for some time, but if you manage to get your hands on a mint-condition Hogwarts Castle 4709, it may be worth holding on to. Other scenes and sets to be sold around the same time as Harry Potter and the Sorcerer's Stone's release were Sorting Hat 4701, Gringotts Bank 4714, Gryffindor House 4722, Snape's Class 4705, and more.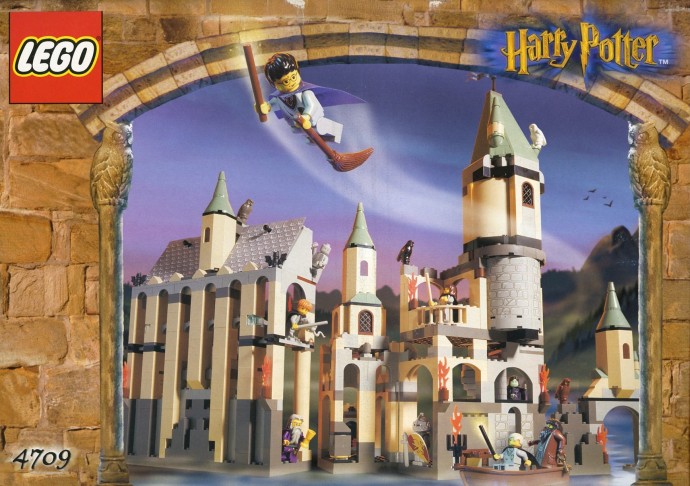 With every new Harry Potter movie, new LEGO sets hit the shelves. The Chamber of Secrets 4730 was the biggest box sold at the same time as the second movie. Released in 2002, this build had 591 pieces and five minifigures. What's fun about the Chamber of Secrets 4730 is the Basilisk that's included. Right out of the gate, we have to acknowledge it's a little funny-looking. The very obvious bulging yellow eyes and rounded fangs don't quite have the same effect as the movie version. But that's okay because there's only so far a LEGO figurine can get to be close to resembling the real thing. At the time of release, this set cost about $70. Today, an unopened one is worth around $313. Several other LEGO Harry Potter builds that were issued in 2002 and 2003 included Escape from Privet Drive 4728, Dobby's Release 4731, the Dueling Club 4733, and Aragog in the Dark Forest 4727.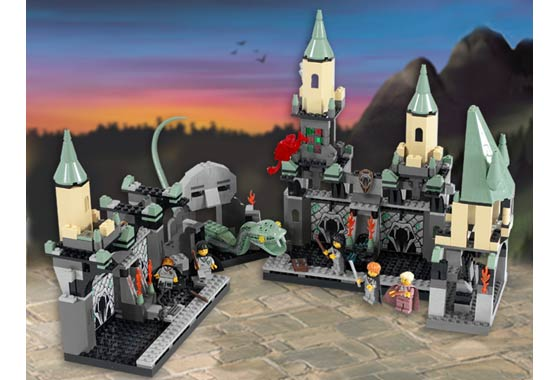 It's very much worth mentioning here that the minifigure resembling Aragog in Aragog in the Dark Forest 4727 is laughable yet simultaneously the stuff of nightmares. If you've ever had this set, you know exactly what we're talking about. The re-creation of the giant spider is… awkward, to say the least, and the eyes speak for themselves. (#sorrynotsorry, LEGO. Someone needed to say it.)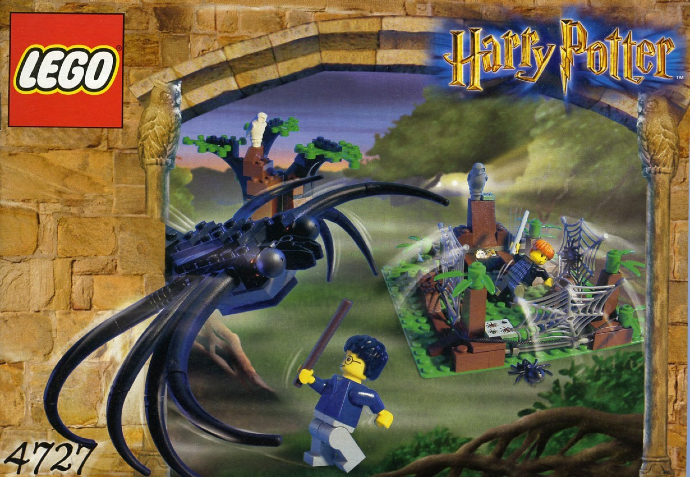 The third group of sets to be released was in correlation with – you guessed it – Harry Potter and the Prisoner of Azkaban. The largest box in this group was Hogwarts Castle 4757. It's a sort of second attempt at being able to create the castle. It included 944 pieces and nine minifigures. There are more detailed pieces to use, and the minifigures had also undergone a redesign. They had natural skin tones and are more recognizable to the character figures we often see today. At the time of release, Hogwarts Castle 4757 cost $90. An unopened box could go for around $1,000 now.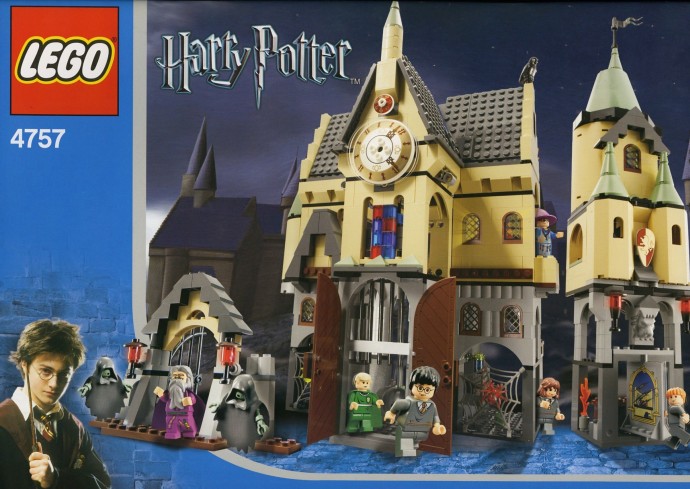 Despite it not being the largest set for Harry Potter and the Prisoner of Azkaban, Motorized Hogwarts Express 10132 is still an impressive construction. The reason is in the name. None of the previous LEGO Harry Potter toys had been movable like this before, and giving fans a little something extra was perfectly called for. It took 708 pieces to build, and once it was completed, the train engine and a single passenger car would run around a circular track. This set beat out Hogwarts Castle 4757 in regard to price, coming in at $120 when it hit the shelves in 2004. If you were inclined to sell a new version of the set, you would find it's worth about $880 today.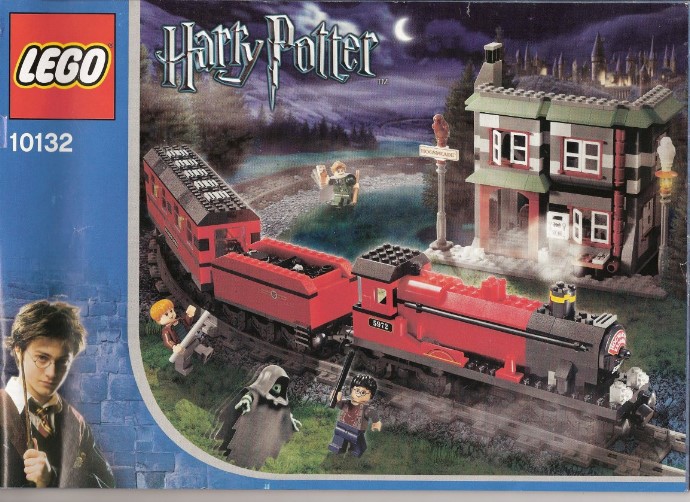 When Harry Potter and the Goblet of Fire was out in theaters in 2005, LEGO only released four sets in conjunction with the film. Graveyard Duel 4766 was the second-largest construction of the four. This is also the first time LEGO Harry Potter had the opportunity to create an individual Voldemort minifigure. The duel set came with 548 pieces that created a scene rather than a whole building and included eight minifigures, including Voldemort. In 2005, it sold for only $30 but is worth about $740 in new condition.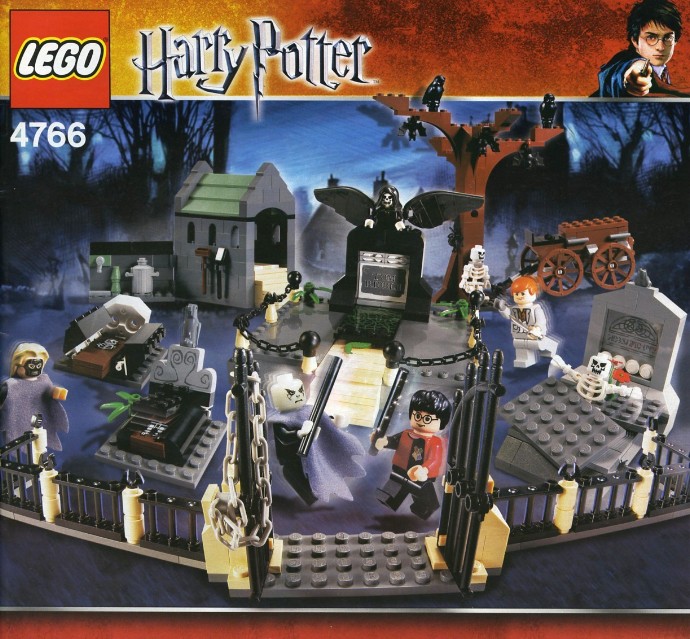 With the theatrical release of Harry Potter and the Order of the Phoenix, LEGO only produced one set in 2007. It was rumored, at the time, that LEGO Harry Potter would be retired from toy store shelves since shoppers had started noticing the number of sets declining as the movies came out. The only set to be released in 2007 was Hogwarts Castle 5378. This was the third edition of the Hogwarts Castle, and the number of total pieces was just shy of the second set, at 943 bricks. The biggest difference between the two sets is the included minifigures. Hogwarts Castle 5378 came with Thestrals and several other character figures. The retail value in 2007 was around $90 off the shelf. Today, it's valued at $659.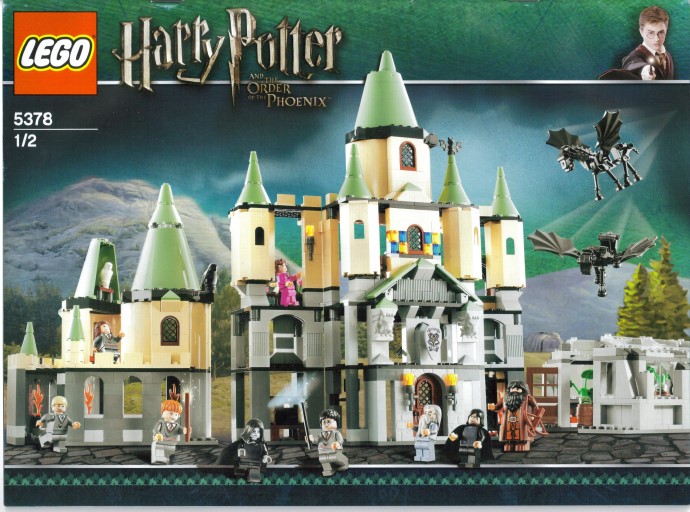 First Revival Series
After a three-year hiatus, LEGO started issuing Harry Potter sets once again. However, in 2010, the new builds would not exactly follow scenes from the movies like they had done in previous years. Of the six sets released that year, five were redesigns of previous sets, and one was based on a scene from Harry Potter and the Half-Blood Prince. The Burrow 4840 included 568 bricks to build the Weasleys' house, along with six minifigures. The retail value of the Burrow 4840 was $60, but the set is currently valued at around $224. Other redesigned sets from 2010 include Freeing Dobby 4736, Hagrid's Hut 4738, and Quidditch Match 4737.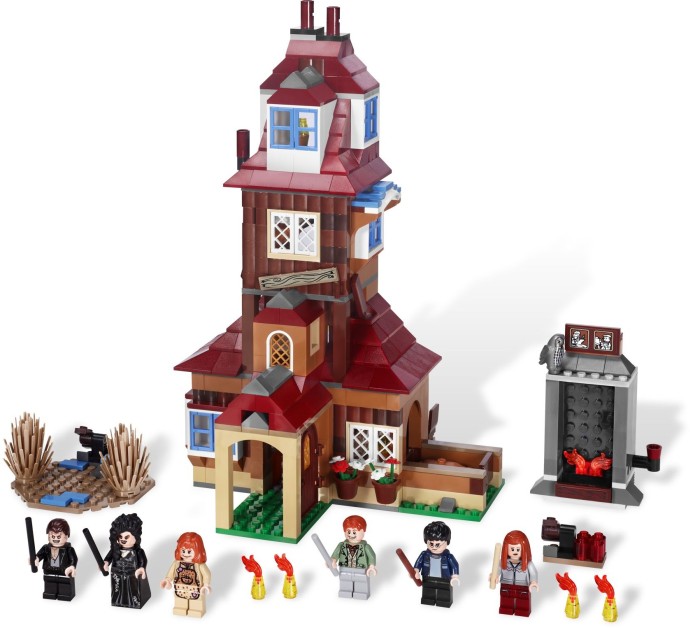 2011 saw the release of six sets, two of which were based on Harry Potter and the Deathly Hallows – Part 2 since the film was out in theaters that summer. The rest of the sets were based on scenes from the other movies. The largest construction out of these six was Diagon Alley 10217. It came with 2,025 pieces and 12 minifigures. You could construct three buildings resembling shops in Diagon Alley and set the scene with a variety of accessories that came included in the box. When it hit the shelves, this set cost $150. An unopened Diagon Alley 10217 is now worth about $540.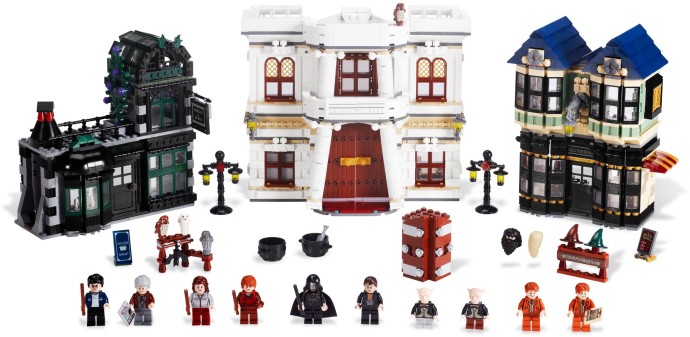 Second Revival Series
After 2011, LEGO Harry Potter took another hiatus from creating the larger box sets. However, there were a few smaller accessory packs and add-on sets that were available for purchase. In 2018, the second revival of Potter franchise constructions took off and includes many of the sets that are still currently on sale.
Thirteen builds and promotional sets were released in 2018. While they focused on the themes around Harry Potter and the Chamber of Secrets, the revival sets were redesigned to be the best versions of what LEGO Harry Potter has to offer. Hogwarts Castle 71043 is probably the best version of the castle to date. Counting all 6,020 bricks, it is one of the largest sets fans have seen for the franchise merchandise. The attention to detail is top of the line and really immerses fans in a well-rounded LEGO Hogwarts experience. It's currently still on sale on the LEGO website for $400. Other sets in the newly revised series included Hogwarts Whomping Willow 75953, Hogwarts Express 75955, Quidditch Match 75956, and the first Harry Potter Advent Calendar 75964.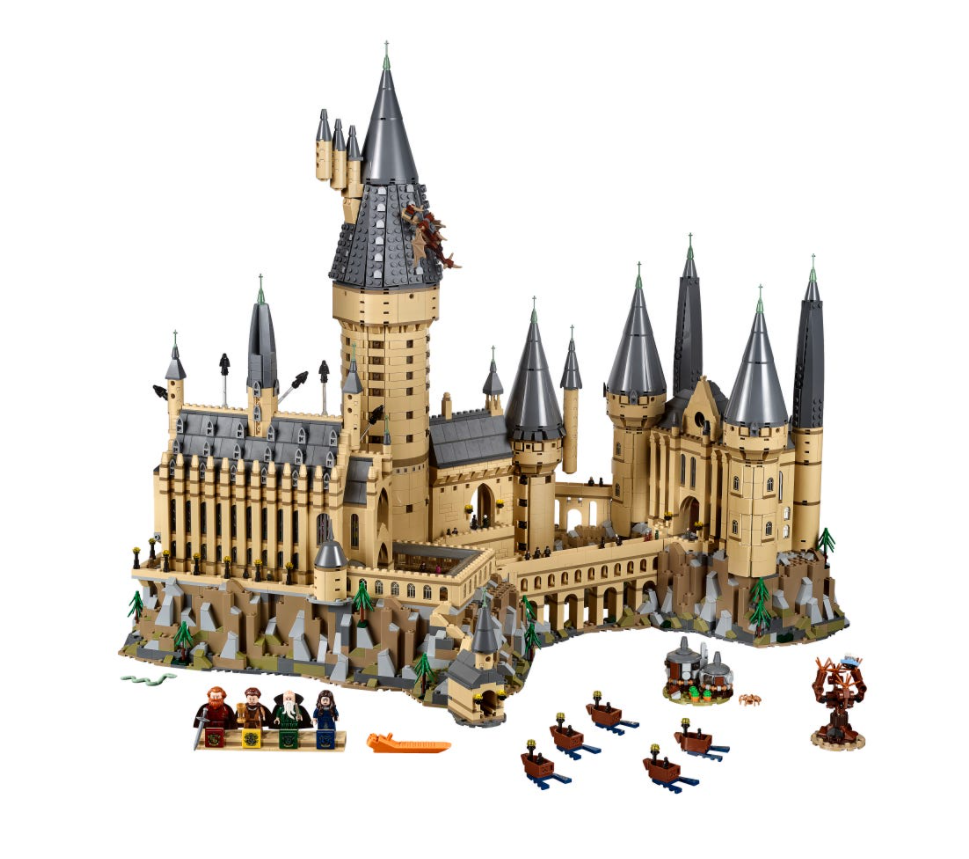 In 2019, LEGO still focused on redesigning sets from earlier movies and giving them a newer and up-to-date look. Sets that were released at the time focused on Prisoner of Azkaban and Goblet of Fire. Each box contained new and improved versions of scenes from both movies, and minifigures more closely resembled how each character looked in the film. For example, in Hagrid's Hut: Buckbeak's Rescue 75947 Harry, Ron, and Hermione are dressed similarly to how they are in the movie. Even Harry's hair is as luscious as ever in the Hogwarts Clock Tower 75948 set as it is in Goblet of Fire. It's the little things that matter, after all.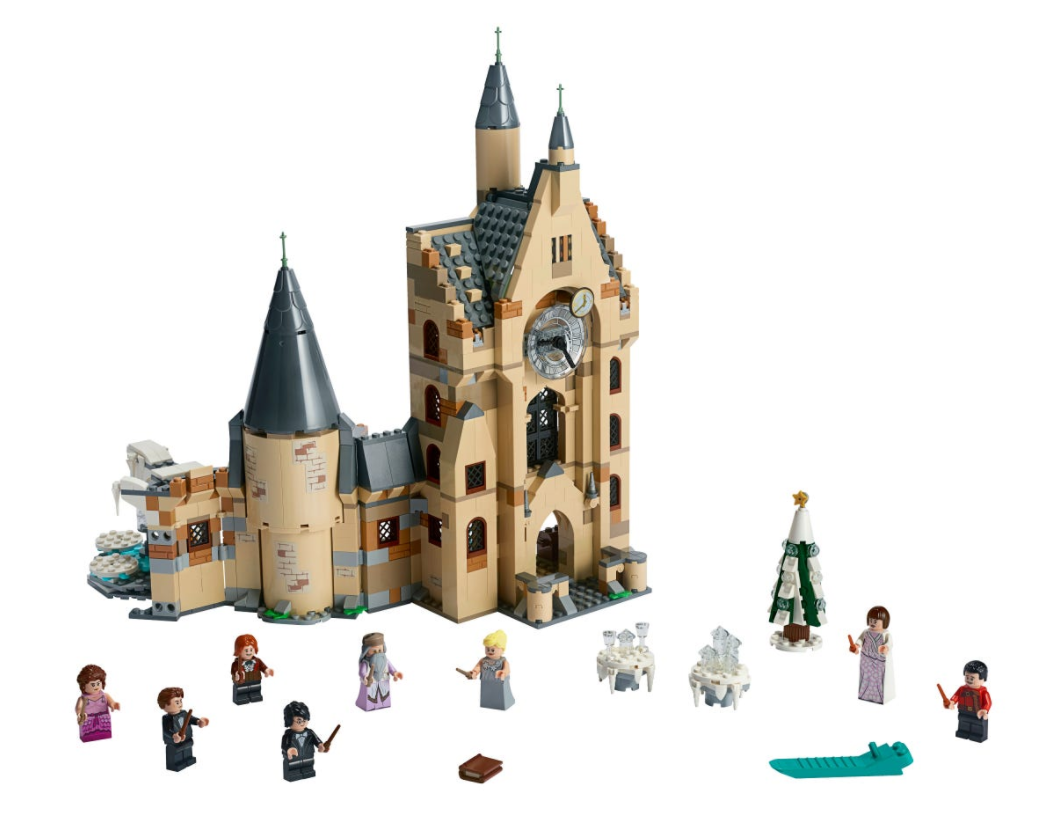 Order of the Phoenix and Half-Blood Prince got revivals too, in 2020. An impressive set from this era is Hogwarts Astronomy Tower 75969. The 971-piece box seems to cover several scenes from Harry Potter and the Half-Blood Prince instead of focusing on one particular moment. Parts of Professor Slughorn's party can be played out using accessory pieces, the Astronomy Tower itself is representative of Dumbledore's death scene, and there are versions of the plants that Harry caught Slughorn trying to steal. Other sets from 2020 include Hedwig 75979, Diagon Alley 75978, and Forbidden Forest: Umbridge's Encounter 75967.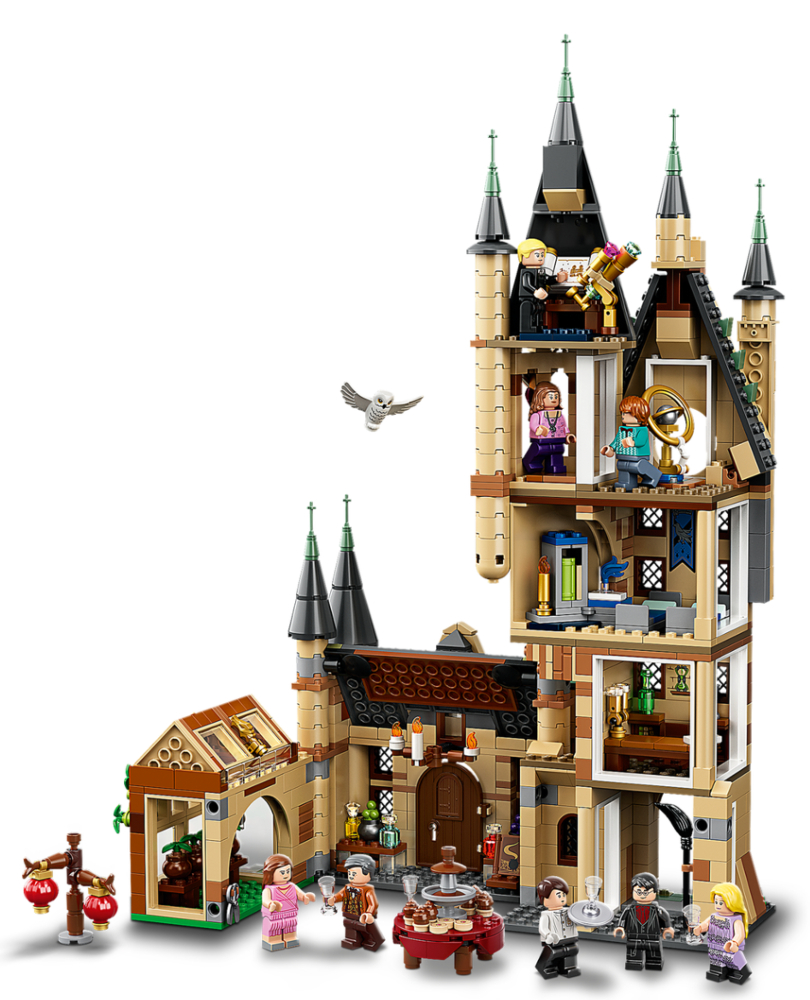 LEGO Harry Potter 20th Anniversary
That brings us, full circle, to the present. 2021 marked 20 years since the release of the first LEGO Harry Potter sets. How time flies. Eight new and revised builds were made available to purchase earlier this year to commemorate the occasion, most of which focused on either Sorcerer's Stone or Chamber of Secrets. While the sets themselves were designed around various scenes, what really makes them special are the golden minifigures that come in the boxes. Four of the eight boxes come with either golden Harry Potter, Hermione Granger, Ron Weasley, Voldemort, Professor Snape, or Profesor Quirrell. Only one golden figure comes per set, so if fans want all six in their collection, that would mean buying six different boxes, which could run up quite a hefty price. Special 20th-anniversary boxes include Hogwarts: Polyjuice Potion Mistake 76386, Hogwarts: Fluffy Encounter 76387, and Hogwarts Wizard's Chess 76392.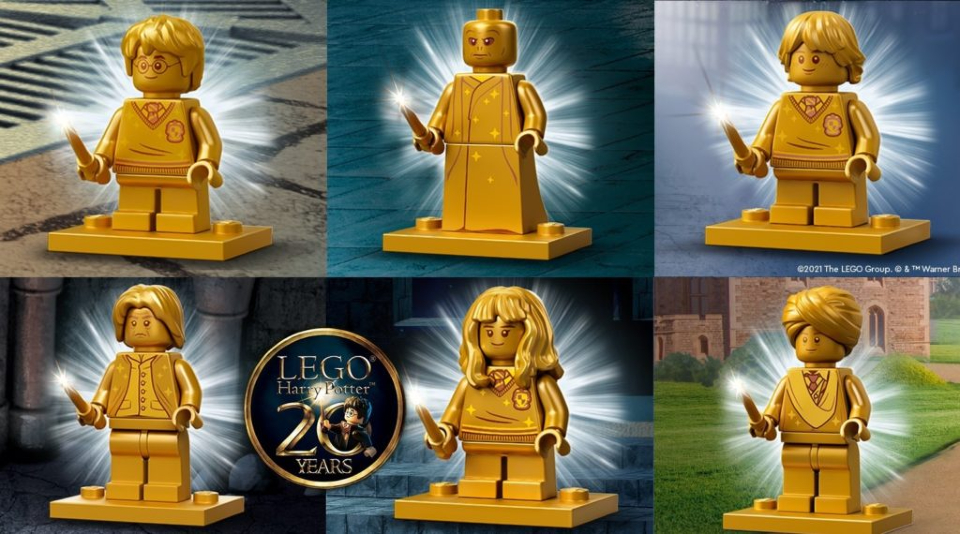 Honorable Mentions
Since we got to talk about so many of the most memorable sets seen over the years, we think there are a few extra special ones that deserve some attention as well.
Hogwarts Chamber of Secrets 76389
It's the new and improved Basilisk we've all been waiting for, and it's finally scary! Well, scarier.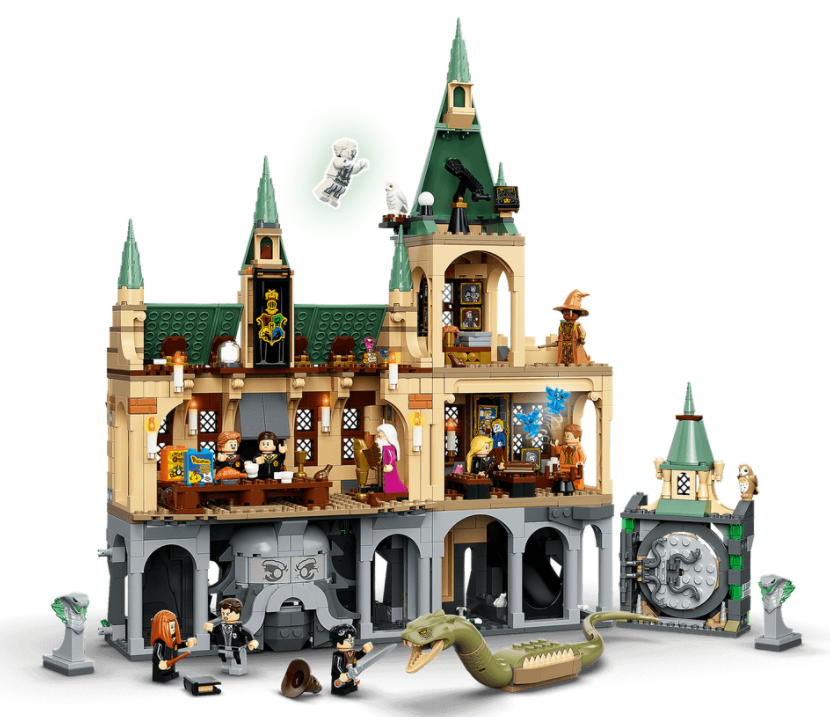 Hogwarts Moment Sets
These are some unique sets in that they're shaped like textbooks from four different Hogwarts classes once they're put together. You can pick from Hogwarts Moment: Transfiguration Class 76382, Hogwarts Moment: Potions Class 76383, Hogwarts Moment: Herbology Class 76384, or Hogwarts Moment: Charms Class 76385.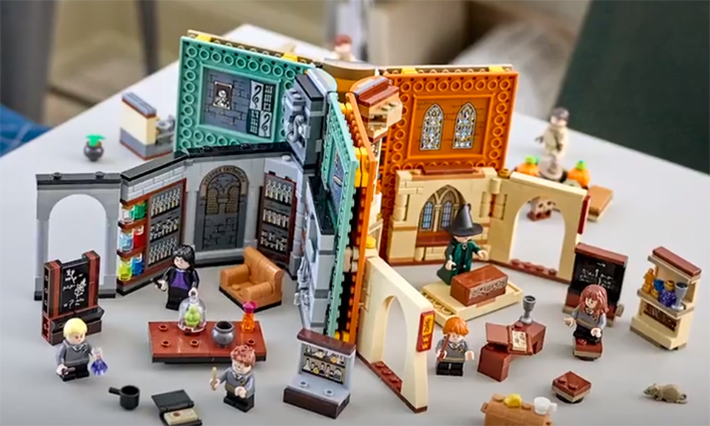 What a fun and impressive 20 years of LEGO Harry Potter it's been. You're never too old to get creative with some bricks. Just be sure to make it magical. What are some of your favorite sets? Have you collected them all? Let us know!
Want more posts like this one? MuggleNet is 99% volunteer-run, and we need your help. With your monthly pledge of $1, you can interact with creators, suggest ideas for future posts, and enter exclusive swag giveaways!
Support us on Patreon