Do You Have What It Takes? GNOMEs Trivia Tournament Coming May 30!
Fifth-year Hogwarts students take OWLs. Seventh years take NEWTs. Muggles who possess a true mastery of the wizarding world take GNOMEs, or Gruellingly Nauseating and Onerous MuggleNet Exercises. They are not for the faint of heart. Do you think you can handle it?
Join us on Saturday, May 30, from 2:00 p.m. to 6:00 p.m. EDT (what time is that where I live?), and you'll have the opportunity to throw your hat in the ring for the most difficult Harry Potter trivia known to wizards, Muggles, and No-Majs alike. Only the most knowledgeable will stand a chance to claim the title of GNOMEs Champion and win eternal glory and fabulous prizes.
This is no mere family game night. We won't just be asking you to list Voldemort's Horcruxes or tell us where to find a bezoar. This is for the voracious rereaders, the rabid quiz-takers, the true obsessives. We're looking for the minutiae, the facts mentioned only once, the tidbits lost in the back of your mind over the years. Even Hermione would need to study in preparation. The rounds will start mildly tough and get progressively harder.
Here's a quick overview of how the tournament will work. More details on specific rounds and gameplay will be announced in the coming week.
On game day, visit our Facebook, Instagram, or Twitter to sign up to represent one of eight wizarding schools around the world, or play along for fun in the noncompetitive games.
Be sure to use a distinctive name so that you can easily keep track of where you are in the standings!
The top 50 scorers from each division (head-to-head match) will advance to the semifinals.
Did you get eliminated because you accidentally clicked the wrong answer? Or perhaps you misread the question or confused the book and the movie. Fear not! You will have another chance to get back into the game by getting a perfect score in the Golden Snitch game (more details on how that will work later), or just keep playing along for fun.
The top 25 from each semifinal bracket will advance to the finals, along with any perfect scorers from the Golden Snitch round, for a shot at the crown.
The witch or wizard with the highest score in the finals will walk away with the title of GNOMEs Trivia Champion and a fabulous grand prize.
A SPECIAL THANK YOU TO…
We are VERY HAPPY to be working with some amazing partners to bring you this event! First off, we absolutely have to thank our friends over at the Bradford Exchange for sponsoring our GNOMEs Trivia Tournament. We absolutely LOOOOOVE their products, and you can find reviews for each and every one of their detailed and much-sought-after Hogwarts Village pieces right here on MuggleNet, including Hagrid's Hut, Hog's Head Inn, Hogwarts Express, Hogwarts, Hogwarts Train Station, Honeydukes, the Shrieking Shack, Three Broomsticks Pub, and Zonko's Joke Shop.
They're also offering an EXCLUSIVE FREE GIFT with purchase, a $30 value. So be sure to head over to BradfordExchange.com and check it out. You won't want to miss this killer deal.
PRIZES
Since this is no ordinary tournament, the prizes could be nothing short of spectacular. We are happy to announce that the top SEVEN players will be getting an assortment of amazing prizes, and we have even scored some EXCLUSIVE discount codes and deals for finalists.
A very, very special thanks to our always generous and kind friends over at Insight Editions for donating the GRAND PRIZE for our trivia tournament. The GNOMEs Champion will be sent the Monster Book of Monsters Official Prop Replica from Insight Editions, valued at $295. HOW BEAUTIFUL IS THIS??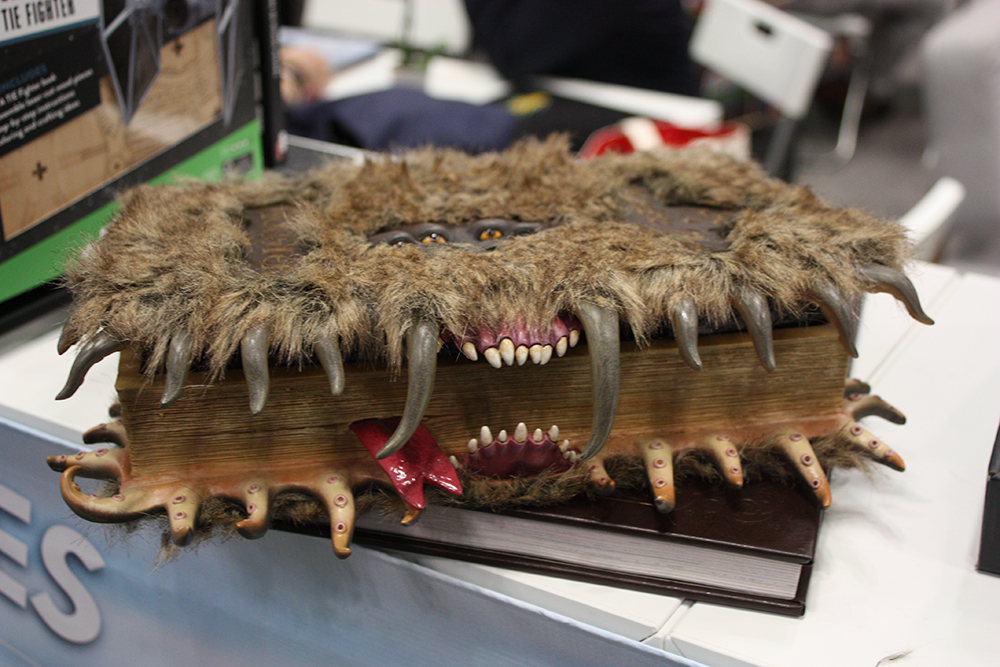 Our prizes for second and third place are nothing to sneeze at! The team over at JuJuBe has donated TWO fantastic prizes that would make absolutely anyone envious (including all our volunteers!). If you score enough points to make it to the near-top, you could win either the Honeydukes B.F.F. or the Platform 9 3/4 Be Sporty bag, valued at $195 and $175, respectively.
Our fourth-place finisher will receive this beautiful, brand-new "Hogwarts Magic at Home" print (frame not included) from our friends at MinaLima!
Our fifth-place finisher will get to show off their House (winner's choice of one) in the most stylish way with this gorgeous Uniform Clutch from the team at Danielle Nicole!
Our sixth-place finisher can use their new prize to power a boat in the middle of a rainstorm or give their worst enemy a pig's tail (although we do not condone that behavior…) since they'll be walking away with a bright and shiny replica of Hagrid's umbrella from the Noble Collection!
Our seventh-place finisher gets their choice of the all-knowing Marauder's Map or the foreseeing Prophecy Orb, both thanks to our friends at the Noble Collection!
LASTLY, just for being an absolutely amazing trivia player with so much knowledge of the wizarding world, we have a whole bunch of exclusive codes and discounts just for you.
The Bradford Exchange – Purchase a Hogwarts Village subscription and get a bonus gift, valued at $30.
Insight Editions – Use code HPTRIVIA to get free shipping and 20% off sitewide at insighteditions.com (excluding collectibles, limited editions, and already-marked-down titles) – Expires June 6, 2020
Swish & Flick Co. – Use code TRIVIA20 to get 20% off your order at swishandflickco.com (will not work on already-discounted items).
Danielle Nicole – Use code MuggleNetDN to get 10% off your order (excluding preorders) at danielle-nicole.com.
Mark your calendars for this one-of-a-kind challenge. Crack open those books and start cramming.