#WandsUpForWomen: Celebrating Galentine's Day in "Harry Potter"
In addition to more traditional and widely-observed holidays, like New Year's Eve and Valentine's Day, you can mark certain days on your calendar related to popular culture. Perhaps you raise your wand on May 2 to commemorate the Battle of Hogwarts, and two days later, you might have a Star Wars marathon in honor of "May the Fourth Be with You." My favorite of these unofficial, fandom-inspired holidays is one that inspires appreciation for your fellow women: Galentine's Day.
Thanks to a 2010 episode of Parks and Recreation, February 13 has become Galentine's Day. The purpose of this increasingly popular holiday is to shower the important women in your life with affection. Leslie Knope, the fictional founder, decrees it as a day for "ladies celebrating ladies." In light of how difficult the last year has been, I think we can all take notes from Leslie; we should be lifting each other up, spreading sisterly love, and seeking light and positivity whenever possible.
Harry Potter means so much to me as a story with messages of hope, acceptance, and love. However, the series is also worthy of some criticism, including gender inequality. Unfortunately, these women are not always written in the most empowering light. For example, Fleur is the sole witch among the four champions in the Triwizard Tournament, yet she loses every task. As a feminist, these characterizations often leave me wanting more.
While these criticisms are valid, I wish to highlight the moments in the series when witches embody the spirit of Galentine's Day. These are cases of women supporting women, something we hope to see more of in literature and popular culture as a positive example for girls of all ages.
Hermione is one of my favorite characters of all time. She has a heart of gold and a strong sense of selflessness, but even she is flawed. The way she is written occasionally taps into the "not like other girls" trope, and thus, she is frequently at odds with fellow witches, such as Lavender, Parvati, Molly, and Rita.
Still, Hermione does have moments of stalwart support for other women. In Book 5, she sticks up for Cho, who clearly had a post-traumatic stress response during an electric moment with Harry, by declaring, "Just because you've got the emotional range of a teaspoon doesn't mean we all have" (OotP 459). Hermione calls out Harry and Ron for their lack of empathy, seeking to validate Cho's perspective and emotions even though they aren't friends.
If we could read the series from Hermione's eyes, we would also get to see all the time she spent with Ginny, further highlighting her sense of sorority. Throughout the series, Hermione is said to comfort Ginny, giving her future sister-in-law advice about her crush on Harry. Hermione and Ginny both know how it feels to be teased about their love life, and so they support one another. Though it isn't always explicitly shown, the two girls are strengthened by their connection.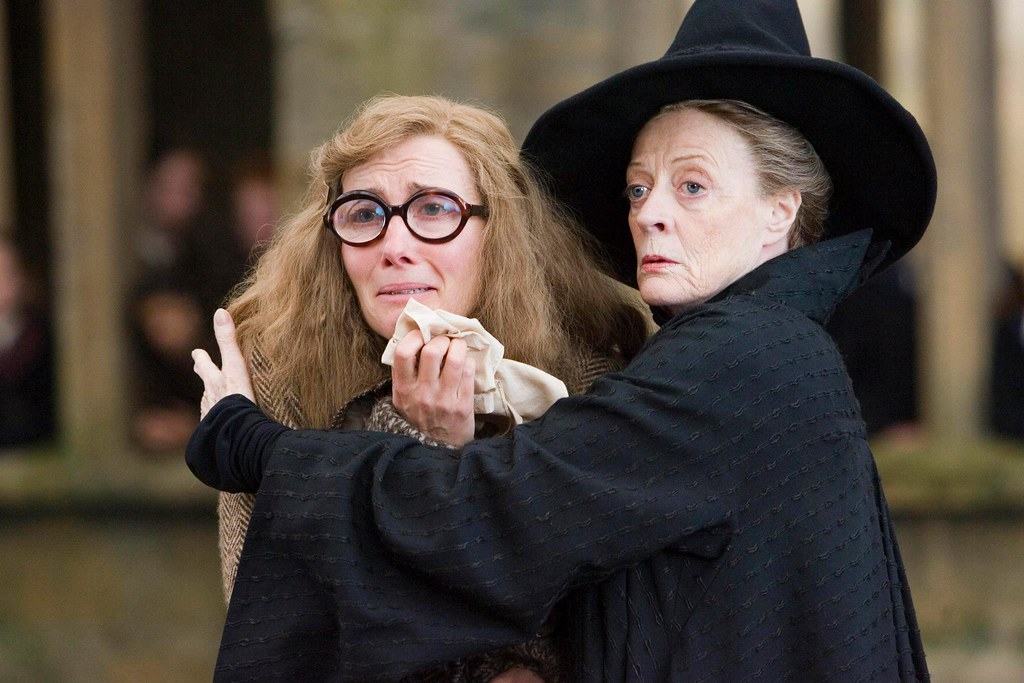 There are even greater moments in the books that point to the theme of putting aside differences in support of fellow women. Despite their feud over Ron, Hermione defends Lavender when she is attacked by Fenrir Greyback in the Battle of Hogwarts. Even McGonagall outright bashes Trelawney's teaching in front of students, but when it matters most, the Gryffindor bravely stands up to Umbridge in solidarity with her fellow professor.
She may clash with Fleur, but Ginny showcases yet another example of feminine friendship through her inter-House bond with Luna. You can trace the youngest Weasley's growth in maturity from Book 5 when she says, "There's room in this one, there's only Loony Lovegood in here" (185) to the next book when she admonishes her brother for using the same nickname: "Don't call her that, Ron… I'm really glad you're taking her, Harry, she's so excited" (312). The two girls have a beautiful friendship; they grow so close that, by the time Ginny has kids, she names one of her daughters Lily Luna Potter (assuming Harry let her have a say).
Finally, inspired by The Noble House of Black fan series, I found sisterly love between Bellatrix and Narcissa. The sixth film bestows Bellatrix with the idea for the Unbreakable Vow, showing her support for her sister's mission to protect Draco. Even though the books play this scene differently, Bellatrix is still painted as a faithful sister. It's out of character for her to thwart her precious Dark Lord's plans, but she outright defies his will by facilitating the ceremony. This is an unexpected yet canon moment in which Bellatrix's bond with Narcissa outweighs her devotion to her master.
Although positive relationships between men are often built up more in Harry Potter, these witches illustrate fierce and powerful loyalty, empathy, and love. I'm hopeful that we will see more of this in the Fantastic Beasts series, particularly between Tina and Queenie.
Do you celebrate the magical women in your life on Galentine's Day? Let us know by tagging MuggleNet with the hashtag #WandsUpForWomen.
Want more posts like this one? MuggleNet is 99% volunteer-run, and we need your help. With your monthly pledge of $1, you can interact with creators, suggest ideas for future posts, and enter exclusive swag giveaways!
Support us on Patreon