How to Make Magical Hot Chocolate Bombs
Hey, Mr. Scamander –
[…] Look, cocoa!" (FB 93)
Let's face it – we're all looking to make a little magic in our lives. One way is to stir up some sorcery in the kitchen. The hottest new way to warm up on a cold winter night is to indulge in an enchanting hot chocolate bomb.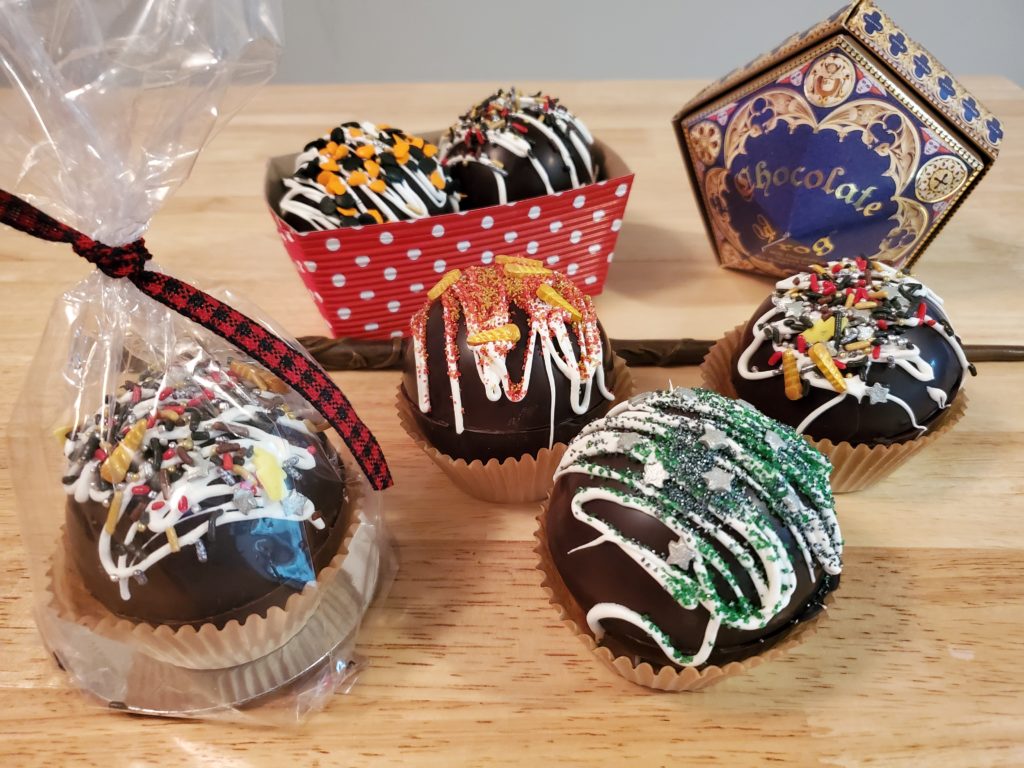 Similar to its inedible cousin used in a bath, hot chocolate bombs react to contact with hot liquid, dissolving and releasing a magical surprise to brew up a truly decadent experience. Drop one into a steaming mug or pour hot milk directly over the bomb and watch it melt, conjuring the hot cocoa powder and marshmallows concealed inside.
This is a magic twist on an old classic, so I decided to try my hand at making them myself – adding some wizarding flair of course. Follow along with the recipe for this treat found on MuggleNet's page for Rosmerta's Recipes.
With guidance from our recipe guru, John, I embarked on a chocolatey journey to hone my basic tempering skills. In order to make the most luxurious hot chocolate bombs, you'll need to use high-quality chocolate (at least 65% cocoa butter): I was able to find Lindt with upwards of 70% cocoa at my grocery store. Next, I chopped the bar into fine pieces since any larger chunks would inhibit uniform melting.
The next step can be tricky, but I assure you: "Anything's possible if you've got enough nerve" (OotP 655). To get smooth, shiny chocolate that holds its shape, one must melt it to a precise temperature. Since I used dark chocolate, the sweet spot was between 87° and 92° Fahrenheit. You can temper chocolate using the double boiler method, but I simply heated my chocolate in the microwave for 30 seconds, then again in shorter increments of about ten seconds, stirring frequently and thoroughly until evenly melted at exactly 90° F. Not bad for an amateur chocolatier.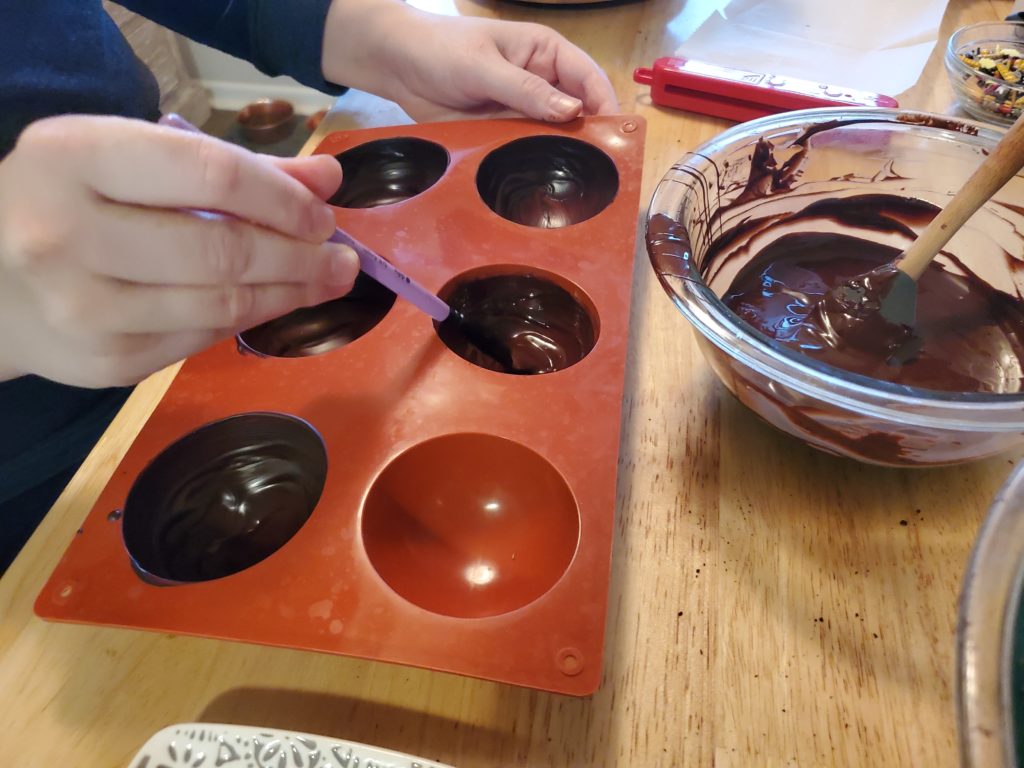 With my chocolate nice and tempered, I got to work using a small paintbrush to apply layers inside round silicone molds. My first attempt yielded some brittle shells that cracked too easily, but I tried again, really building up the layers of chocolate, particularly the lip where the two halves would meet. Since I can't cast a Chilling Charm to cool the chocolate, I popped the molds into the refrigerator until they were ready for the next step.
Now it's time to carefully remove the shapes from their molds, so "Yeh might want ter put on yer dragon-hide gloves, jus' as an extra precaution, like" (GoF 294). Handling the shells with gloves prevents the heat from your hands from melting the chocolate. It also eliminates any fingerprints that would ruin the presentation of the final product.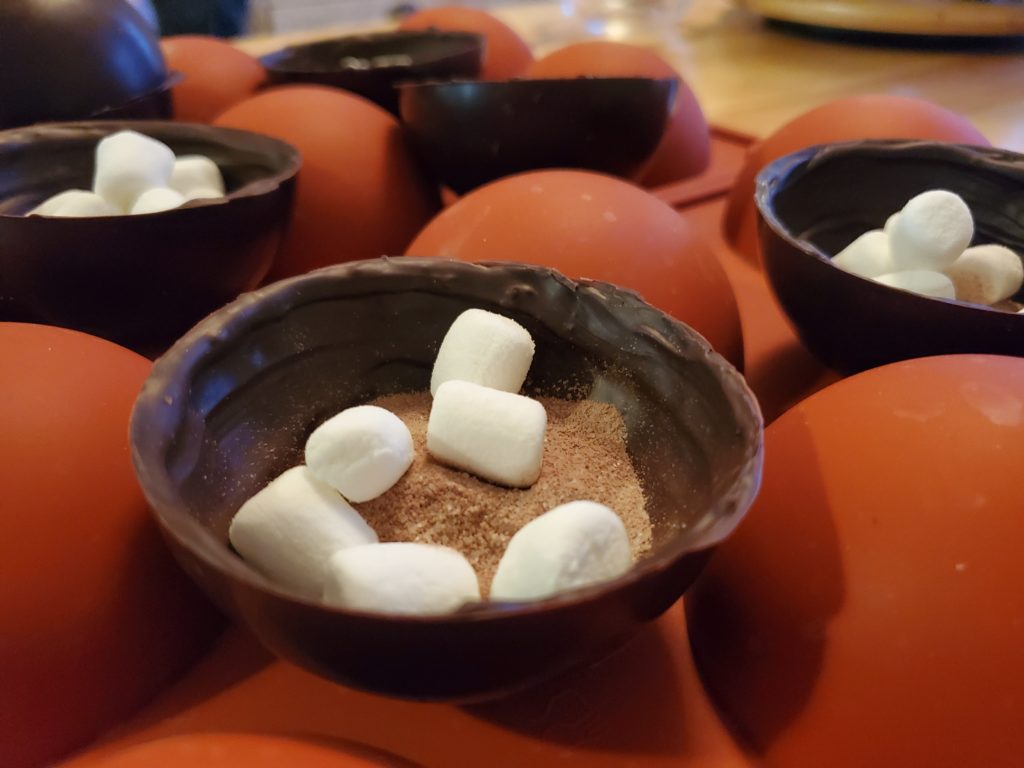 Once the shells are released from their molds, you should have 12 half-spheres. Fill six of these with about a tablespoon of hot cocoa powder mix each (you won't need any more since the shell itself will contribute a large amount of chocolatey goodness when stirred in). If desired, add in as many marshmallows as you like. If you have red, green, blue, and yellow marshmallows, you can even tailor each bomb to a specific Hogwarts House. These assembled half-spheres will be the base to which the remaining six will be attached, like wrapping up a delicious present.
Next, lightly heat a pan or plate. With a gloved hand, place one of the empty half-spheres to the heated surface just enough to get the edge melting again. Quickly and carefully set it down on a shell full of powder to seal each hot chocolate bomb and repeat.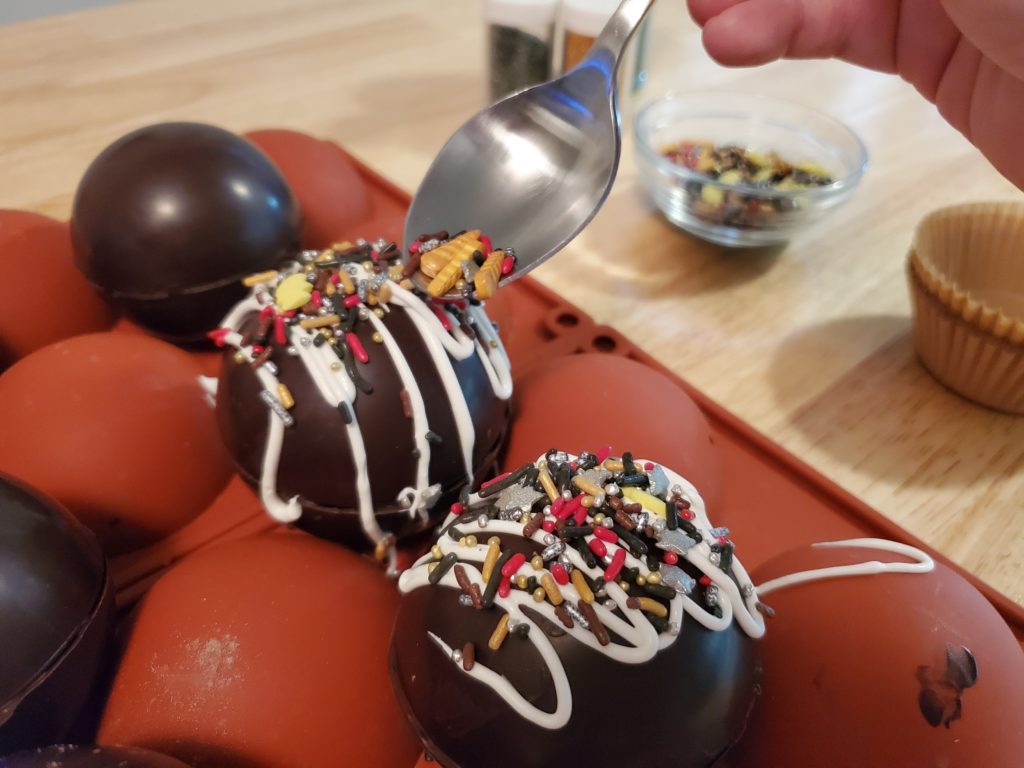 Now for the fun part: decorating! To give your hot chocolate bomb a touch of magic, use special Hogwarts House-colored sprinkles or even fun themed shapes, like lightning bolts, wands, or pumpkins.
Another easy and effective way to give your treats some style is to apply some drizzled stripes. You can use a piping bag and tip, but a spoon will also get the job done. You could opt to use any leftover chocolate if it's still melted in temper. I decided to use candy melts, which were nice because I didn't need to go through the trouble of melting them down to a precise temperature.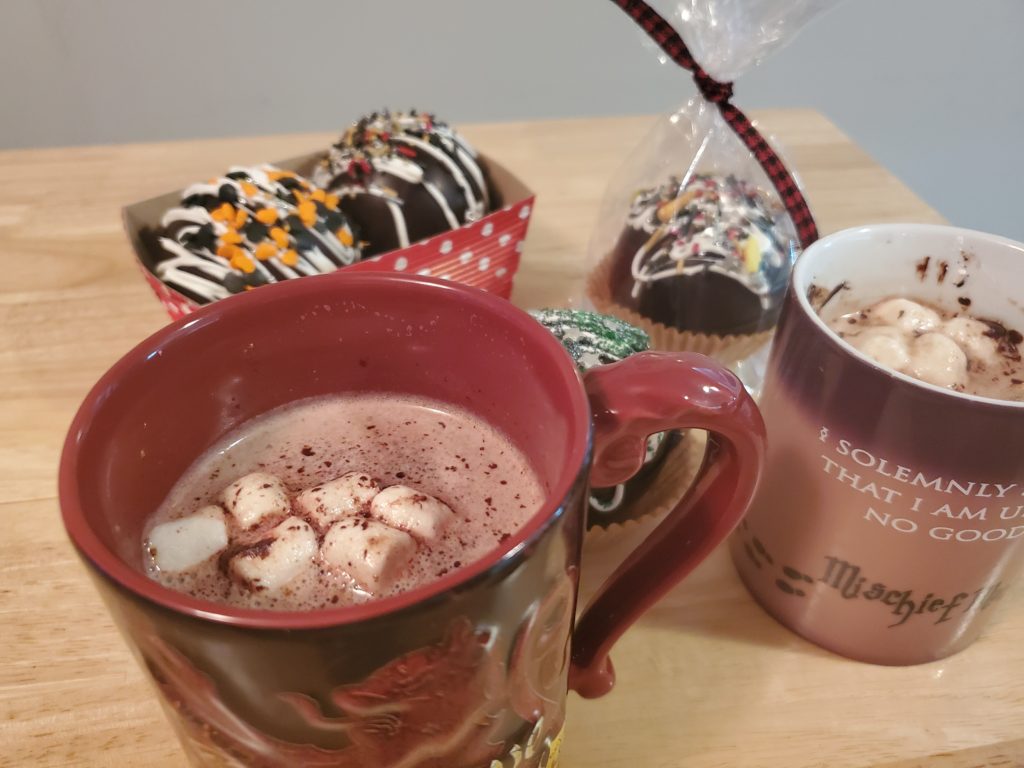 Once decorated, you can wrap these up as gifts for holidays, like Valentine's Day or Christmas, or you can keep them for yourself. Be sure to enjoy your rich and delectable hot chocolate in your favorite Harry Potter mug. When you watch the bomb dissolve and the powder and marshmallows explode like one of the Weasley twins' fireworks, you'll be quoting Gilderoy Lockhart: "Amazing! This is just like magic!" (CoS 325). One sip and you'll feel ready to fight off a whole army of Dementors. I promise you: This is the best way to drink hot chocolate.
Let us know that you followed our magical recipe by tagging us in your pictures on social media. We just know you'll love the tasty results!
Want more posts like this one? MuggleNet is 99% volunteer-run, and we need your help. With your monthly pledge of $1, you can interact with creators, suggest ideas for future posts, and enter exclusive swag giveaways!
Support us on Patreon