Ten Wizarding World Characters as Candle Scents
With the weather growing colder day by day, one of my favorite things to do is to curl up in a cozy corner with one of the Harry Potter books. A warm blanket, a mug of tea, and a candle burning merrily all make for the perfect reading nook. Candles can contribute to a calming sensation to melt away stress and indulge in comfort. To truly get lost in the story and feel connected to our favorite characters from the wizarding world, we can choose candles that embody their spirit and aesthetic.
I've put together a list of ten characters from both Harry Potter and Fantastic Beasts and paired them with candle scents. You can purchase these to enjoy for yourself or gift one to a friend based on their favorite witch or wizard. Most of these are from the store Bath & Body Works, where I worked in the past and of which I hold an encyclopedia of scent knowledge in my brain. However, some are thoughtfully created by fans and for fans if you'd like to support a small business this holiday season. I hope you enjoy this list, then come back in a week on Candle Day for ten MORE candle-character pairings!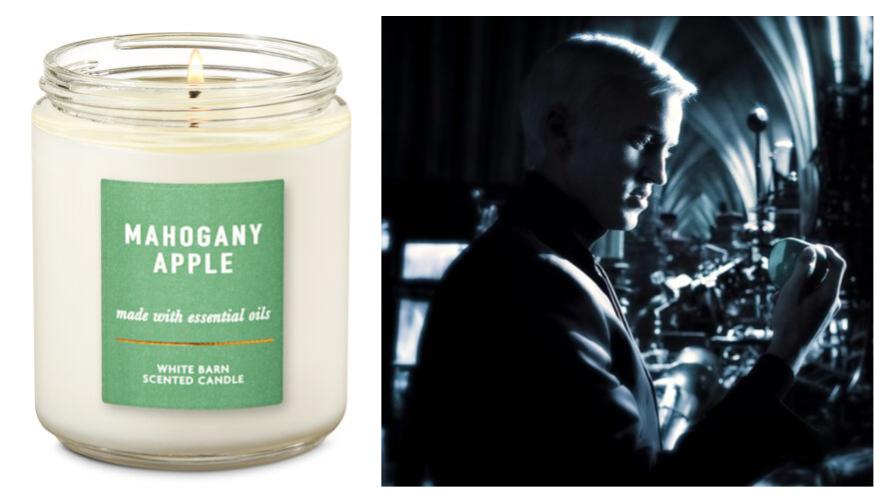 The inspiration for this article comes from TikTok, where it became a trend to go to Bath & Body Works to get Mahogany Apple, the candle that users claim smells like Draco Malfoy. "Drapple" references aside, this fragrance is a crisp blend of fresh woods and green apples. I can see why Draco fans would cause this candle to sell out in stores.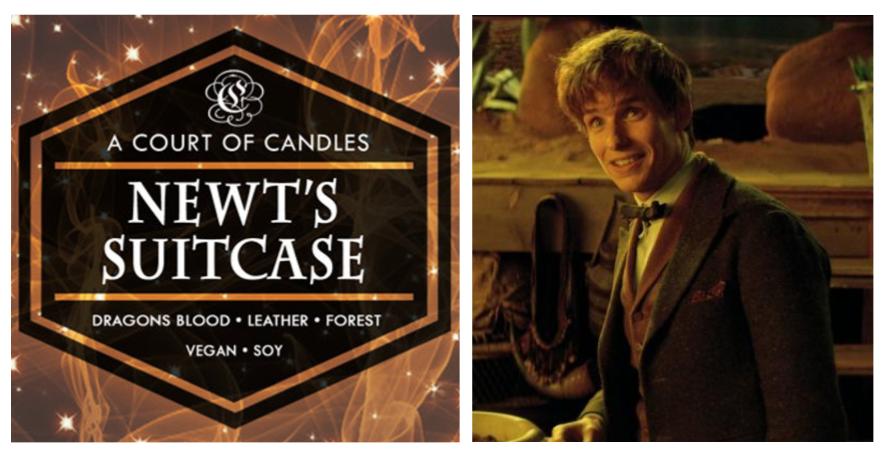 A Court of Candles seems to have perfected the essence of everyone's favorite Magizoologist. This fan-made tribute is just one of over 150 popular culture-themed candles from the Etsy store. If you like to imagine exploring Newt's suitcase teeming with magical beasts in their enchanted habitats, this candle is for you.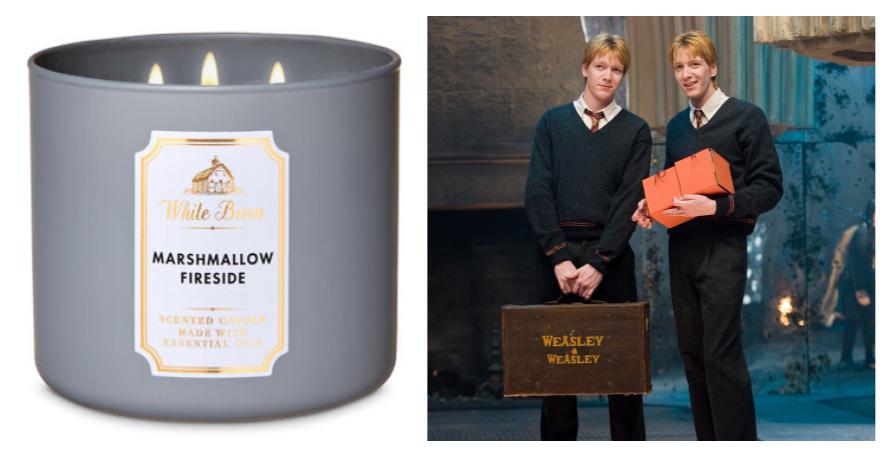 The infamous Weasley twins break all the rules; likewise, this classic candle from Bath & Body Works pairs sweet with smoky. I can imagine that at the height of their career of mischief at Hogwarts, Fred and George's bedroom at the Burrow smelled like a mixture of their experimental candy concoctions and smoldering firecracker embers.
Luna Lovegood: Luna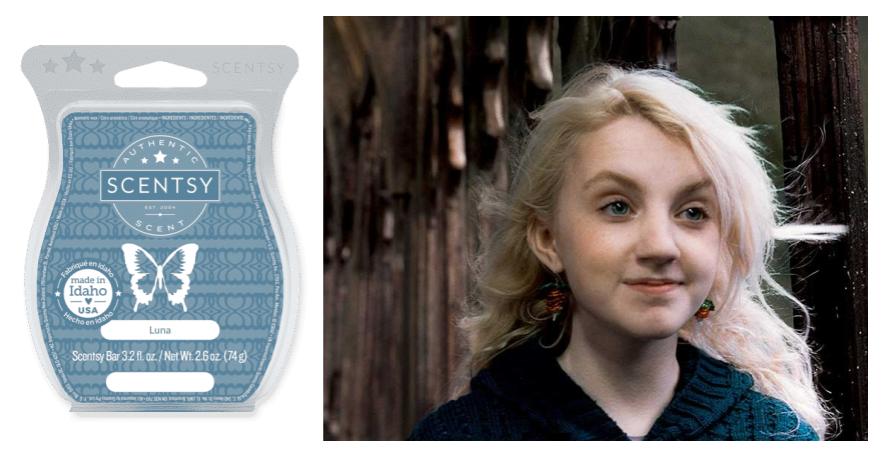 I purchased Luna wax bars from Scentsy over a decade ago, and I've been holding out on melting the last of it because it smells so wonderfully fresh and dreamy. This scent transports me to a moonlit walk along the shore with flowers in hand. I've never found anything like it, which makes it perfect for Luna Lovegood in more than just name.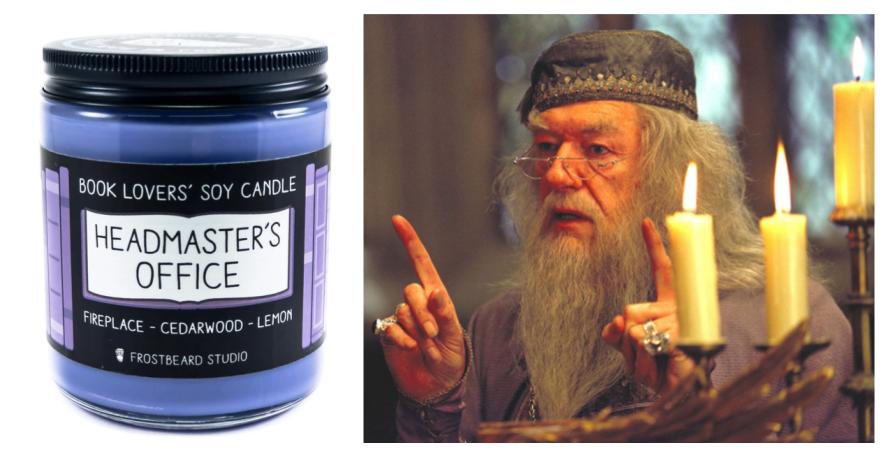 Once again I have to give it up to talented independent artists capturing a character so perfectly. In the early 2010s, I found Frostbeard Studios and their collection of bookish candles. My favorite from Roxie and Tom is Headmaster's Office, which channels Dumbledore with notes of fireplace, cedarwood, and of course, lemon.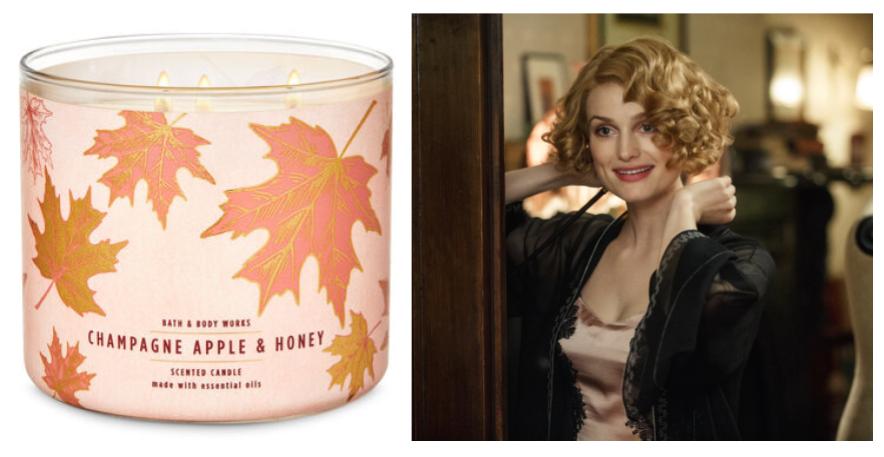 Champagne Apple & Honey from Bath & Body Works is bubbly sweet, just like Queenie. It brings to mind sipping cocktails in a speakeasy, the apple strudel from the first film, and Alison Sudol's smooth-as-honey singing voice. It'll be a shame if the makers of Fantastic Beasts don't let Queenie sing in a final cut of one of the upcoming films.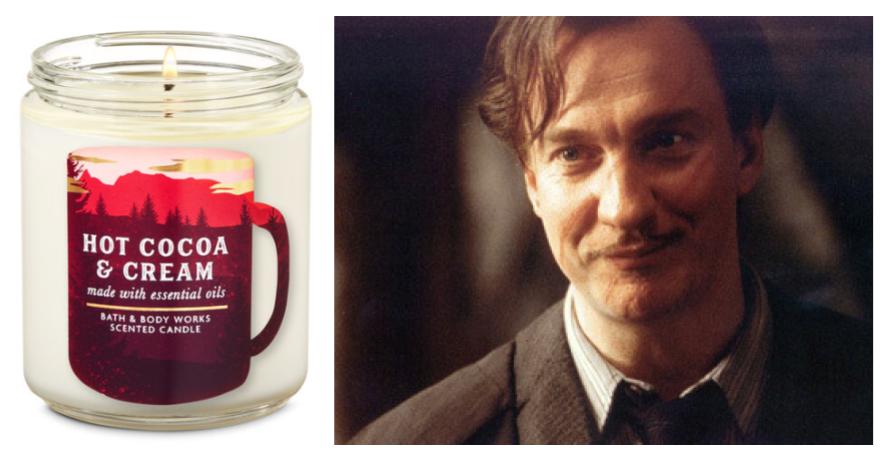 "Here… eat it. It'll help" (PoA 84). Who doesn't associate Lupin with chocolate? Bath & Body Works' classic Hot Cocoa & Cream candle is as warm and comforting as your most Patronus-worthy memories. I recommend this decadent candle as the perfect holiday gift for anyone who favors Moony of all the Mauraders.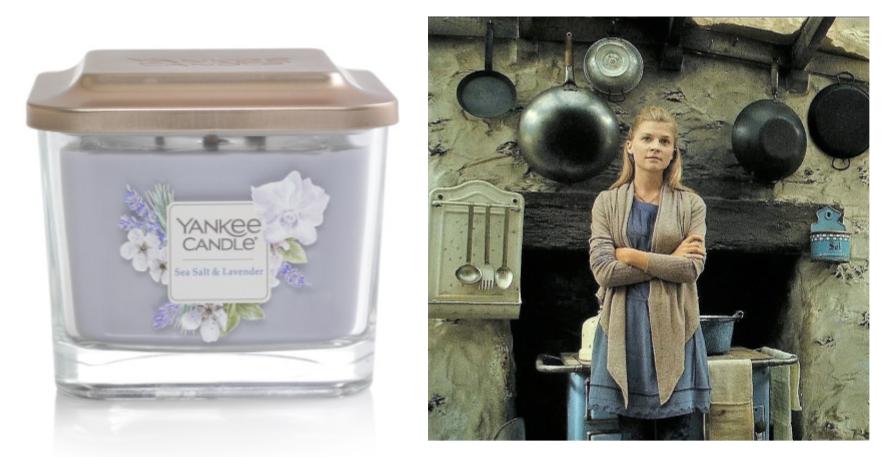 Fleur is as tempestuous as the sea, fierce and brave while also loving and warmhearted. Her aesthetic would combine floral French elegance with the coastal charm of Shell Cottage. With that in mind, I think Sea Salt & Lavender from The Yankee Candle Company would fit her character quite nicely.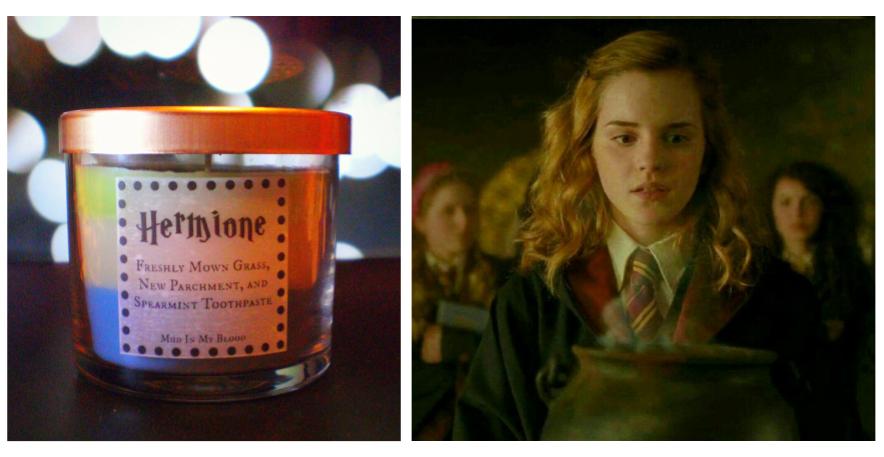 The Amortentia scene from Harry Potter and the Half-Blood Prince spells out Hermione's ideal fragrance quite plainly. Mud In My Blood, another fan-made candle company, took these notes and created a three-layer candle for the brightest witch. It gradually takes you from walks around the lake to homework in the library, finally hinting at her love for Ron.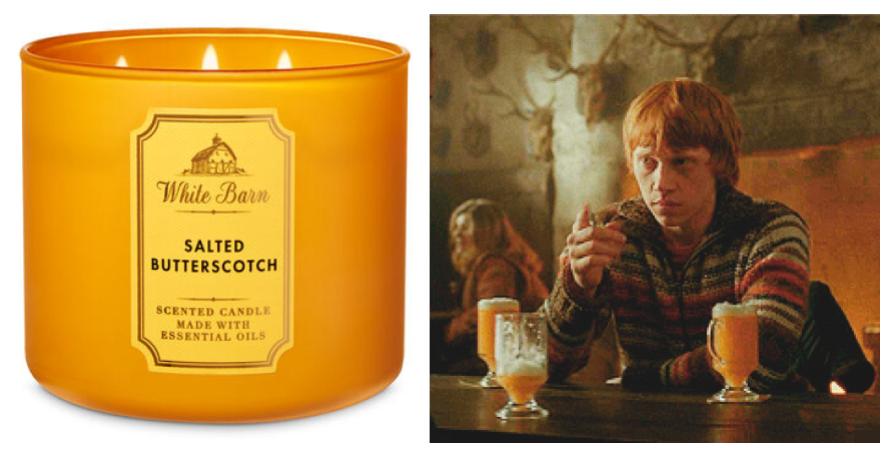 This gourmand scent goes to the sweet tooth of the Golden Trio himself, Ron. Of all the candles at Bath & Body Works, I have to recommend Salted Butterscotch for Potter fans. It smells exactly like butterbeer! Light this magical candle before every Harry Potter marathon and breathe in the warm, buttery scent.
What do you think of this list? Will you be buying any of these, or do you recommend a different scent for your favorite witch or wizard? Let us know in the comments, and come back in a week for part two to see ten more character-candle pairings.
Want more posts like this one? MuggleNet is 99% volunteer-run, and we need your help. With your monthly pledge of $1, you can interact with creators, suggest ideas for future posts, and enter exclusive swag giveaways!
Support us on Patreon