Accio-toberfest Recipes!
The changing seasons always make me feel nostalgic, stirring up memories of holidays and traditions. With the chill creeping back into the air and the leaves on the trees starting to change their hues, I'm growing more and more excited about bonfires, sweater weather, and all the mouth-watering flavors of fall. But first, there's a wonderful festival celebrated about a month before Halloween: Oktoberfest.
With the enduring COVID-19 outbreak keeping many of us safely practicing social distancing, most large public gatherings aren't being held this year. I'll be missing my town's annual Oktoberfest: the music, the costumes, the time spent with friends, but most importantly, the food and drinks! Whether you have German blood or simply admire the culture, Oktoberfest is a great opportunity to enjoy old favorites and explore new flavors.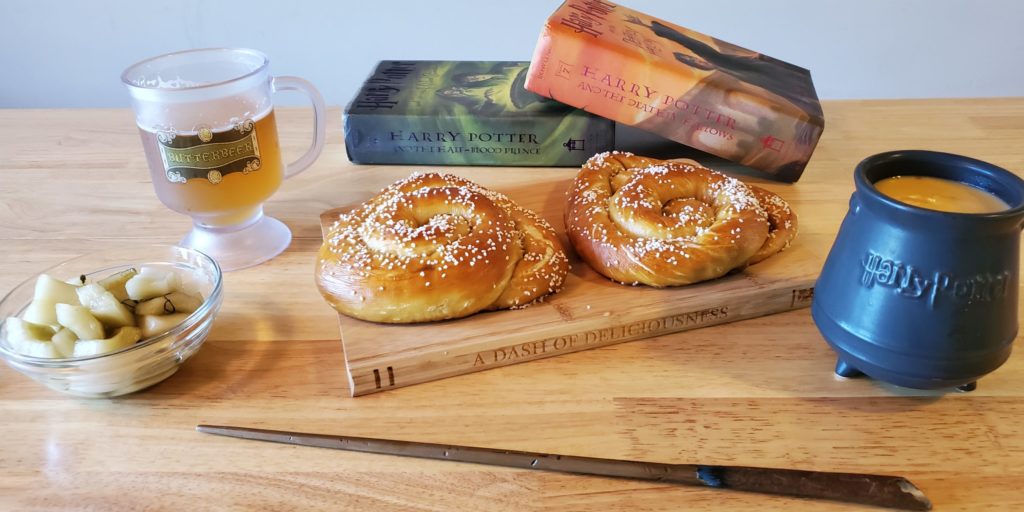 While we can't all attend local and far away Oktoberfest events, that doesn't mean we can't keep the spirit of this well-loved festival alive. I love trying new recipes, so I decided to try my hand at making some of my favorite things to order at Oktoberfest. Since I also love combining my interests, I decided to add a twist in the form of a wizarding world theme. Now everyone can celebrate their own Accio-toberfest feast by pairing their favorite German-style beer with these four delicious recipes and any other Bavarian fare.
He tried not to look at a large, slimy something suspended in green liquid on a shelf behind Snape's desk." (CoS 79-80)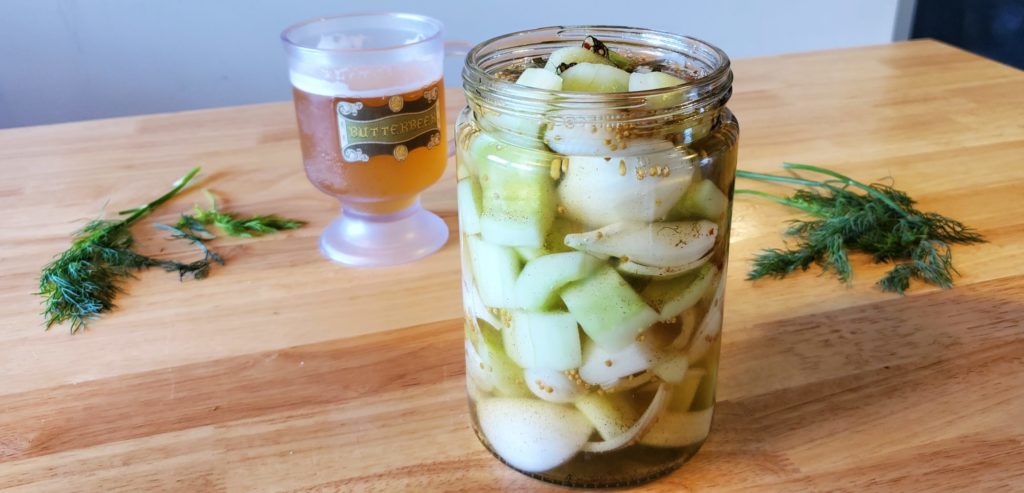 What were those slimy, unidentifiable objects in the jars lining Severus Snape's office at Hogwarts? If he was preparing for Accio-toberfest, they must have been these sweet and sour homemade pickles! I combined some oversized home-grown cucumbers, an onion, white wine vinegar, and sugar along with fresh pickling herbs to create these yummy morsels that even sniveling pickle-haters would enjoy. You can also personalize the taste by changing up the spices to achieve different results. Make these early for your Accio-toberfest feast since they take a few days to properly pickle.
'The Elder Wand,' he said, and he drew a straight vertical line upon the parchment. 'The Resurrection Stone,' he said, and he added a circle on top of the line. 'The Cloak of Invisibility,' he finished, enclosing both line and circle in a triangle, to make the symbol that so intrigued Hermione. 'Together,' he said, 'the Deathly Hallows.'" (DH 409)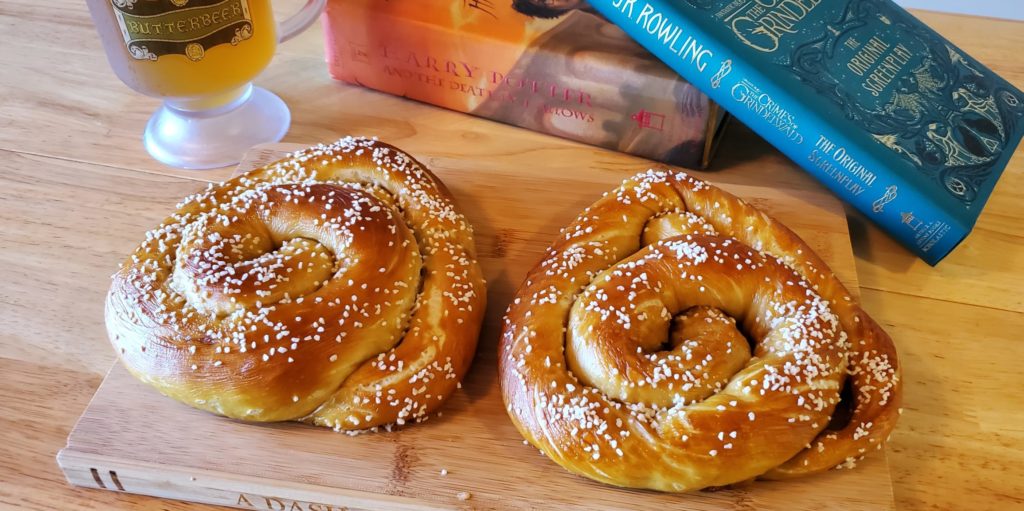 One of the most recognizable Oktoberfest staples is a large soft pretzel, but since I'm a Potterhead, of course I had to put a magical spin on the traditional knotted shape and attempt the Deathly Hallows symbol. For an authentic pretzel, you may need to visit specialty shops in Diagon Alley (or the internet, if you're under quarantine) to acquire ingredients like coarse pretzel salt and food-grade lye. This recipe is complex, requiring great care, and should only be attempted by those who truly believe in the power of the Deathly Hallows.
The potion within was splashing about merrily; it was the color of molten gold, and large drops were leaping like goldfish above the surface, though not a particle had spilled." (HBP 186-7)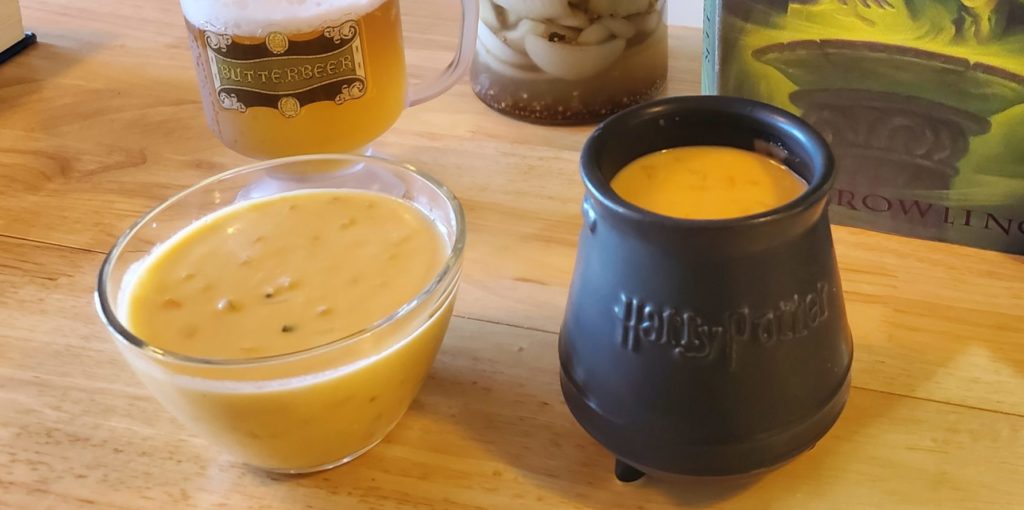 It wouldn't be Oktoberfest without a delicious German-style beer! You can even cook with it, so I decided to brew up some deliciously rich and tangy beer cheese soup. The bubbly, golden yellow mixture looks a lot like Horace Slughorn's Liquid Luck, so use a cauldron mug if you have one on hand. This soup is wonderfully smooth and creamy; it can be enjoyed on its own or as part of a full Accio-toberfest meal, complete with Pretzelly Hallows for dipping. Be advised – overindulging with this potion may leave you with excessive giddiness and overconfidence.
You prefer strudel, huh, honey?" (FBaWtFT 83)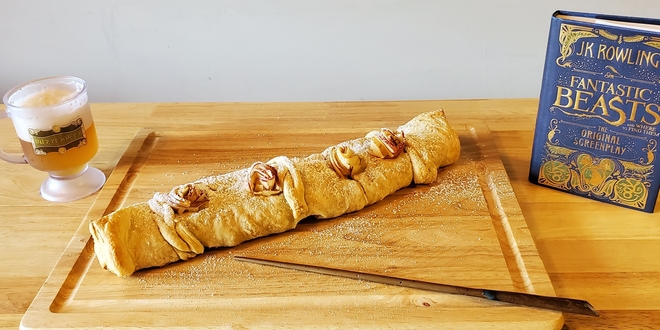 Raise your wand if your mouth began to water at the sight of Queenie Goldstein's magical strudel in the first Fantastic Beasts film. I've eaten similar spiced apple treats at Oktoberfests before, but I wanted to be certain that this would fit into the meal appropriately. So I took a page out of Hermione's book and did some reading about the history of strudel; this dessert gained popularity in the 18th century in southern Germany, where Munich is located and Oktoberfest originated. Queenie's concoction is the perfect dessert to round off your Accio-toberfest feast.
We can't all attend Oktoberfest in person this year, but if you follow these recipes and set the table with this decadent spread, you'll feel just like witches and wizards dining in the cozy Three Broomsticks on a cool fall evening. Remember to grab yourself a Butterbeer or Bavarian-style brew – you've earned it. Prost!
If you do prepare your own Potions Master's Pickle Jar, Pretzelly Hallows, Liquid Luck Beer Cheese Soup, or Queenie's Apple Strudel, be sure to tag us on social media using #Acciotoberfest so we can see your magical feast.
Want more posts like this one? MuggleNet is 99% volunteer-run, and we need your help. With your monthly pledge of $1, you can interact with creators, suggest ideas for future posts, and enter exclusive swag giveaways!
Support us on Patreon