20 Years of MinaLima: Magic in the Muggle World
This weekend, we're celebrating 20 years of the wonderfully magical MinaLima, the duo responsible for bringing the wizarding world to life through graphic design.
So far, in this series of articles celebrating this milestone, we have explored MinaLima's involvement in the Wizarding World as well as outside of the franchise. In this final article, we're looking at MinaLima in the Muggle world, from the Houses of MinaLima to growing a fanbase over the years and influencing graphic design.
The Many Houses of MinaLima
It was only supposed to be a temporary pop-up shop when it opened in 2016. Today, House of MinaLima is ranked 11th out of 1,150 on Tripadvisor's list of shopping experiences in London and has expanded to locations in Japan and the United States. But where did it all start?
In 2015, fans were excited to learn that MinaLima would be holding an exhibition of its Potter work at the Coningsby Gallery, London. Running for just under three weeks, the Graphic Art of the Harry Potter Films exhibition was also the first time that limited-edition Potter prints were available to purchase along with prop replica notebooks and postcards.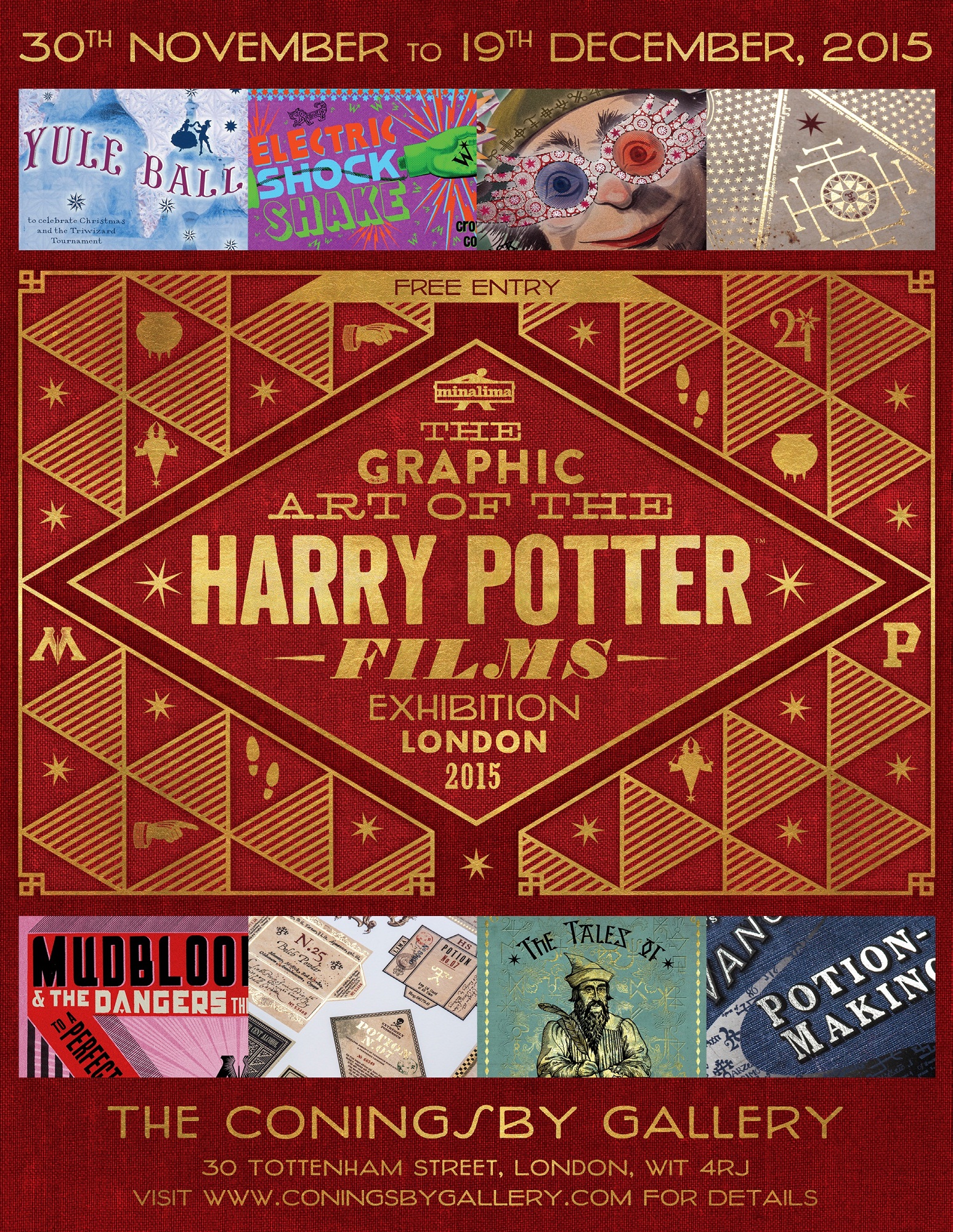 Following on from the exhibition's success, House of MinaLima took up residence at 26 Greek Street and opened its doors to fans on June 3. Eduardo reminded us that the pop-up was originally only meant to be for six months, but once fans experienced the eccentric charm of the gallery and shop, they were adamant that it should remain open.
We said we were going to close, and [there was a] petition. Over 1,000 lovely fans signed the book and even signed it, 'Please keep the House open.' And they put [their] age, where they come from, and their [Hogwarts] House.
View this post on Instagram
The fans made their voices heard, and House of MinaLima remained open. It continued to exhibit MinaLima's Potter work and expanded to showcase Fantastic Beasts props and designs alongside pop-up exhibits for the MinaLima Classics Collection. In 2020, House of MinaLima moved from Greek Street to new premises on Wardour Street, as Eduardo reminisced.
It was quite hard to say goodbye to that place because it was magical. It was when everything started, for us, to have a presence, a physical presence.
Although the Greek Street location had become a must-visit for fans, the new premises on Wardour Street represent a new stage in the life of House of MinaLima in London.
Mira revealed that although the coronavirus pandemic drove the decision to move into the new premises, it was a positive change for the MinaLima team. The bigger space means that people can visit safely during the pandemic, and for the first time, the team's studio is in the building with the gallery.
We were thrust into the space, but it's enabled us to have people in here safely because the space is better laid out. But also, it's like a grown-up version. Greek Street was the playful child, and now we've got the grown-up House of MinaLima, and having the studios above all in one building is just a dream.
However, it's not just in London that House of MinaLima has been expanding. In 2018, MinaLima opened two pop-up stores in Tokyo and Nagoya, Japan. These pop-ups were so successful that, in 2019, a year-long pop-up was opened in Osaka. It has since become a permanent House of MinaLima and the first to be opened outside of the United Kingdom.
Most recently, MinaLima went stateside with the opening of the Harry Potter New York flagship store, which contains a House of MinaLima in the basement. Eduardo and Mira have yet to visit the New York location, but they can't wait to jump on a plane and say hello to the American wizards. Although it's only been open for a month, Eduardo told us that House of MinaLima New York is proving popular with fans.
What we have been hearing from people there is that the MinaLima bit is the cherry on the cake. […] People know that MinaLima is in the basement, so they do everything [else] in the shop and they [save] House of MinaLima for last because it's where they're going to go and breathe.
With three locations across the world on three different continents, where would Eduardo and Mira like to take House of MinaLima next? Eduardo is keen to get back to his roots ("I need to go to Brazil!"), but considering how global their fanbase is, if and when a new House of MinaLima opens, there are bound to be fans nearby.
Finding Humanity in Fandom
As a result of designing the graphic props for one of the biggest franchises in the world, MinaLima has gained a dedicated following of fans over the last 20 years. Eduardo and Mira first realized the popularity of their work when they attended the fan convention LeakyCon in 2012. For Eduardo, it was his first experience of fandom.
People were coming to us and said, 'Oh my God, you guys. You don't realize how much the Marauder's Map or how much the 'Daily Prophet,' 'The Quibbler,' or whatever is important.' And we were like, 'How?' And of course, we understand completely now. But at the time we were like, "It's just a prop."
Since then, the popularity of MinaLima has meant that Eduardo and Mira have gone from managing their own stand at the first two Celebration of Harry Potter events to having to have dedicated time slots to meet fans from 2016 onwards. The duo also makes appearances at conventions and events around the world. Eduardo revealed that meeting fans is not only a chance to share their passion for graphic design but also an opportunity to create a human connection.
We adore and love talking to people and [having] those conversations because, again, it goes back to the human relationships, and it makes sense, and you feel blessed and that you made someone smile with one little prop that you did. That is priceless, actually.
Unfortunately, meeting the audiences who enjoy your work isn't the norm for filmmakers. Still, Mira believes that attractions such as Warner Bros. Studio Tour London – The Making of Harry Potter have shown that people are interested in all elements of movie production and not just the actors on-screen.
Filmmakers don't realize. They don't often have an opportunity to engage with their audience like in other crafts. If you're a painter, you might have an exhibition. You might meet the people who are going to buy the painting. But it very rarely happens, that connection.
Whether they are meeting fans of their work, drawing readers into the heart of a classic tale, or transporting moviegoers to a vast magical universe, it's all about the human connection for Eduardo and Mira.
The Influence of MinaLima on Graphic Design
Over the last two decades, the awareness of graphic design as a profession and as a vital part of the film industry has grown. For example, when Eduardo first checked the contact book for people working in the UK film industry in the early 2000s, there were only five people listed in the graphic design section. Checking the same list today, he says there are nearly 400 people listed.
And during that time from 2001 to 2009, [it] was very difficult. The film industry was very slow. There was not much happening. […] So 'Harry Potter' was so important to establish the film industry in the UK, and I think it did the same for graphics as well.
For Mira, the profile of graphic design, both in movies and in everyday life, has risen over the last two decades. As such, she feels like graphic design has developed into a recognized profession.
The awareness of it as a role and what it can do to contribute to storytelling. Because unfortunately, the nature of our work is that for the most part, doing graphics for film goes unnoticed. I'm sure you'll watch films differently after you've seen 'Harry Potter' [and] been to Leavesden Studios and to the tour, if you see any sort of modern film and go into a supermarket or you go into a lift or a hospital or an airplane. […] And someone had to do all that. So actually, what's happened now is that you get people who favor doing modern graphics or contemporary graphics or ones that are very good at period, hand-making documents. And so it's great because it feels like it's a profession that's real now, rather than someone who's turning their hand to it from something else.
While Eduardo and Mira both attribute the increased interest in graphic design to the impact of Harry Potter on the film industry more broadly, it's important to acknowledge the impact of their work. This is particularly true of their desire to introduce young people to graphic design, which, Eduardo revealed, is something they recognized not long after opening House of MinaLima.
That was one of the things that we identified early. Loads of young people were going there. And the House was kind of messy but also was like an exhibition of our work. So for those people, going to the House of MinaLima was their first experience going to a gallery or exhibition.
For Mira, engaging young people in their work, whether that's through movies, exhibitions, or workshops, is all about encouraging a new generation of graphic designers.
It's perpetual. If a group of school kids come in and have a tour around here, if one of them decides, 'Oh my God, I didn't realize that that and that and that' and 'That's what I want to do.'
MinaLima Graphic Design for Films Workshops coming soon!
For more details, sign-up to our newsletter via https://t.co/iFVcFE4fLi.
Please sign up again even if you have previously registered as we are updating our systems and don't want to lose any of your details in the transfer! pic.twitter.com/qYBInJf3ux

— MinaLima (@minalima) March 6, 2019
The pair often have people tell them that their work is the reason why they became graphic designers, which Eduardo feels "is the biggest reward that any professional can have." But it appears that the proof of MinaLima's influence is also in its very own design studio.
Joe, our junior designer, works with us on 'Fantastic Beasts' 3 […] I remember meeting him two, maybe three, years ago at the shop. I think he was still in college, and now he's finished, and we grabbed him. Today, he said to me, 'Thank you so much for still having me here because this is my dream job, and I remember very well when I watched the films. And from the third film, I said, "That's it. I want to be a graphic designer. That's it. Those people just inspire me so much."'
Now that MinaLima has turned 20 years old, Eduardo and Mira shared with MuggleNet something they would say to themselves at the same age, and indeed any 20-year-olds reading this article. Mira encouraged people to make doing what they love a priority, whether that is graphic design, music, or another passion, while Eduardo urged everyone to never doubt themselves.
I would say [to] the 20-year-old, 'Make everything that you love doing your Plan A.' Just because it doesn't fit into some molds of your careers advice at school and stuff… Just make it Plan A, and then the things you love will probably become successful. And then the successful things become things you love.
If you work hard, if you have a dream, just put everything you have on it, and go for it.
We think that's great advice for everyone regardless of age! Happy 20th anniversary, MinaLima. Here's to another 20 years of magic.
Happy 20th anniversary, @minalima! We are so proud and happy to know you, work with you, and call you our friends. Thank you for all you've given this beautiful community. Welcome to the two-decade club! 2️⃣0️⃣ 🎉👏🏻🎂🦉 pic.twitter.com/yEpH4lf8QU

— MuggleNet: #1 Wizarding World Resource Since 1999 (@MuggleNet) July 2, 2021
Want more posts like this one? MuggleNet is 99% volunteer-run, and we need your help. With your monthly pledge of $1, you can interact with creators, suggest ideas for future posts, and enter exclusive swag giveaways!
Support us on Patreon