You're Invited to MuggleNet's Monthlong "Potter" Party!
The lighted dial of Dudley's watch… told Harry he'd be eleven in ten minutes' time. He lay and watched his birthday tick nearer… " (SS 45)
Remember the feeling of holding a brand-new Harry Potter book in your hands for the very first time? The minute you carefully cracked the spine and started to separate pages as you explored the next installment in this epic story? How about the costume and trivia contests at bookstores in the hours before those tempting boxes of books could be opened? Or the anticipation in a movie theater as you gathered with hundreds of other dressed-up fans, waiting for the newest film adaptation to hit the screen at midnight? What about waiting in line and stepping into the lobby of a beautifully themed theater and then in the house where you saw the dimly lit scene of platform nine and three-quarters waiting for the next adventure?
Ask any longtime Potter fan about their first midnight premiere or the debates they got into waiting for the next book and you're sure to get a story filled with wonder, magic, and most of all, nostalgia. For many fans, those years of waiting for the next book or movie are remembered fondly as the height of the fandom and a time they made lasting friendships, had wonderful experiences, and grew up surrounded by magic. For newer readers, they may wish they'd had the chance to participate in these activities and be in awe of the stories they hear about people shouting that Snape killed Dumbledore, much to the shock of those still waiting to discover Harry Potter and the Half-Blood Prince. Whether you lived the nostalgia or not, we invite you to celebrate.
For the entire month of July, we're going to be sharing content that looks back on the speculation, anticipation, celebration, and cutting-edge analysis. You'll discover some of the gems that MuggleNet has to offer with these throwbacks. Whether you participated in old-school forum debates on Hinny vs. Harmony or if you came to the series when it was complete, it'll be like having your very own Time-Turner. This July is filled with anniversaries of book and film releases, including the ten-year anniversary of when we thought it would all end with the release of the final movie.
We want you to join us in this celebration. We've created a list of activities, crafts, and snacks for you to celebrate with all month long. Each item on the list corresponds to a specific film or book anniversary. Relive fond memories and make new ones with us! As you do, send us photos and videos of your creations. We also want you to submit memories old and new throughout the month leading to Harry's 41st birthday on the 31st. Have a great photo from the Harry Potter and the Deathly Hallows – Part 2 premiere? Or a story about a spoiler you heard waiting in line for a new book? Tell us about your own Potterversary – how you first encountered the series or celebrated your first release. Send your materials to submissions@staff.mugglenet.com with "Potter Party" in the subject line.
The entire month will culminate in a movie marathon celebration on July 31 streamed live on our Facebook page. During that marathon, we'll have a special video filled with the memories you've shared with us all month! Together as a fandom, we'll relive the moments we loved and look forward to a future of new memories as Harry Potter lives on.
Below is the full list of activities for the whole month to re-create your own release party and relive the magic: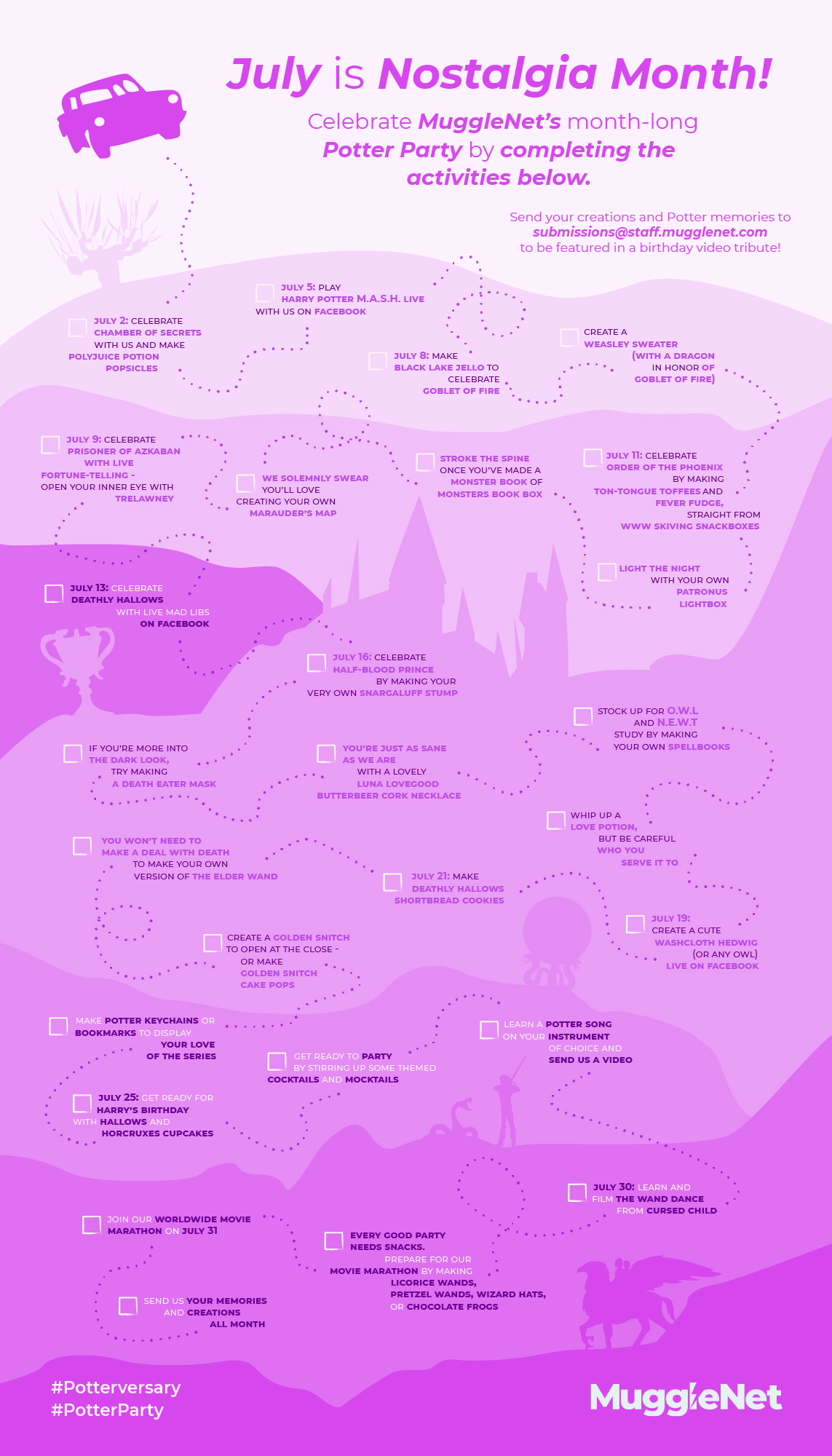 Want more posts like this one? MuggleNet is 99% volunteer-run, and we need your help. With your monthly pledge of $1, you can interact with creators, suggest ideas for future posts, and enter exclusive swag giveaways!
Support us on Patreon